Is There a Beach Cart That Will Roll In Sand?
As an Amazon Associate I earn from qualifying purchases.
Have you ever tried lugging your gear down the beach in a wagon or anything else with ordinary wheels? How many times have you stood there sweating, and maybe swearing, and thinking good grief, is there a beach cart that will roll in sand?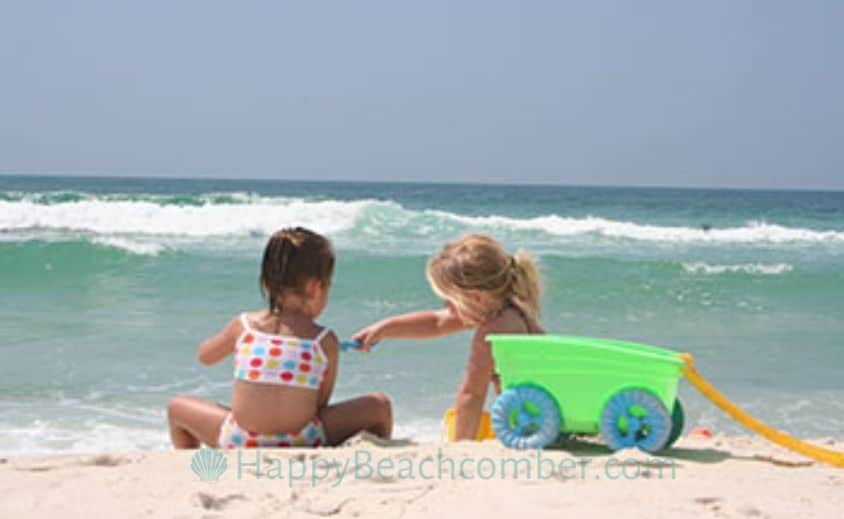 Well hallelujah the answer is yes! In fact there is more than one type, and which type will work best for you just might depend on your destination.
Below you'll find details about the two top-rated choices and the differences between them. Whether you're looking for a gift or shopping for yours truly, I hope this guide helps you choose wisely. After all, the point of a beach escape is to relax, so we want the "getting there" part to involve as little work as possible!
Beach Cart with Extra Wide Wheels
The most popular model of this type on the market is the Super Ultimate Ultra Wide Wheel Wonder Wheeler Beach Cart. It's a given that very narrow wheels don't turn in sand. They just sink down in it, and you end up dragging, not rolling. Slim wheels can even make it harder because they create more resistance. The solution offered by this cart maker is to give you very wide wheels that are designed to roll on top of the sand and make your hauling job much easier.
For a few more details, this cart is 39.5″ high by 16″ wide, so it's big enough to haul a cooler and plenty of other stuff you need to take along for a day in the sun. None of the gear shown in the picture at left comes with this cart, but it does have some nice extras, including a tote bag, a built-in umbrella holder, and a bar for hanging chairs.
How well this cart works is a matter of opinion, and if you go to the Amazon page you'll see some interesting comments by 2 engineers (in the Question/Answer section). What it boils down to is that if you overload a cart so it's really heavy (and who doesn't?!), even this one is going to sink in the sand. However, according to one of these engineers, it's still much easier to drag than anything with skinny tires.
Too bad there's no way to know what beaches these two guys visit because that can make a big difference. More on that next, but if you think this one is the best choice for you, get all the details at Amazon.
NOTE: I would add that on some Texas beaches, once you get past the dunes there will be a vast expanse of sand that is fairly well packed. This cart should do pretty well on such stretches of firmer sand.
See the Super Ultimate Ultra Wide Wheel Wonder Wheeler Beach Cart on Amazon
---
Beach Cart with Balloon Wheels
My absolute favorite beaches are those along the U.S. Gulf Coast, especially the areas around Orange Beach, Alabama and Perdido Key, Florida. They've been called the most beautiful on earth, and I completely agree. The blue-green water is gorgeous, and so is the crystal white sand – and yes, it's really, really white.
That sand is also deep and very soft, and if that's where you're going then your best bet for a cart may be the My Beach Cart® NO Rust Aluminum Foldable Beach Cart Trolley. This one has balloon wheels, and I'm certainly no engineer, but to me it seems pretty obvious why that's a better choice for use on beaches with very soft sand. Those big balloon tires also handle steps pretty well, which can be helpful if there's a boardwalk between you and the sand.
Among the online customer reviews you won't find a lot of complaints. I did find a number of owners who say assembly is difficult and instructions are rather poor. There is a video online that some found helpful.
The big issue with this cart is price. However, a majority of owners state in their reviews that they deem it well worth the investment. It is made with Blue Marine Grade Anodized Aluminum that is No Rust, which is vital around any water but especially salt air. The balloon tires are extremely sturdy, and users report that they do well in fine loose sand, deep sand, and wet sand.
Overall, this cart measures approximately 27″ x 29.5″ x 42.8″. It has a 15″ x 21″ cargo deck and a telescoping handle that adjusts from 32″ to 49″. It comes with two 10-foot cam buckle straps, plus a mesh bag that is 18″ x 15″ x 6″ and has a zipper. The cart weighs 18 pounds and has a load capacity of 165 pounds. It folds for storage, and the wheels can be easily removed if need be.
For about the same price, this beach cart gets a higher rating and much better reviews than the older Wheeleez Rolling Caddy.
You might also like to know that when you buy the My Beach Cart® you are supporting an American small business. This cart is made by a family company that ships out of Atlanta, Georgia.
See the My Beach Cart® NO Rust Aluminum Foldable Beach Cart Trolley on Amazon
---
and in case you're interested … the ever popular Beach Wagon
Although this is not the best choice for easy rolling on the sand, this cart can be very handy for some uses. Where I live these beach wagons are standard equipment for families at the little league ballpark. They roll quite well on pavement and grassy fields, and they can hold all the food, drinks, and gear you need for the day.
This wagon has a steel frame and can carry up to 150 pounds, and it can be easily folded for storage (folded size is 30″ x 16.5″ x 8.8″).
If you think this is for you, learn more about it at Amazon:
See the Timber Ridge Folding Camping Wagon Collapsible Utility Big Wheels on Amazon
---
Finally, there is one other option that works pretty well on sand and is much less expensive than a wagon or cart. For details check out this Snow Sled for Carrying Beach Gear.
---
As with most any shopping decision, there's never one perfect choice for everyone, but I hope you find this information helpful!
---
Other beach gear I love:
Please share on Pinterest!