Best Tumbler For The Beach – Yeti vs. Bubba
As an Amazon Associate I earn from qualifying purchases.
What's the best tumbler for the beach? We all know that the Yeti brand is awesome, but when it comes to keeping your drink cold, here's why Bubba is worth a look.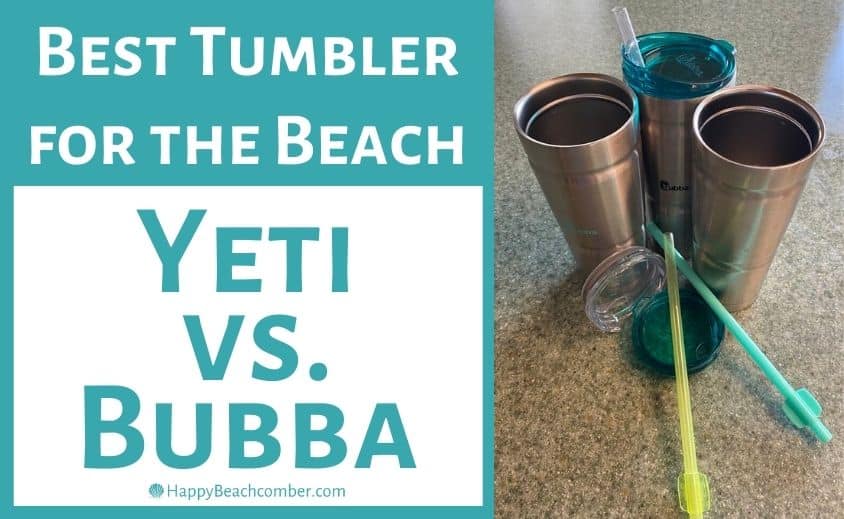 What's your favorite beach drink, an adult beverage or something simple like lemonade? Mine is actually a combination of both – a very low alcohol concoction dubbed the "copacetic", but that's a whole other story.
When the sun is blazing down, what matters most is keeping your beverage ice cold. Many folks who enjoy the outdoors consider Yeti to be the gold standard in all kinds of insulated coolers, bags, and drinkware. No argument there!
Yeti is also very pricey because it is super high quality. That's great when money is no object. Yeti products also make excellent gifts for the really special outdoors lovers in your life.
Then there are times when cost is an issue. Maybe you need insulated tumblers for everyone in your large family. Maybe you have so many other vacation items to buy that you're watching your budget.
If so then consider whether a Bubba insulated tumbler might work just as well for your cold beach drinks. Let's compare.
Yeti vs. Bubba – Similarities
Both of these tumblers are well insulated and will keep your drink cold for as long as it's going to last for a thirsty person on a hot beach.
Yeti: stainless steel with double-wall vacuum insulation
Bubba: double-walled vacuum-insulated stainless steel
The tops of these tumblers are not insulated. Apparently even Yeti does not consider it necessary to insulate the top too.
Both are tough and will hold up to the sand, and to being banged around in your tote or cooler.
Both are spill resistant, but because of the way the tops are made, neither tumbler is leak proof. If you knock them over, some of your beverage is going to leak out. The Yeti might leak somewhat less because the opening in the lid fits tighter around the straw. The opening in the lid of the Bubba cup is bigger.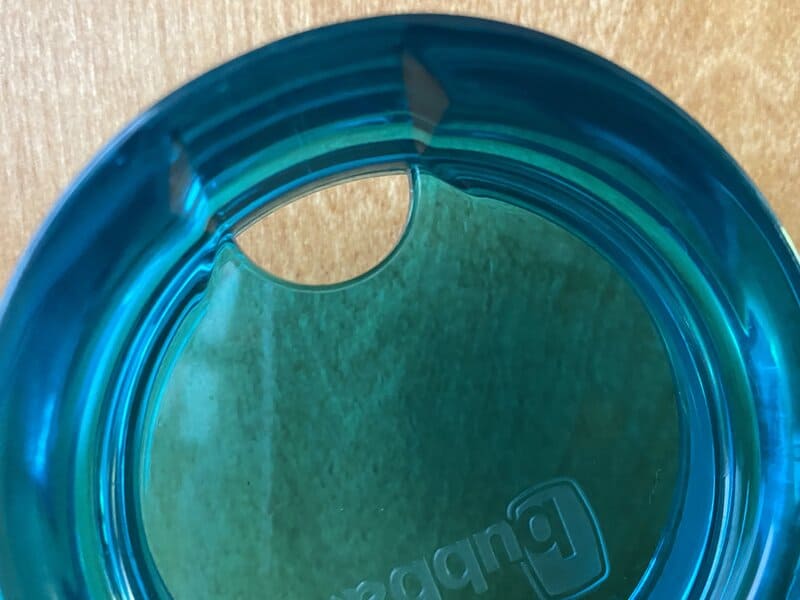 For a time Yeti made an extra piece you could add to its tumbler to make it leak proof, but that has been discontinued. For a tumbler that's a little more secure you might want to check out the Yeti Rambler 20-ounce tumbler with MagSlider lid (no straw). However, if you want something completely leak proof, the company recommends a Yeti bottle or jug.
Both tumblers fit into most standard size auto cup holders.
Yeti vs. Bubba – Differences
The Yeti capacity is larger by 2 ounces. To my mind it's not enough to matter, but you may disagree. Also the shape of the Yeti is slightly different. I can't think of any practical reason that matters, but you might just prefer the look of it.
Yeti is dishwasher safe. Bubba is not, contrary to what it says on the Amazon site in the description of the Bubba tumbler.
I had a colored Bubba tumbler that I ruined. One trip through a wash cycle on the top rack made the colored coating peel off in huge chunks. My stainless steel Bubba (like the one pictured above) has survived one trip through the dishwasher, but I don't recommend it. There is a silicone pad on the bottom of the cup that prevents sliding, and I think the heat of a dishwasher would eventually ruin the glue and make that pad come loose.
Exterior of the colored Yeti tumblers is "Duracoat". This coating will not crack, peel, or fade. Exterior of the Bubba is stainless steel.
All of the colored Yeti tumblers have that Duracoat coating. It's called the "No Sweat Design" and is intended to keep your hands dry.
The biggest difference between Yeti and Bubba is price. You can find the Bubba Straw Envy Tumbler for just under $10. The Yeti Rambler will cost more than 3 times that much.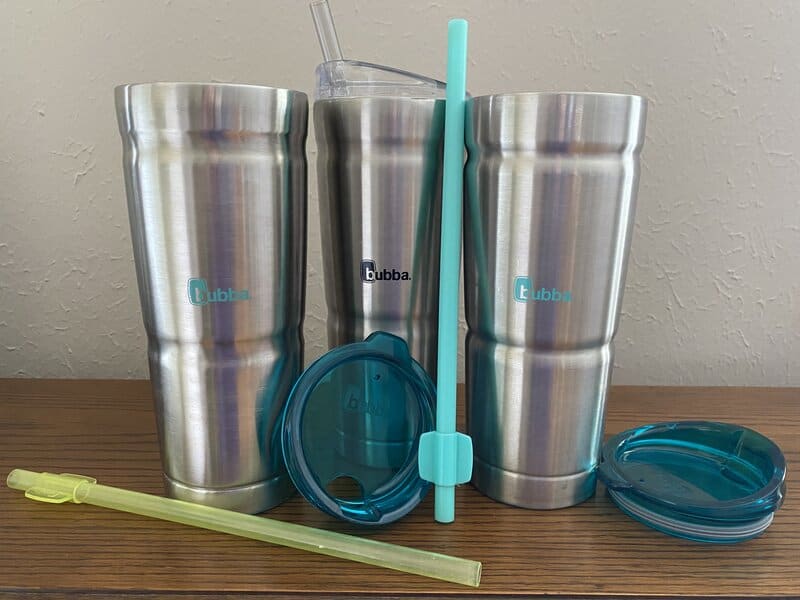 Which is Best For You?
It boils down to this: For 3 times the price, the Yeti gives you a slightly larger capacity and a No Sweat exterior coating, and it's dishwasher safe. Only you can decide whether those extras justify the cost. As mentioned above, determining factors might include the number you need to buy and/or whether you're on a tight budget at the moment.
Either way, now you have the facts so you can make up your own mind and shop smart. You can see them both on Amazon:
You might also like to read about my top choice for the Best Earbuds for Beach Goers. To see more of my favorites and fun finds, check out the Beach Gear Category on this site.

Thanks for visiting!
If you found this info helpful please share on Pinterest and help spread the word!