Fall Break Beach Trip – Emerald Coast
As an Amazon Associate I earn from qualifying purchases.
Summer may be considered high season, but have you considered a Fall Break beach trip to the Emerald Coast? It's becoming one of the most popular times of year now!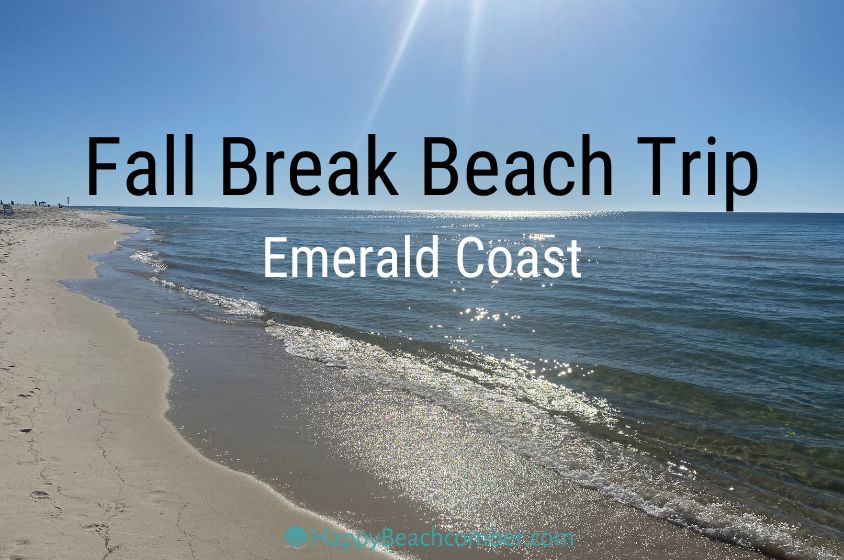 Time was that beach season basically ended in August when school started. After August the only vacationers were senior citizens or people who didn't have school age children. That has changed, a lot!
In recent years more and more schools have added "Fall Break" to their schedules, usually the first or second week in October. Now, one of the most popular times of year to head to the Emerald Coast is early October. To explain why, let me tell you a little about my most recent beach trip.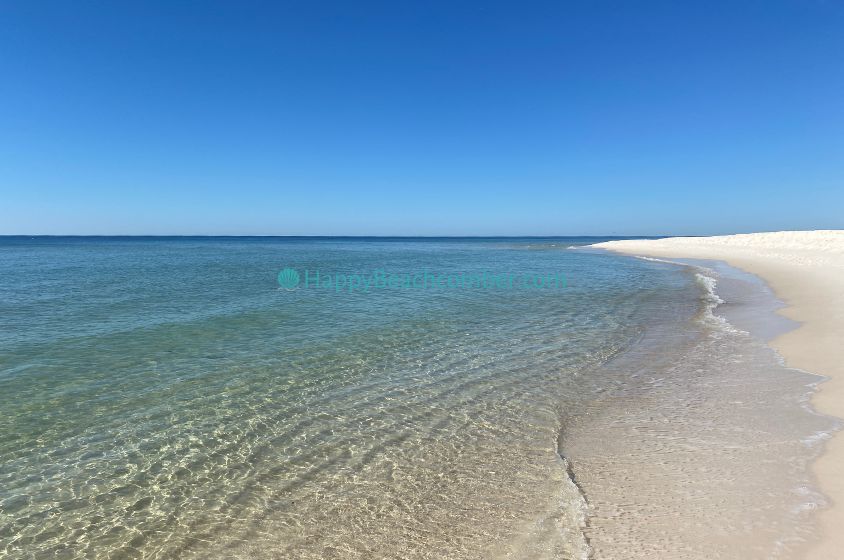 How is the Weather for Fall Break?
Personally, I love the heat. My favorite time of year is summer, and I don't care how hot it gets. At home I walk 4 miles every day, even when it's 100° with 80% humidity (which isn't uncommon where I live). I sweat like a farm girl, but that just doesn't bother me. So naturally, I love going to the beach in the blazing hot summer.
I also love going in fall, and if you hate really hot weather like so many people do, you really should consider it. You may just fall in love (no pun intended) with hanging out on the beach and not sweating. If you're as cold natured as I am, you may even need a windbreaker some days or in the early morning.
Of course, there is never any guarantee about weather. Any time of year that you go to the Emerald Coast, you're taking a chance. Hurricane season lasts from June through November. You never know when one of those will show up to wreak havoc. Even without a named storm in the Gulf, some other weather system can stall right where you are and make it rain all week.
In October it's still hurricane season, plus the daily temperatures can be much lower than in Summer. The average October range is from 60° to 78°. I don't know about you, but to me 60° with a brisk wind blowing off the ocean is quite cool, almost cold.
The good news is that most often those cold early mornings quickly climb so that by noon it's just about perfect – beautifully sunny and warm but not hot. I heard one gentleman say that in all his many years of beach trips, this past October was the most perfect weather he has ever experienced.
Bottom line is that it's impossible to make a condo reservation at the beach with a guarantee of good weather. In fall, you take your chances the same as any other time of year.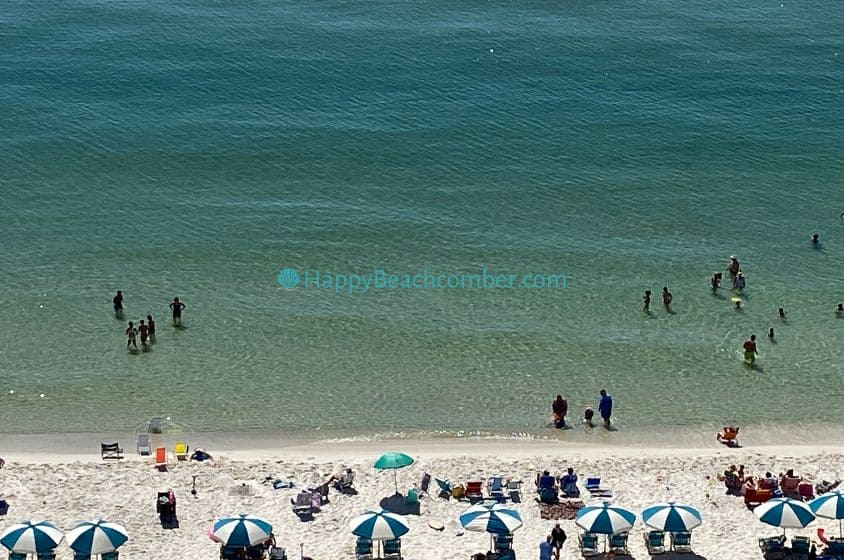 What About the Water?
Water temperature is another matter. June through August the average is from 82° to 85°, but by October it drops to around 78°.
During my latest fall beach trip there were plenty of people swimming in the ocean. Plenty more were enjoying the beach but not going more than knee deep into the water. I think I know why, and my unscientific and very limited crowd survey confirmed it: Those in the water were folks from much colder climates. Those avoiding the water were from the south.
Why is that? Because we southerners are spoiled to the summertime warm Gulf waters. Others are acclimated to colder climates. Those hearty folks are more accustomed to cold water, and they're much braver than we are!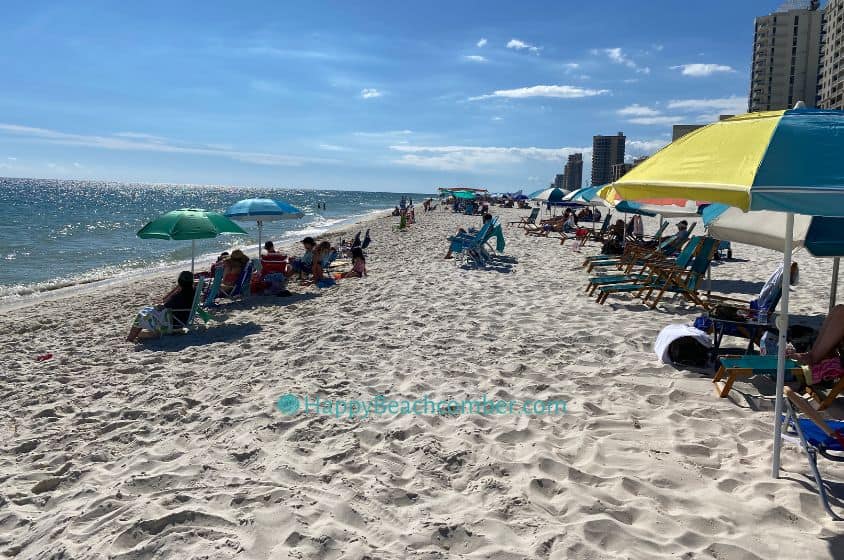 Are the Beaches Crowded?
I would describe it as just about perfect. I always enjoy visiting with people on the beach. I just dislike being so cramped for space you can't talk over your neighbor's music. In fall there are plenty of people there to make it fun, but you aren't sitting on top of each other.
Ages run the gamut. Kids range from those adorable babies we all enjoy seeing to teenagers engaged in everything from boogie board surfing to volley ball in the sand. There are families, couples, and singles. There are young adults, middle agers, and old folks.
As usual, the majority of people are lounging in the sun or shade, some with a good book, and most with an ice chest. Others are playing beach games or walking in the edge of the breakers. You'll also see the usual number of surf fishermen, especially in the early morning or late evening.
What's Still Open in Fall?
To the best of my knowledge, all the hotels, condos, and beach houses are open year round. I'm not aware of any that are closed during fall or winter. In fact, October has become such a popular vacation time that you can't wait till the last minute to find accommodations. For the best choices, be sure to make reservations early.
Once you arrive you'll find that in some respects it's business as usual. Companies that provide beach chair/umbrella rentals are still operating daily. In many places you will also still find other beach rentals such as kayaks and jet skis.
The difference is that you don't see as many rental companies working in as many locations. It may be harder to find a place to go parasailing or ride a banana boat. That's especially true in Perdido Key. You might have better luck at Orange Beach or Gulf Shores.
Restaurants
Based on my experience last October, the only issue you'll find with restaurants is the same as everywhere else in the country. That is, staff shortages. Like every other state, Florida is struggling to find people willing to work. You'll see the signs asking you to be patient if service is a little slower than usual.
I ate at all my favorite places – Jelly Fish, Oyster Bar, The Original Point, Shrimp Basket, Lillian's. What I noticed is that there was a short wait to get seated because the crowds were so large. That surprised me for October, but I'm glad to see that Emerald Coast businesses are doing so well.
A couple of times the service might have been a bit slower than in years past, but it wasn't a big deal. For the most part I saw wait staff hustling to do their best, even running at times. I appreciate that, and anyway, who's in a huge hurry on vacation? I'm just grateful to have the opportunity to be there, and I like to relax and enjoy every moment.
Lillian's Pizza is now delivering again, and their service was very fast. (If you've never tried Lillian's, put that at the top of your list. It's one of the best pizza's you'll ever eat anywhere!)
By the way, the local fish market was also still open and doing a thriving business. I bought fresh grouper and shrimp to cook at the condo, and it was delicious. Nothing beats seafood that's fresh off the boat and never frozen.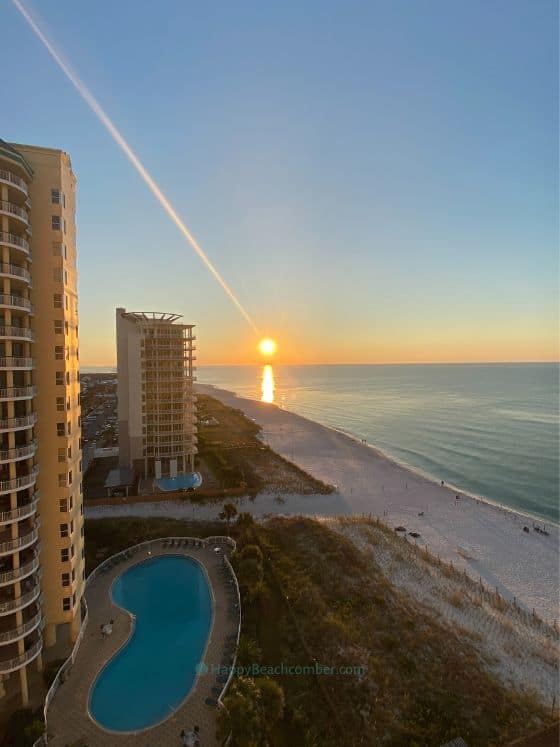 My 2022 Fall Break Beach Trip
This has to rank as one of my best beach trips ever. I drove down on Saturday, and it was so cool that day I was a little concerned about the week ahead. In Foley I stopped at Tanger Outlets to do a little shopping before heading on to Perdido Key to meet family members.
That first night we ordered Lillian's and ate pizza on the balcony, listening to that glorious, calming sound of the ocean. Is there anything more peaceful than that?
Sunday morning was cool enough that I wore a jacket on the beach. Mind you, I had on shorts and walked along the beach in ankle-deep water. It wasn't freezing, just too cool for shirt sleeves to me. Later that morning we went to buy groceries and then had lunch at the Jelly Fish. By afternoon the beach was still quite cool to me, but it didn't bother others. There were lots of kids and adults swimming.
Monday and Tuesday were a little warmer. The water was incredibly calm and crystal clear. None of the surf fishermen I talked to were having much luck. In fact one day it was so bad that the beggar birds gave up on them. I actually saw a heron fishing for his own food.
Late in the day Tuesday this couple did catch a nice red fish.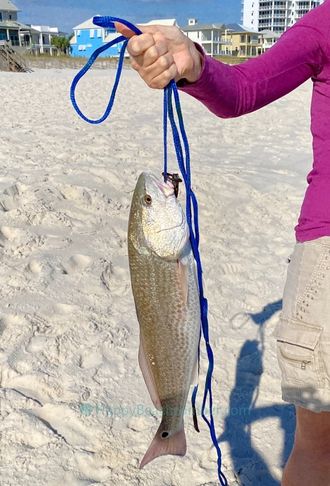 Of course, if you're a serious about reeling in a great catch you need to go on a charter boat with a good guide. October is great for red fish, another reason so many people take a fall break beach trip.
The rest of the week warmed up and was absolutely the perfect temperature with a gentle breeze and cloudless blue skies. Fishing still didn't improve, but late one afternoon a shark drew a crowd of curious onlookers. He was swimming in very shallow water, right on the shoreline in the breakers. A stingray was also swimming there, and the shark kept circling in a way that appeared he wanted that stingray for dinner.
Below are a couple of videos to give you a glimpse. The glare from the sun was so bad I couldn't see what I was filming. That's why the quality is so bad. It's hard to tell, but that is no small shark. He was a good 4 1/2 or 5 feet long.
Meanwhile a fisherman who was standing there actually caught the stingray that we think the shark was after.
The shark swam out to sea then, and I headed back down the beach. On the way I met a couple who were setting up to fish for sharks, so I shared the story and video with them. There was a guy sitting not far away who heard us, and he butted in to "inform" us that what we saw was not a shark. According to him, none of those "sharks" people see on the beach are really sharks. What?!
The couple who were about to shark fish politely explained to him that he was dead wrong. I'm not sure he believed them, and I had to struggle to not roll my eyes. I could write a whole other post about the various species of sharks in the Gulf, and people who swim in the late evening about the time fish come into shallow water to feed, and on and on. I guess the lesson here is, be careful who you listen to at the beach!
The rest of the week was absolutely gorgeous. We never had a drop of rain, and the surf stayed perfectly calm the whole time. I saw the sunrise every morning, walked for miles and miles every day, and enjoyed every moment of experiencing what to me is God's most beautiful creation on earth.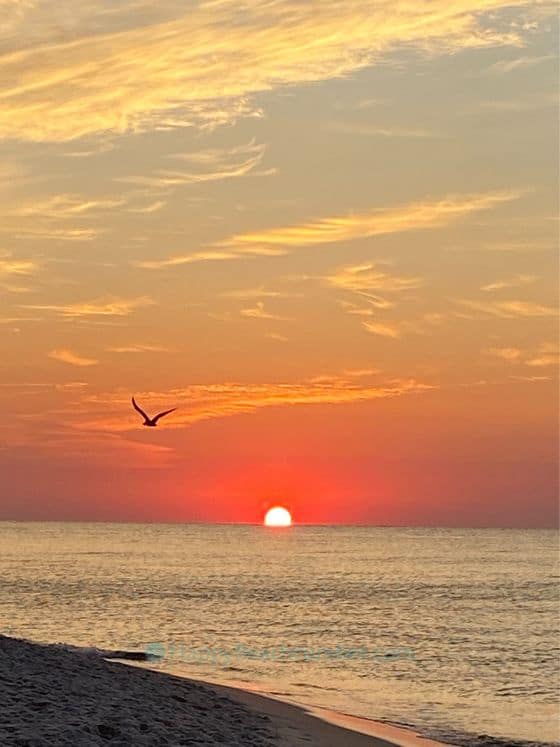 I also indulged in fabulous food at places like the elegant Oyster Bar and the not-at-all-fancy Shrimp Basket. Last night there we went to The Original Point, where I highly recommend the grilled scallops and crab cakes – and yes, the crab cakes are grilled. They still have live music, not Blue Grass but the band was very talented and lots of fun. There was such a crowd that we did have a short wait, but it was definitely worth it to enjoy a great meal and good music.
Wait, let me clarify that. The band looked to be boomers, and they were playing to the boomer generation, but I didn't hear anyone complain. Everyone I saw appeared to be enjoying the music, including all of the younger crowd.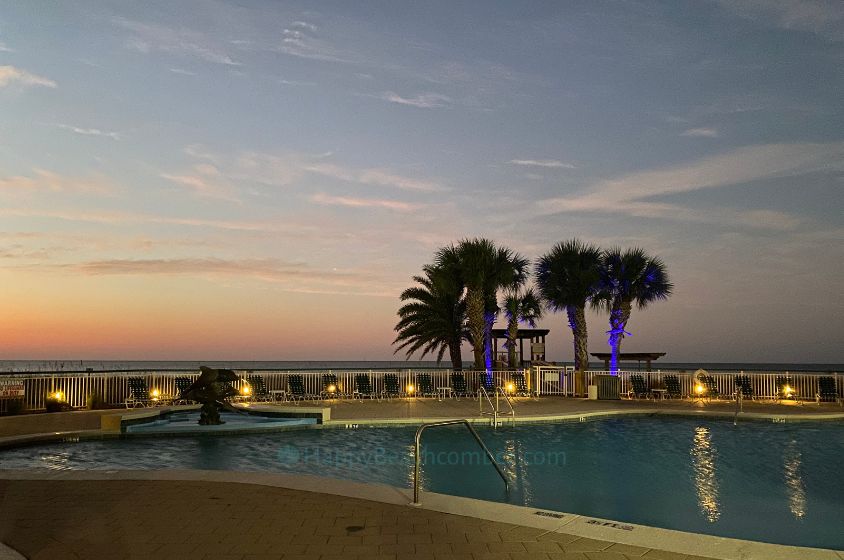 All in all my Fall Break beach trip was as perfect as any vacation could be. I enjoyed cool days, warm days, all the usual interesting wildlife, pleasant people, not-too-dense crowds, and fabulous food. Every day I walked 8 to 10 miles on the beach, relishing the feel of my bare feet on the sand or in ankle deep water.
I was on the beach for sunrise every morning, talked to the fishermen who wanted to talk, simply smiled and nodded to those who just wanted to enjoy the quiet. That time of day on the beach you don't have to ask. You just know.
Later in the day I met lots of other nice people from all over the south and far beyond. That's always fun because everyone is in such a good mood at the beach. I even got to know some folks from North Carolina, which is the next beach trip I'll be taking. They gave me some great tips and advice about the Outer Banks and some of the beaches farther south.
For now I have my photos and my memories. Best of all, I never quite lose that tranquil feeling of being near the ocean. It lingers inside me as I head back home, and it stays with me even as I await my next chance to return to the sea. If it slips away all I have to do is close my eyes, take a deep breath, and remember. I am so very, very blessed.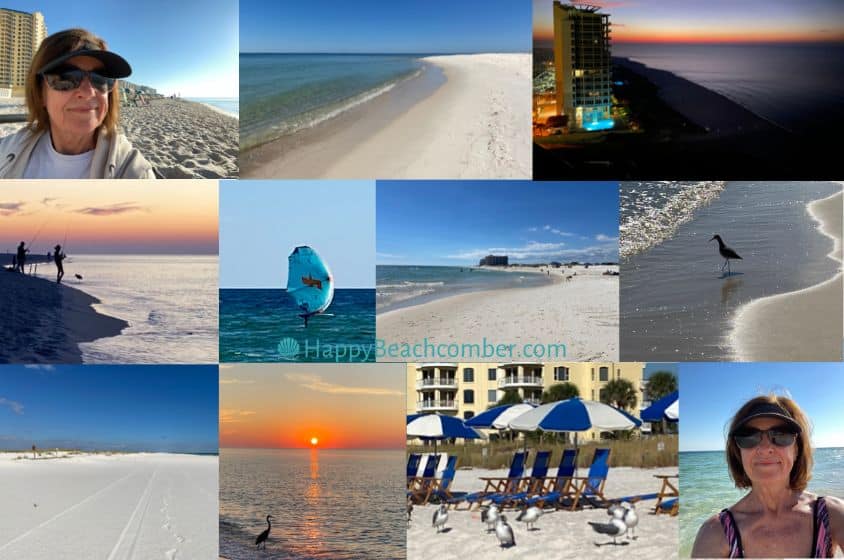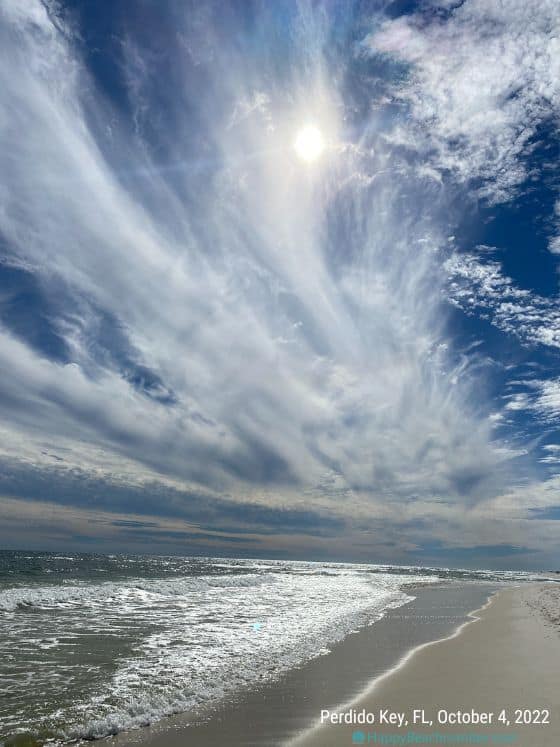 What Else Can You Do in the Off-Season

One huge activity in fall is the Annual National Shrimp Festival in Gulf Shores, Alabama. It is usually scheduled somewhere around the second week in October, and it is a really big deal! Thousands of people attend every year, so you need to plan ahead to get the reservations you want.

This festival runs Thursday through Sunday and features food, live music, art (paintings, jewelry, sculpture), a sand castle contest for the kids, and of course tons of shrimp cooked every way you can imagaine.

The Wharf in is also open year round. It hosts a wide range of entertainment opportunities from big name concerts to family friendly events like the Freedom Festival. To find out what's coming up see The Wharf event schedule.

Some of the smaller entertainment venues for kids such as mini golf may close at certain times of year. However, one huge attraction open year round is The Track in Gulf Shores. It has go-kart tracks, mini golf, bumper boats, rides, and an arcade. You can spend hours there!

For other ideas stop by the Gulf Shores & Orange Beach Welcome Center. They have literally hundreds of pamphlets on everything there is to do at all the beach towns in that area, plus other attractions all over the state of Alabama. You may even discover something you want to take time to do or see on your trip back home.

Any time you're at the beach and it turns cold or rainy, one great option is Tanger Outlets in Foley, Alabama. It's huge with about 100 stores. There's literally something for everyone in the family, so even the guys will enjoy going.

While you're there, the town of Foley also has some great restaurants. (Is it obvious that one of my favorite parts of going to the beach is enjoying all the fabulous food?!).

See also:
Please share on Pinterest and Facebook!