Why You'll Love the Natchitoches Christmas Festival
As an Amazon Associate I earn from qualifying purchases.
It was made famous in the movie "Steel Magnolias" and earns high praise from Southern Living Magazine. Those are great recommendations, but here's why you'll love the Natchitoches Christmas Festival!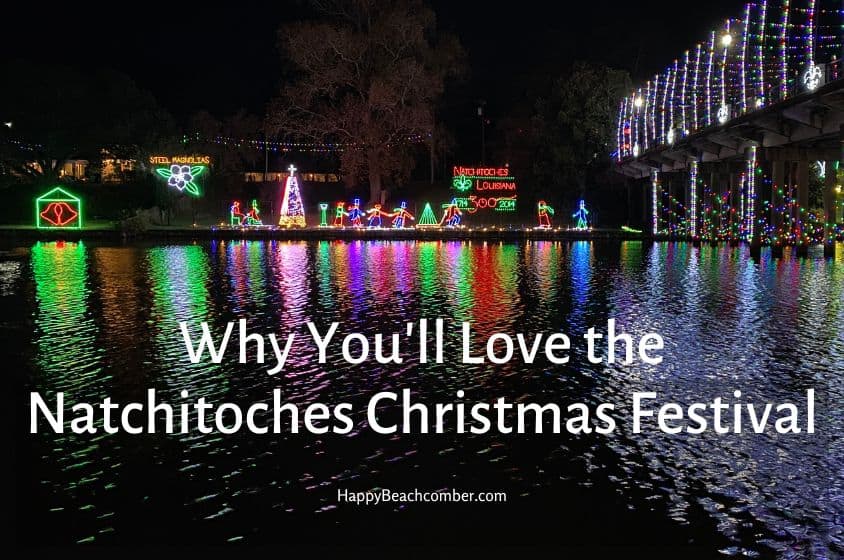 Before I get into details, let me just sum up some of the main reasons this particular Christmas festival is so enjoyable:
You'll feel like you're stepping back in time in the historic city of Natchitoches with its cobblestone streets, quaint shops and lovely wrought iron work. You can even take a carriage ride in a horse-drawn buggy.
For breakfast, lunch, dinner or snacks, you'll eat some of the best food you've ever tasted. It's the south. The one thing we do best is cook, especially in Louisiana!
The entire atmosphere is very relaxed and low pressure, and it's geared to all ages. You can take your kids to burn up energy on the zip line, inflatable obstacle courses and all the other activities set up along the riverbank. You'll also find plenty of places to simply sit down, have a cup of hot chocolate, and enjoy people watching.
You'll really get into the holiday spirit as you take in decorations that adorn the entire downtown area. Browse the unique boutiques and shops along Front Street and get some of your Christmas shopping done.
You'll enjoy a friendly and happy crowd, live music for all ages, and impromptu dancing in the street or in front of the stage along the riverfront.
After dark the beautiful lights along the banks of the Cane River are a special treat, and of course a festival favorite is the spectacular nighttime fireworks show set to holiday music.
All in all this is a very family friendly event that is well suited to all ages. You can certainly buy adult beverages in the restaurants if you like, but you won't find lots of wild crazy nightlife in downtown Natchitoches. This festival offers "G-rated" bands and lots of good, clean fun. Read on for all the details.
Wait! Isn't this site about the Emerald Coast beaches?
Yes, yes it is. However, much as I love the Emerald Coast, I don't live there or spend every waking hour there. So I thought why not share with you some of my other interesting travels? There is Natchitoches, and Crystal Bridges in Arkansas, and Crystal Beach in Texas. Then there was the Surgery and Sightseeing trip, which you'll just have to read about to believe. My main focus still remains on the beach, but who knows what else I might decide to share next. Stay tuned!
The Town of Natchitoches
When most people think of Louisiana the only town that comes to mind is New Orleans. Among those who have never lived here there is a common misconception that we all speak Cajun French, and that our entire culture centers around Mardi Gras. Actually it's a lot more complicated than that.
Generally speaking, what most people think of as the Cajun influence is much stronger in south Louisiana, which basically consists of everything south of Alexandria.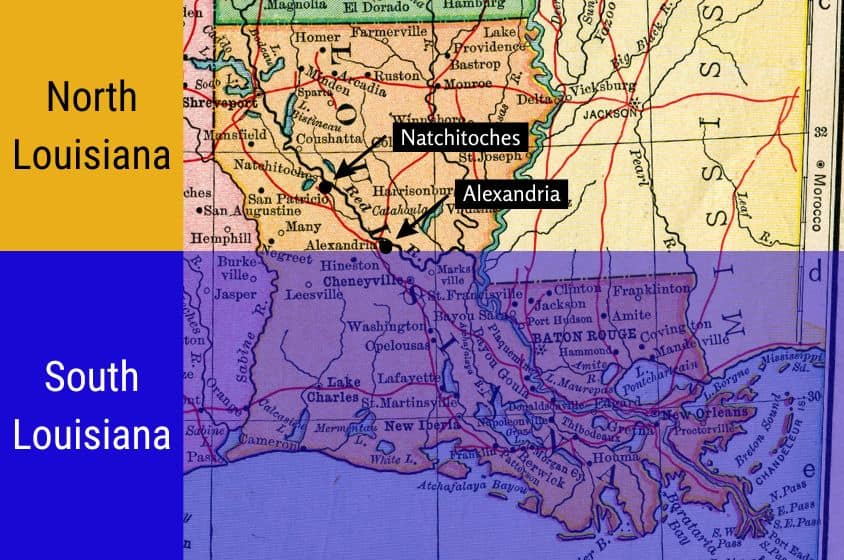 In many ways the northern part of Louisiana is a whole other state. You won't hear a lot of Cajun accents or music up here, and our Mardi Gras Krewes and parades didn't come along until the early 1980's. There were some early celebrations starting in the late 1800's, but interest soon died out because this part of the state has no cultural or ethnic ties to the holiday. For this area, it was (and is today) just something to do.
What we do share statewide are influences from the very diverse Creole community. That consisted of the indigenous Houma, Chitimacha, and Choctaw; enslaved peoples from West Africa; German immigrants; French and Spanish settlers; and the Acadians who immigrated here from Canada. Creole history is very interesting and complex. If you'd like to know more read this excellent article from The Historic New Orleans Collection: "What's the difference between Cajun and Creole — or is there one?".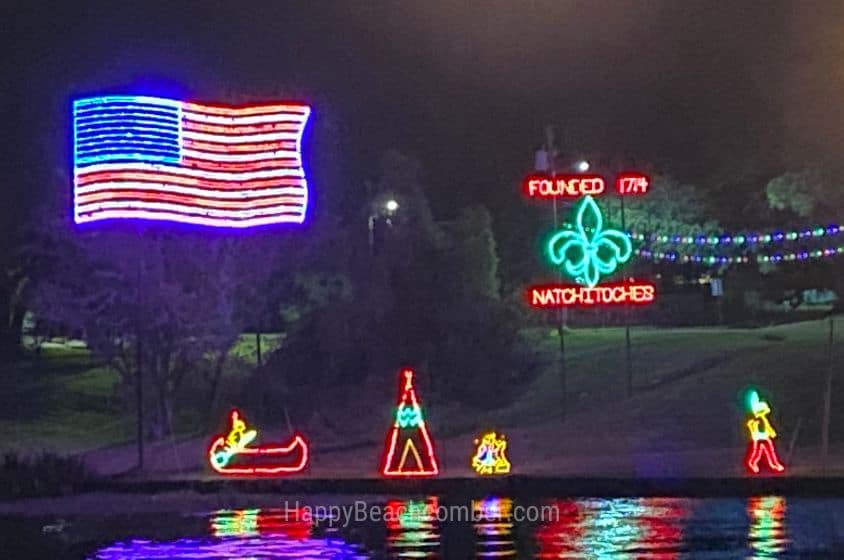 The town of Natchitoches (pronounced NA-kuh-tish) is a great example of this complex mix of influences. It is located in the northern half of the state and is the oldest town in the original Louisiana Purchase territory. It was established in 1714 by a Canadian explorer, named for the nearby Natchitoches Indians, and initially settled by French Catholic immigrants and creoles. Later years brought Americans of European ancestry and Protestant faith.
In antebellum days this was cotton country and home to Magnolia, Oakland, and other plantations. Some have been designated as National Historic Landmarks. Melrose Plantation was home to one of the most famous African American slaves, Clementine Hunter.
Over time numerous events contributed to Natchitoches' decline. During the mid 1800's the Red River shifted course away from the town. During the Civil War both Union and Confederate soldiers contributed to burning and destruction of local plantations. 20th century mechanization resulted in an exodus of the agricultural population. By 1970 the town was in serious decline.
At that time the annual Christmas festival already existed but only as a small, local event. Then along came a mayor named Bobby DeBlieux, who is credited with starting the initiative to capitalize on the area's rich history, and boy did that work out for them!
Today Natchitoches enjoys a thriving tourism industry. In addition to the many plantations and historic buildings in the area, the entire mile-long stretch of business downtown along Front Street is designated as a National Historic District. This is a beautiful area with all its French colonial charm, set high atop the levee and overlooking Cane River Lake.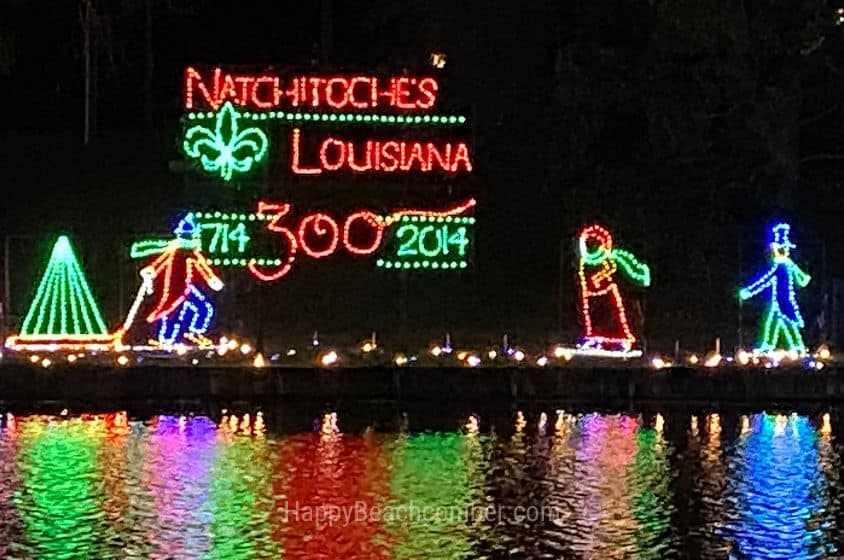 History of the Natchitoches Christmas Festival
Back in 1927, the Superintendent of Utilities for the City of Natchitoches came up with an idea for a Christmas event in the town he loved. He bought strings of Christmas tree bulbs to light up Front Street. Then he built a lighted "Star of the East" out of metal and placed it on the opposite bank of Cane River Lake.
Now, 96 years later, the annual celebration includes thousands of Christmas lights adorning the downtown area. That first small set piece, the Star of the East, has grown to over a hundred unique creations that line the east bank of the river every year. Natchitoches has become known as the "City of Lights", and maintenance of lights and displays for the annual event has become a full time job for the city's Utility Department.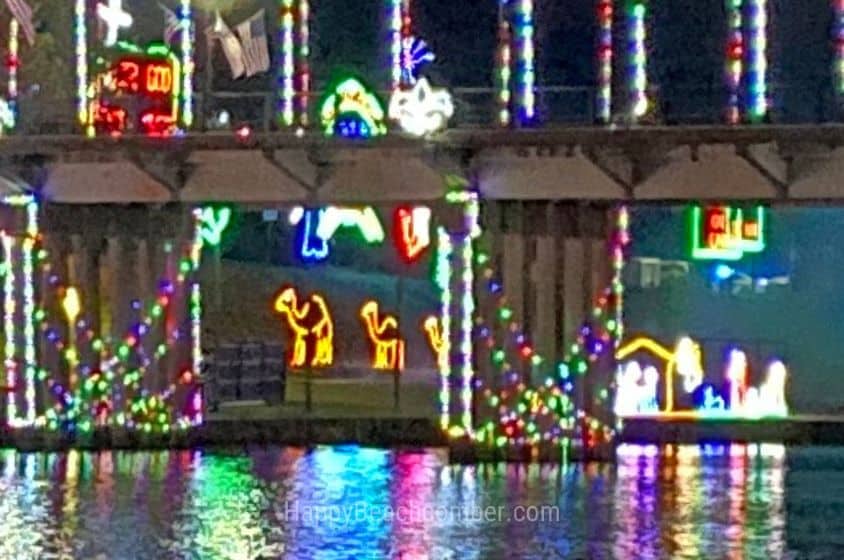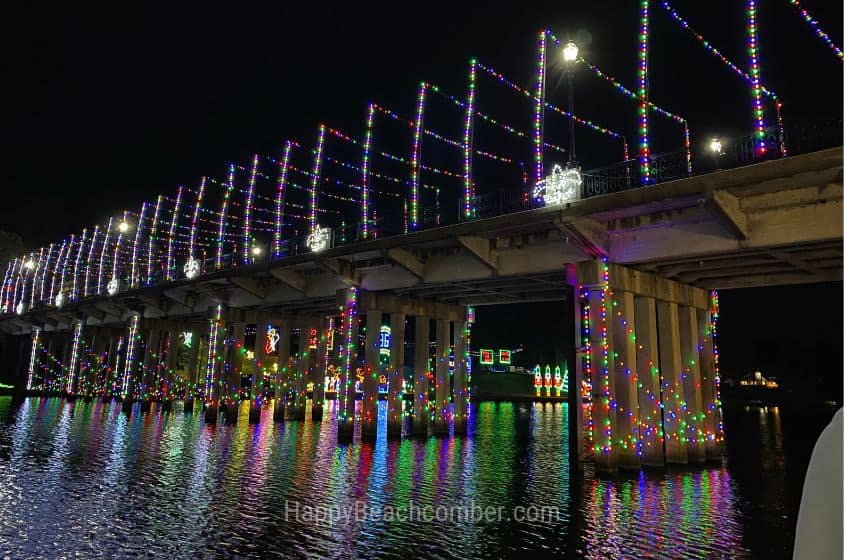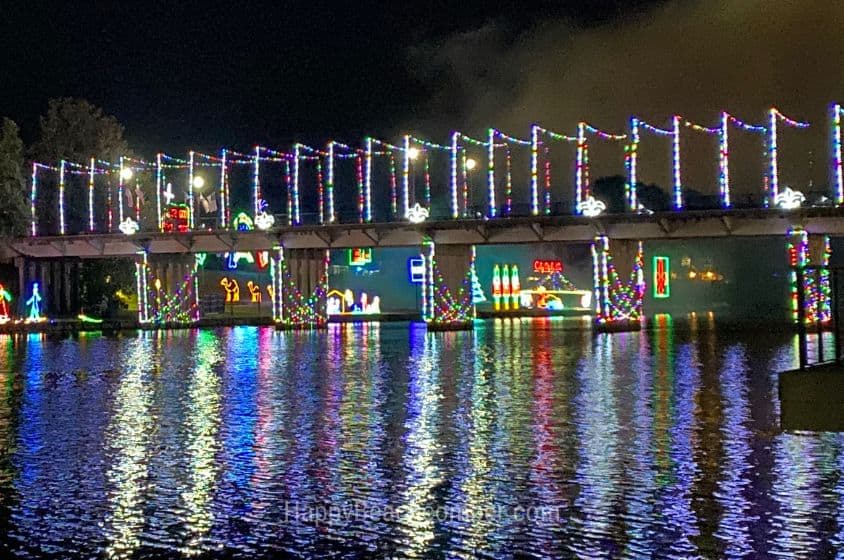 Some time in the 1940's the first parade took place, and it continues to this day. It's great fun for participants and observers alike, with marching bands, floats, dance groups, and of course Santa Claus.
In true southern tradition the parade also features all the Natchitoches royalty of the season: the queen of the season Miss Merry Christmas, as well as Miss City of Lights and Miss Natchitoches Teen, plus the Christmas Bells and Christmas Angels. Quite often, royalty from other Louisiana festivals and cities participate in the Natchitoches parade.
Fireworks came to the festival in 1936, with a display that is said to have cost $300. That, too, has grown massively! The festival now has fireworks shows every Saturday night beginning the Saturday before Thanksgiving and ending on New Years Eve. Today's costs for these shows runs over $100,000.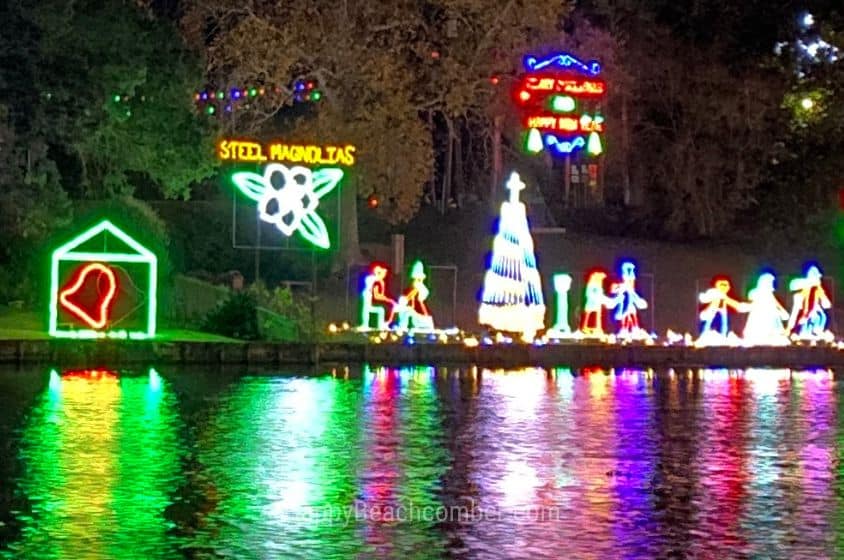 By 1989 the Natchitoches festival of lights was well established, but that year the movie "Steel Magnolias" gave a glimpse of the fun to millions and millions of people. Want some interesting trivia? The movie was not filmed during the Christmas season. In fact, it was late July, early August, when temperatures in the area commonly reach 100°.
Despite the heat and humidity, and the fact that Christmas was still months away, the entire town joined in to create the festival exactly as they do every year. It included all the lights, set pieces along the riverbank, food vendors, entertainment, beauty queens, fireworks, and everything else down to the last detail. All those actors wearing heavy coats must have been suffocating!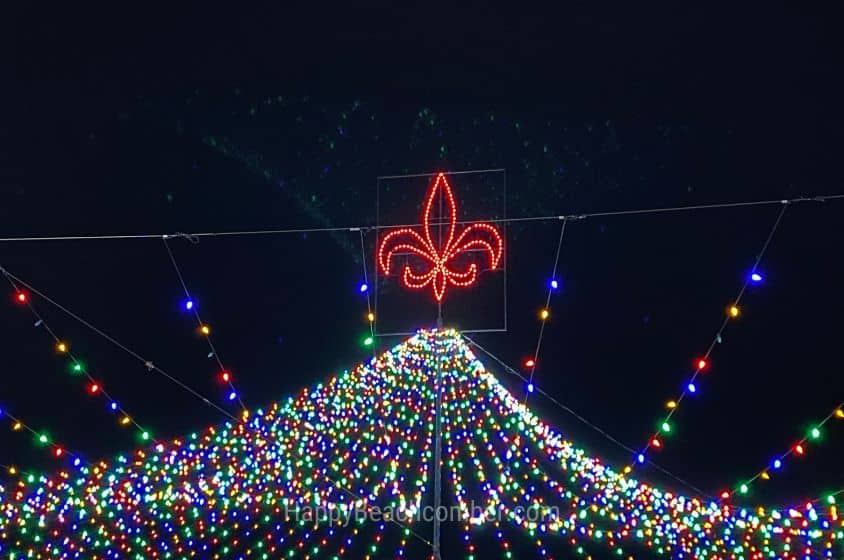 Things To Do at the Festival
For me Natchitoches is not a long drive, so I can easily go for the day. My advice, arrive early, at least by noon if not before. Check the weather because winter days in Louisiana can range anywhere from freezing all the way up into the 80s.
On my last trip temperatures were in the 50s and very pleasant during the day. By sundown the wind coming off the river made it quite chilly, great weather for warm coats and hot chocolate.
Not Your Ordinary Shopping Trip
First order of the day for me is always shopping. Funny thing is that normally I hate to shop! Going to a mall or shopping strip is my idea of abject boredom and torture!
That is not the case at all in Natchitoches because the quaint little businesses on Front Street are so different and charming. There are all sorts of boutiques with clothing and accessories, shops with gifts, collectibles and souvenirs that range from elegant to quirky, and stores with distinctive items such as hand carved furniture. You'll also find numerous fine art galleries and antique stores.
Around the holidays lots of stores carry great selections of holiday decorations and tree ornaments. It's a great opportunity to find unique ornaments for something like my Beach Theme Christmas Tree.
On my visit last year I entered one of the gift shops and immediately noticed that one corner had been transformed into an art gallery. The paintings all looked like the work of Clementine Hunter, and for good reason. They were the artwork of her grandson, James Hunter. Even better, he was there and I got to meet him. What a delightful man, and what a treat for me!
By the way, there is an arts festival every spring at Melrose Plantation. Mr. Hunter told me that he is usually there for that event, and his work is always available for purchase there.
My next stop was not a surprise but one part of the trip I always enjoy most.
The Old Hardware Store
This may sound odd, but for most visitors the favorite and most fun shopping experience on Front Street is "the hardware store". The actual name is the Kaffie-Frederick General Mercantile, originally established as a door-to-door business in 1863. The business grew and built a new building on Front Street in 1893, and it is still located in that same building today.
Though a few changes have been made over the years, the majority of both the exterior and interior remain exactly as the building looked in the beginning. They even still have a 1917 cash register powered by a hand crank that is still in use today. That's over a hundred years old!
Equally as fascinating is the merchandise that includes every kind of tool and piece of hardware you can imagine; an amazing array of kitchenware and household products, from basic utensils to the finest quality cookware; and children's toys that will take you back down memory lane – Radio Flyer wagons and Raggedy Ann dolls and all those classic Fisher Price toys. Remember the Fisher Price wooden telephone with a dial and a pull cord? They've got that, and the xylophone and all those other Fisher Price toys that you (or your parents or grandparents) remember so well.
Then upstairs is a gift shop with clothing, accessories, jewelry, and fragrances, plus dinnerware and household items for indoors and out. At Christmastime they have a tremendous selection of ornaments and decorations, including contemporary, novelty and vintage. I personally love the variety of beautiful nutcrackers.
Activities & Entertainment for the Kids
All along the riverfront, that is down the levee near the water, there are all sorts of opportunities for the kids to have fun. Some of the many options include zip lines, bounce houses, and inflatable obstacle courses of all kinds. There's even a snow hill ride – with manufactured snow, of course. I mean, after all, this is Louisiana.
After noon there is usually a band playing in the amphitheater, and that often draws kids of all ages. There is plenty of dancing going on, whether you want to join the crowd or sit on the concrete tiers and watch.
Naturally, one of the most popular attractions for kids is Santa himself. The Santa Clause House is set up next to the waterfront, and children can visit him for free.
Meanwhile burning up all that energy makes you hungry, and there are plenty of food vendors set up right there next to the river. They sell funnel cakes, popcorn, cotton candy, corndogs, and all sorts of other carnival-type foods. For more variety or a sit-down meal you can just walk up the stairs back to Front Street.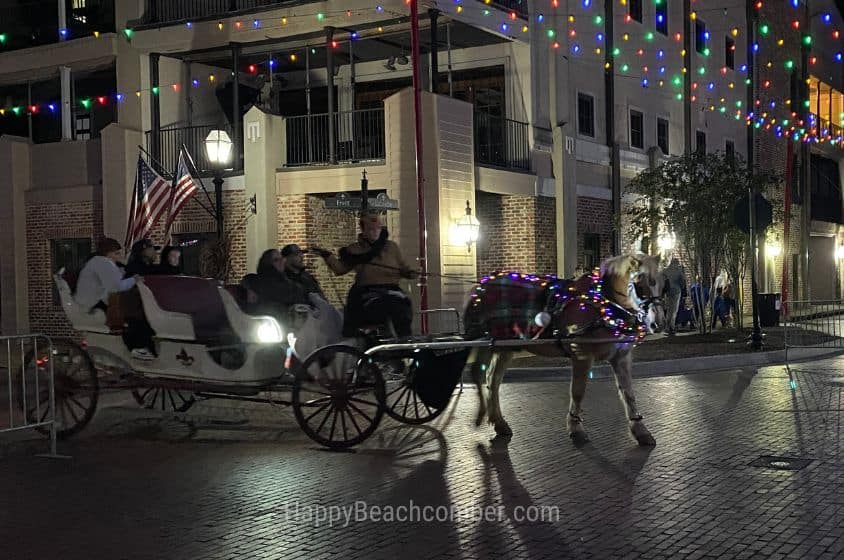 Downtown and Area Tours
Day or night during the festival, a fun way to take a guided tour of the historic district is in a horse-drawn carriage. The horses are decked out in festive collars and blankets, even holiday lighting at night.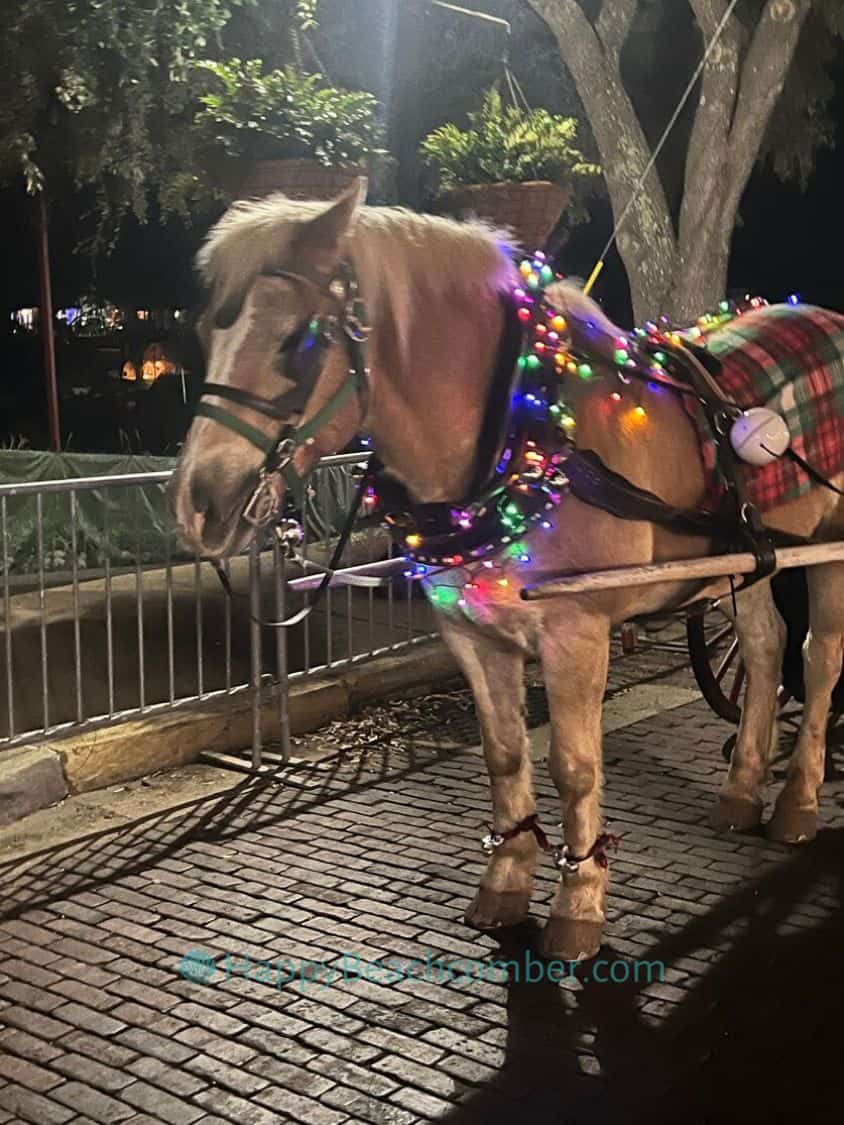 If you have the time, especially if you're staying more than a day, there are other nearby area tours that may interest you. A few include:
For other ideas check the Natchitoches Convention and Visitors Bureau.
Food, Fabulous Food!
Oh my, where to begin! I can honestly say I've never had a bad meal in Natchitoches, not even a mediocre meal. To be clear, the food venders on the riverfront sell the usual carnival foods, exactly what you'd expect. The restaurants along Front Street offer much more delicious fare.
The mixture of Creole, native American, African-American and so many other cultural influences throughout the history of Natchitoches make for some excellent cooks. Whatever you choose you won't be disappointed, and there is lots of variety.
My personal favorites include (but are not limited to!):
Mayeaux's Steak and Seafood – Fine dining and a great variety on the menu
Laysone's – home of the famous Natchitoches Meat Pies
Maglieaux's Riverfront Restaurant – on the water, Italian and seafood
Mama's – Oyster and seafood house, a little fancier than Papa's
Papa's – Poboys and such, a little less expensive and more casual than Mama's
Besides that there are shops selling ice cream, homemade candies, divine pastries, cupcakes, and other delectable treats such as chocolate covered strawberries (made fresh), caramel apples, and candied fruit. One shop has at least a dozen varieties of fudge. There are also coffee shops that serve pastries and breakfast foods.
The only downside is that big crowds can mean long waits. Keep in mind that this festival draws about 100,000 visitors every year. This past year I went on the very first weekend of the festival, which was the Saturday after Thanksgiving. That turned out to be great timing both for nice weather and a not-too-huge crowd.
Otherwise be aware that at the nicer restaurants like Mayeaux's and Maglieaux's you need to make reservations ahead of time. Mama's, Papa's, and many of the others will work you in, but be prepared for a long wait. One thing you can do is time your other meals so you eat dinner earlier than most folks and that way avoid the big rush. You can then go watch the evening entertainment and fireworks, and treat yourself to dessert when it's all over.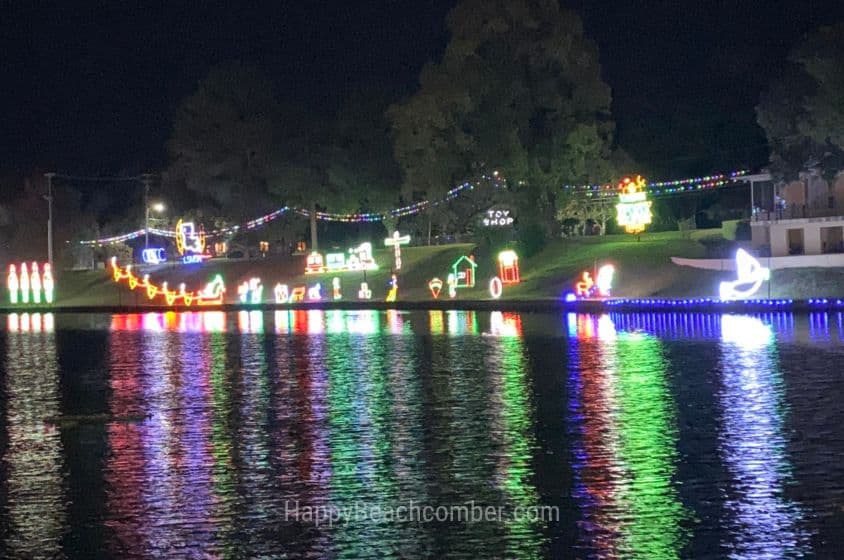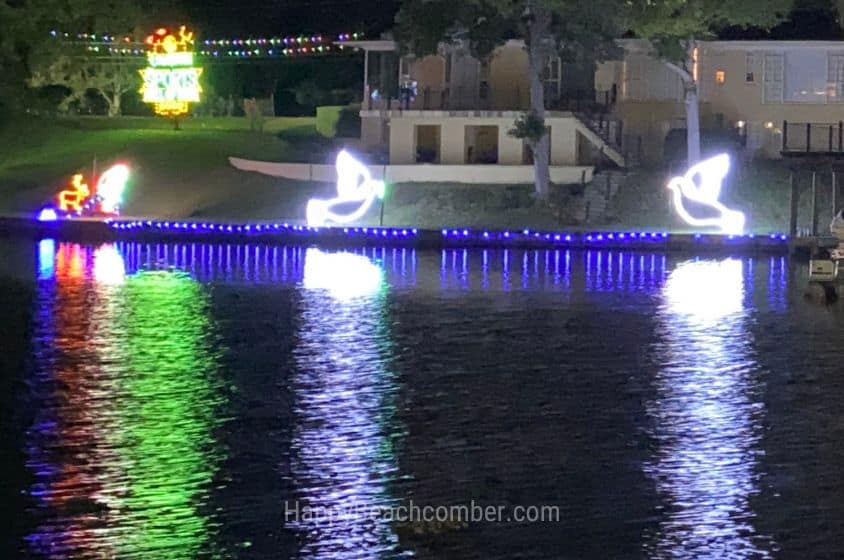 Lights and Fireworks – The Best Part
The highlight of the festival comes after dark with the lighting of the set pieces along the river, followed by the magnificent fireworks display.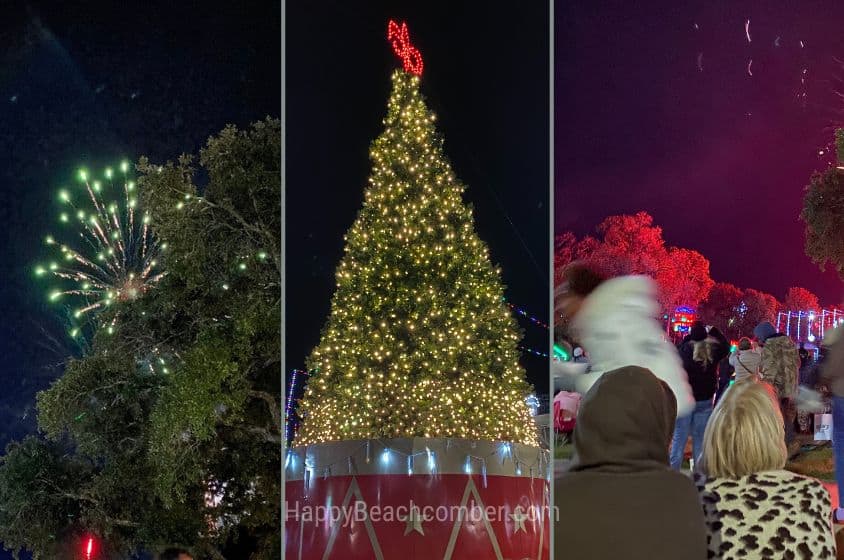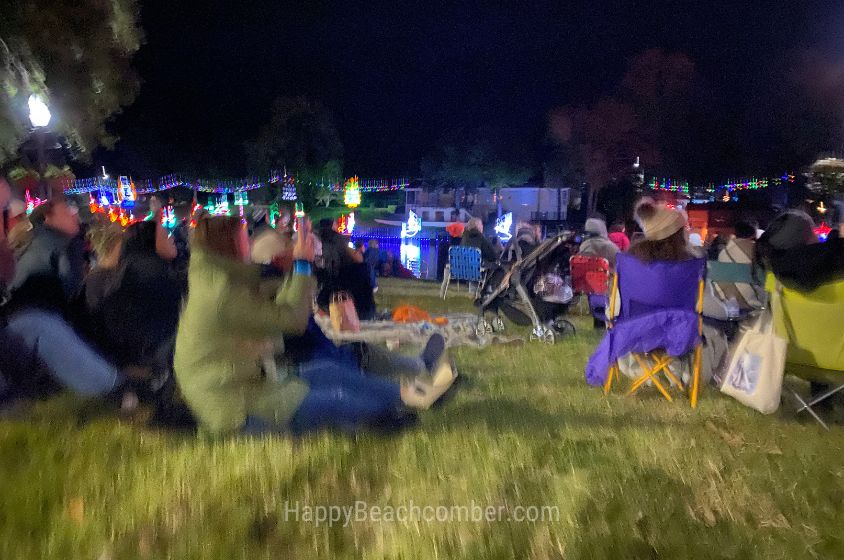 Planning Your Trip
If you don't live close enough for a day trip, you need to start planning as early as a year ahead. Natchitoches has a multitude of bed & breakfast homes as well as other lodging, but it all books up way, way ahead of time.
In fact if you start early enough and get lucky, you might even be able to stay in the Steel Magnolias house!
For information on this year's festival dates, lodging and other details check these resources:
For me this is a fun, festive event that has become one of my favorite holiday traditions. If you decide to visit, I hope you'll love the Natchitoches Christmas Festival as much as I always do!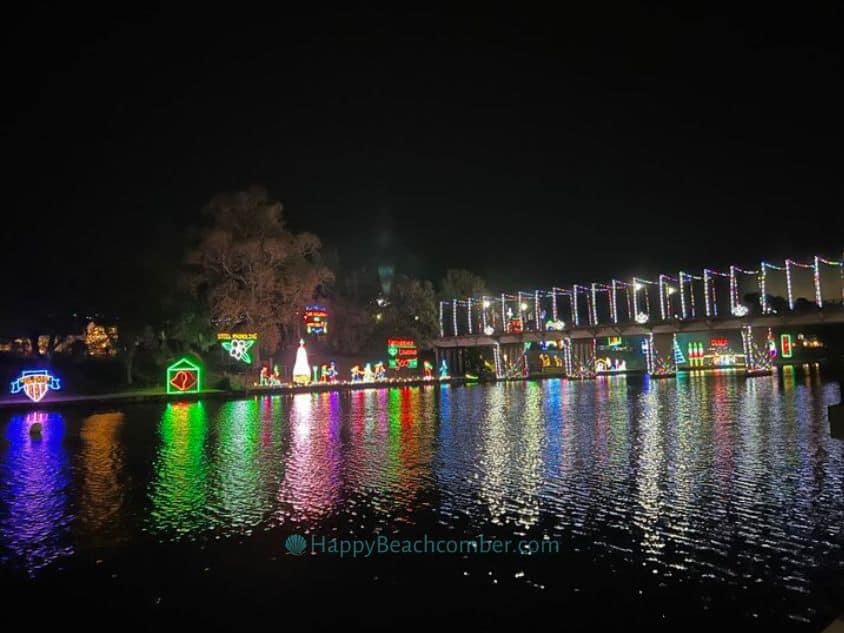 Please share on Pinterest and Facebook!