Johnson Beach and Florida Black History
As an Amazon Associate I earn from qualifying purchases.
Have you ever missed something amazing that was right under your nose? That was my experience when I discovered some fascinating Florida Black history on an old familiar beach.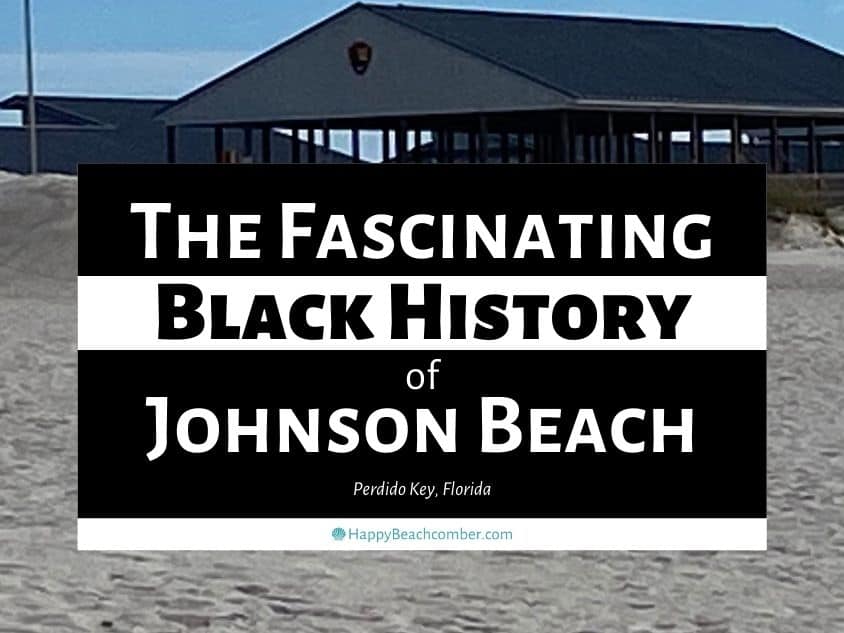 Where Is Johnson Beach?
You know my favorite Florida beach is Perdido Key, and one of my favorite places to stay is just down the beach from a state park. I love walking along the edge of the ocean, and the park is just far enough away that I often make that my turn-around point.
Though I've seen the park dozens of times from the water's edge, I had never actually walked up and looked at it. I didn't even know that this particular spot is named Johnson Beach.
On a recent trip I finally decided to get a closer look and take some pictures so I could share what the park has to offer with my readers. I had no idea that I was in for a great education!
The physical address is 13333 Johnson Beach Road, Pensacola, FL 32507-9069. This area is part of the Gulf Islands National Seashore, which includes the Emerald Coast beaches from Florida through Alabama to Mississippi.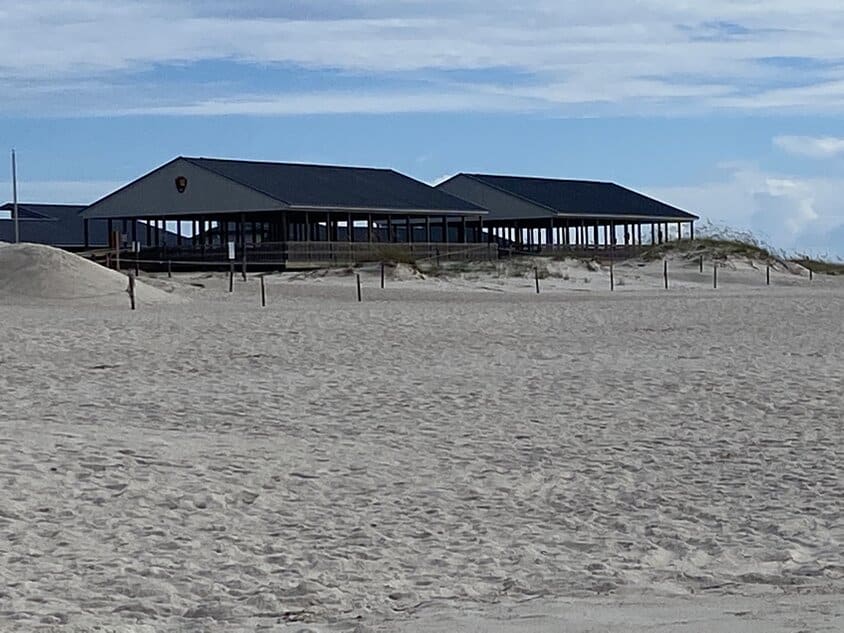 About the Present Day Park Facilities
Before getting into the history, you'd probably like to know exactly what area we're discussing. Let's take a quick tour of Johnson Beach as it exists today.
As you can see from the above photo, the pavilions were constructed far back from the ocean, leaving a huge expanse of beach to enjoy. Even at the most popular times of year there is ample of room for lots and lots of beach goers to claim their spots and still have plenty of space between groups of folks and all their chairs, umbrellas, and other gear.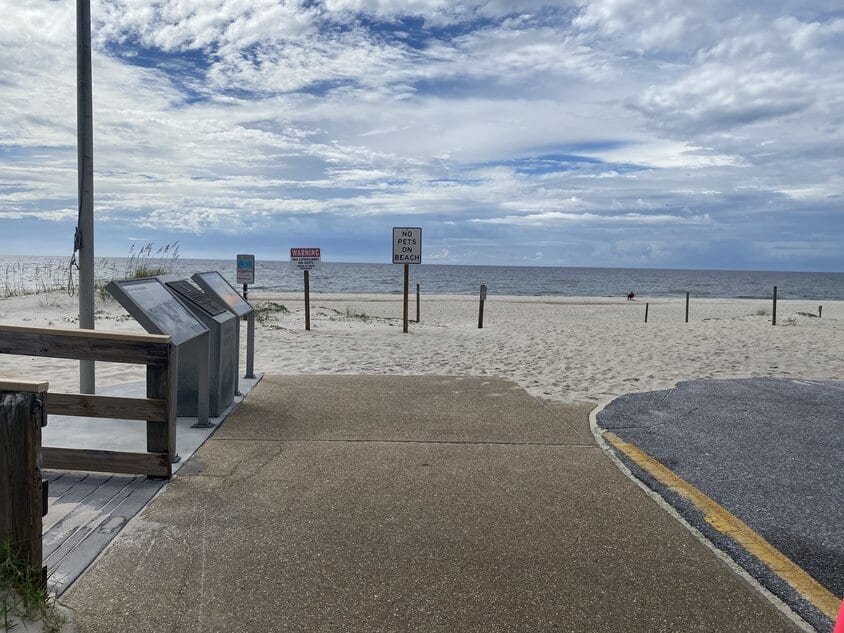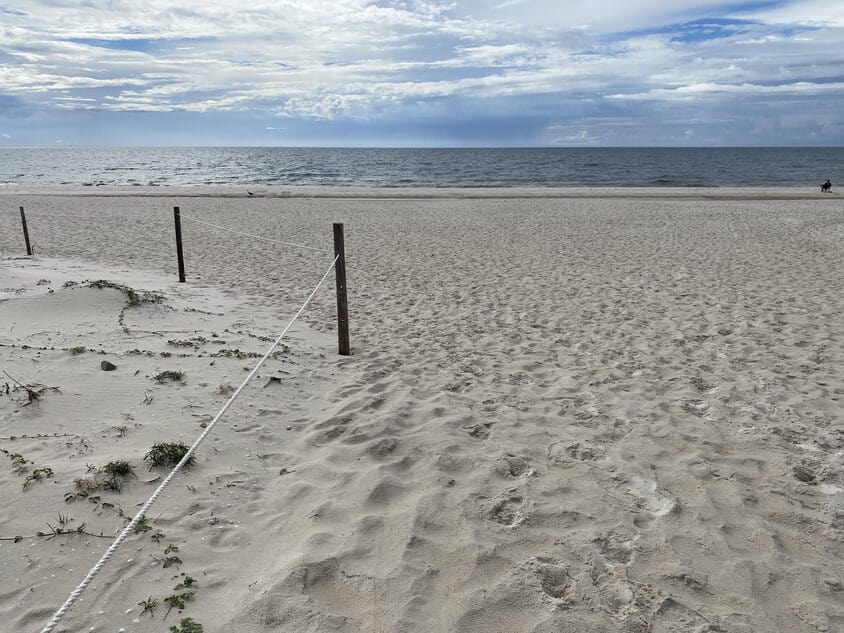 The pavilion area is at the entrance next to the parking lot. It has restrooms, outdoor showers, and lots of covered picnic tables. There is a place for concession stands, though I don't know if those are currently in use. Much changed because of COVID, and some beaches were even closed for a time due to that and hurricane damage.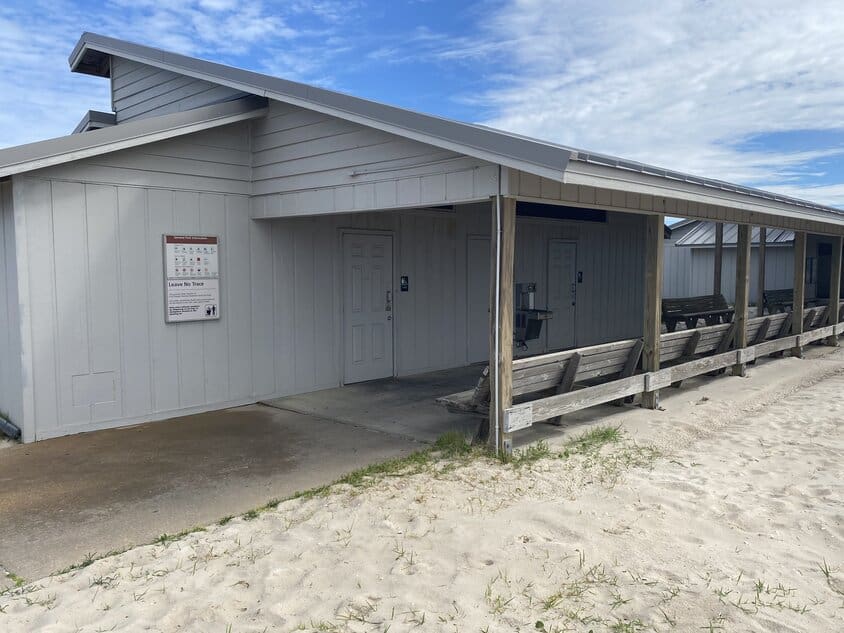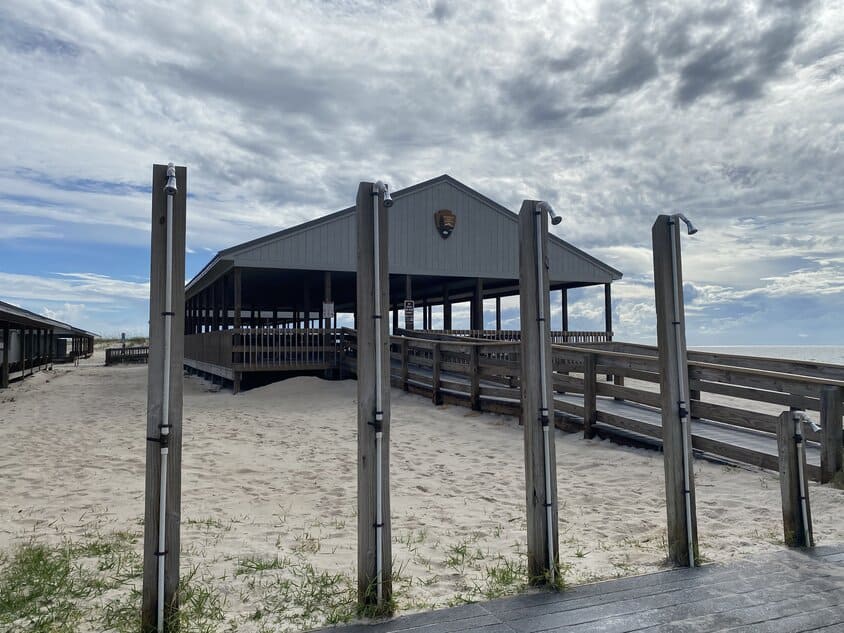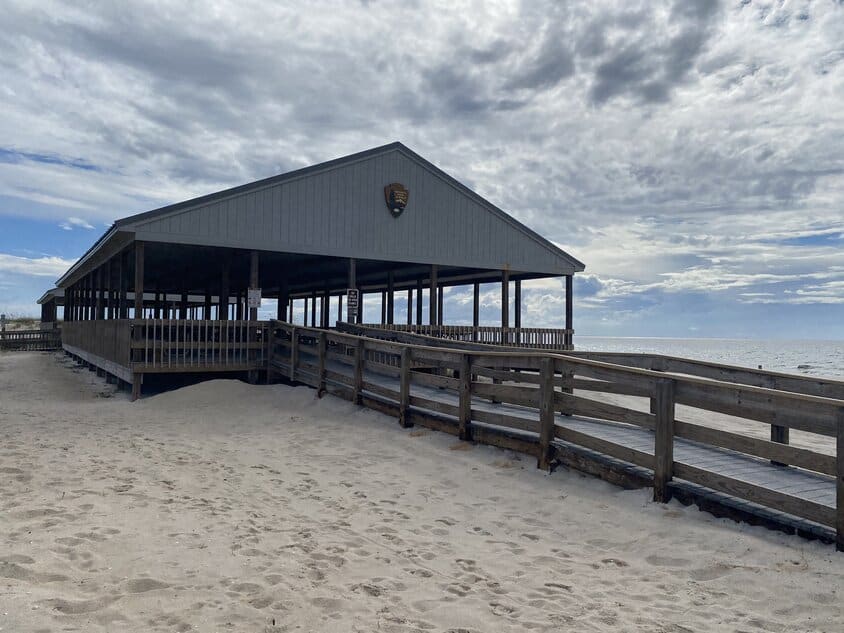 Keep in mind that this is part of a national park and therefore subject to regulations that may not apply to other beaches. For instance, drones, metal detectors, and some other things commonly seen at the beach are not allowed.
To be sure you enjoy your trip, plan ahead. See the National Seashore Regulations for general rules and regulations. For a more comprehensive guide see the Superintendent's Compendium.
Now for the most important and most interesting aspect of the park – the Florida Black History that I never knew before!
Background: Segregation and Jim Crow Laws
In the late 1940s the Civil Rights movement had begun, but the Jim Crow laws were still very much in effect all over the country. These laws were designed to limit the rights of all African Americans and impacted virtually every aspect of life.
Of course that included Florida and Escambia County, and beaches were no exception. For one, the beach at Pensacola was designated as a "whites only" beach.
An exception was the beach at the eastern end of Perdido Key. The Sunset Riding Company, Inc. leased that area from Escambia County for the enjoyment of African-Americans. This beautiful stretch of the Emerald Coast was one of the few beaches in Florida (and in the entire country) where Black citizens were welcomed to enjoy the bathing, beach, and recreational facilities.
Private Rosamond Johnson – A Hero and His Sacrifice
African-Americans served our country valiantly in World War II, but they were segregated and suffered severe discrimination. The first change to that occurred at the beginning of the cold war. In 1948 President Harry Truman issued Executive Order 9981 to put a stop to discrimination in the military. To some extent this action helped open the door for future progress in the civil rights movement.
It was around this time that a young man named Rosamond Johnson, Jr. enlisted in the Army, reportedly to help his family. He was only 15 years old.
In 1950 at the beginning of the U.S. involvement in the Korean War, Private Johnson was serving as a member of the 24th US Infantry. During battle on July 26, 1950, he carried two wounded soldiers to safety, and he was attempting to rescue a third injured man when he was killed. He was 17 years old, and his death occurred exactly two years from the date when President Truman had signed the executive order banning racial discrimination in the military.
Private Johnson was the first resident of Escambia County to die in the Korean war. On August 21, 1950, he posthumously received the Purple Heart.
Rosamond Johnson Beach
After the war, the Sunset Riding Club suggested that the beach Private Johnson had enjoyed as a child be named in honor of this local hero. The County did just that. In honor of Private Johnson and in memory of his sacrifice, the beach on the eastern end of Perdido Key was officially named the Rosamond Johnson Beach. The beach became part of the Gulf Islands National Seashore in 1973 and retained its name.
The monument shown below was erected in 1996.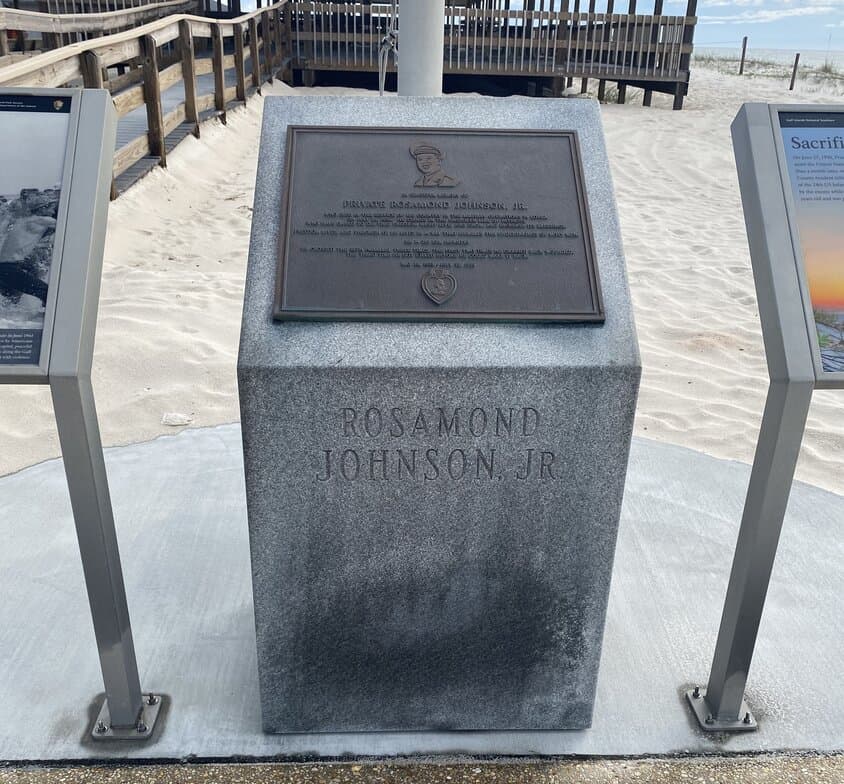 The memorial reads:
IN GRATEFUL MEMORY OF
PRIVATE ROSAMOND JOHNSON, JR.
WHO DIED IN THE SERVICE OF HIS COUNTRY IN THE MILITARY OPERATIONS IN KOREA
ON JULLY 26, 1950. HE STANDS IN THE UNSPOKEN LINE OF PATRIOTS
WHO HAVE DARED TO DIE THAT FREEDOM MIGHT LIVE, AND GROW, AND INCREASE ITS BLESSING.
FREEDOM LIVES, AND THROUGH IT, HE LIVES IN A WAY THAT HUMBLES THE UNDERTAKINGS OF MOST MEN.
RA 14 289 828, INFANTRY
HE CROSSED THE 38TH PARALLEL THREE TIMES. THE FIRST TWO TIMES HE CARRIED BACK WOUNDED.
THE THIRD TIME HE GOT KILLED BEFORE HE COULD MAKE IT BACK.
MAY 18, 1933 – JULY 20, 1950
---
On the left of the monument is a plaque with a brief explanation of Jim Crow laws and segregation.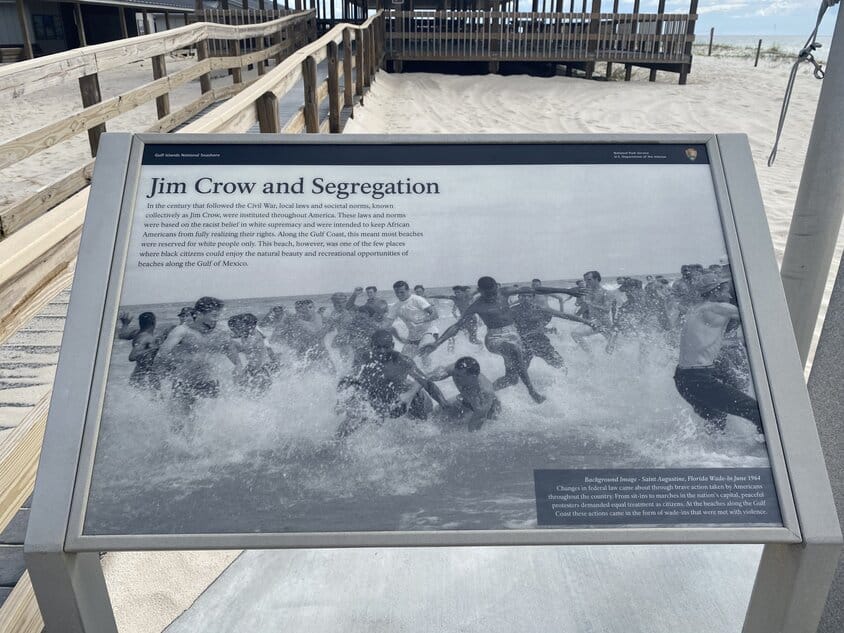 The plaque reads:
Jim Crow and Segregation
In the century that followed the Civil War, local laws and societal norms, known collectively as Jim Crow, were instituted throughout America. These laws and norms were based on the racist belief in white supremacy and were intended to keep African Americans from fully realizing their rights. Along the Gulf Coast, this meant most beaches were reserved for white people only. This beach, however, was one of the few places where black citizens could enjoy the natural beauty and recreational opportunities of beaches along the Gulf of Mexico.
Background Image – Saint Augustin, Florida Wade-In June 1964
Changes in federal law came about through brave action taken by Americans throughout the country. From sit-ins to marches in the nation's capital, peaceful protesters demanded equal treatment as citizens. At the beaches along the Gulf Coast these actions came in the form of wade-ins that were met with violence.
---
On the right of the monument is a plaque with more information about Private Johnson.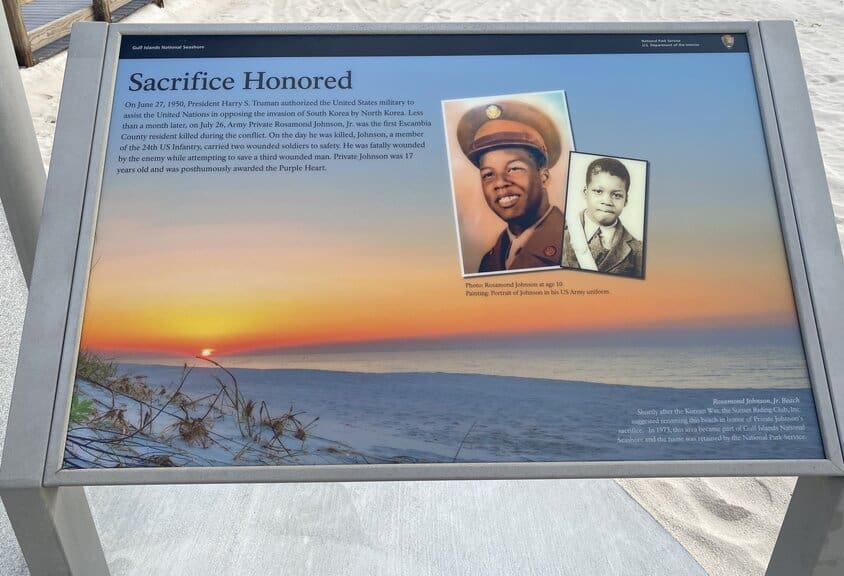 The pictures are a photo of Rosamond Johnson at age 10 and a painting of him in his US Army uniform. The inscription reads:
Sacrifice Honored
On June 27, 1950, President Harry S. Truman authorized the United States military to assist the United Nations in opposing the invasion of South Korea by North Korea. Less than a month later, on July 26, Army Private Rosamond Johnson, Jr. was the first Escambia County resident killed during the conflict. On the day he was killed, Johnson, a member of the 24th US Infantry, carried two wounded soldiers to safety. He was fatally wounded by the enemy while attempting to save a third wounded man. Private Johnson was 17 years old and was posthumously awarded the Purple Heart.
(bottom left corner)
Rosamond Johnson, Jr. Beach
Shortly after the Korean War, the Sunset Riding Club, Inc. suggested renaming this beach in honor of Private Johnson's sacrifice. In 1973, this area became part of Gulf Islands National Seashore, and the name was retained by the National Park Service.
A ceremony is held in May every year in Private Johnson's honor. A number of his family members still live in the Pensacola area and attend the annual event.
The event is hosted by the Perdido Key Visitors Center & Chamber of Commerce and is open to the public. For details about the ceremony you can call 800-328-0107 or see the website at Visit Perdido.
---
On a personal note, I have the greatest respect for everyone who has served and is serving our country in the military. To me it is deeply humbling to think of a man as young as Private Johnson possessing such heroic commitment and courage. We must never forget that we have our freedom only because men like Private Johnson were willing to give their lives to preserve that freedom for generations to come.
I'm so glad I finally decided to walk up the beach to the park I had seen so many times. Now I know a little more about our nation's history and the brave and wonderful young man named Rosamond Johnson who served honorably and selflessly gave his life to save others.
Lesson learned – we should all be a little less in a hurry and a little more curious. Take a look around. What significant history have you been missing that's right under your nose?
If you enjoyed learning about Private Rosamond Johnson please share on Pinterest and help spread the word!