Best Fishing Cart [For Beaches with Hard-Packed or Soft Sand]
As an Amazon Associate I earn from qualifying purchases.
What's the best fishing cart? No one knows better than surf fishermen! Here's what I learned on Florida beaches and from my own research.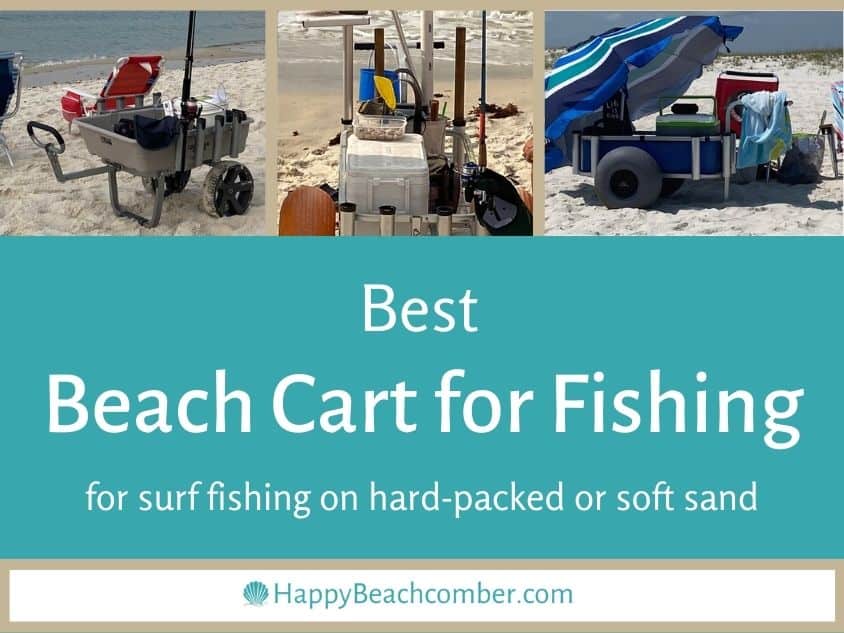 One of this site's most popular articles is "Is there a beach cart that will roll in sand?". That's great for basic sand and surf lovers, but if you're a fishermen you have different needs. Fortunately there are carts designed especially for you. Below are my top picks and lots of details that I hope you'll find helpful.
Overview
All of these carts have rod holders and plenty of space for tackle boxes and other gear, and some have extra features that can be handy. One significant difference in the carts below is the wheels.
Most often I would highly recommend getting a cart with balloon wheels if you'll be using it in soft sand. However, with fishing carts that may not be as crucial as with other beach carts. It depends.
Balloon wheels are excellent to have when you're carrying a heavy load, such as a beach cart piled high with cooler, chairs, umbrellas, toys, towels, and everything else every member of the family throws on top. Most fishermen that I see at the beach are traveling much lighter than that.
Most likely the heaviest thing you might carry is a cooler filled with ice and beverages. If you plan to spend the day and take a large ice chest, then balloon wheels may be the best choice for you.
The other question to ask yourself is what you plan to do with your catch. If you catch and release, no problem. But if you're keeping your fish for supper or the freezer, you'll need a cooler to keep your catch fresh until you're ready to leave.
Instead of a cooler you could also use a bucket of sea water. That means your cart is going to weight a lot more on the return trip (well, assuming you have a good day fishing!). There again you'll have a much heavier cart, so balloon wheels might work better for you.
The four carts below are the most common I've seen in use in the Perdido Key area of the Gulf Coast. After visiting with some of the fishermen using them, I also did my own research to give you all the details, pros and cons.
Best Fishing Carts
Fish-N-Mate 310 Lg Cart with Poly Wheels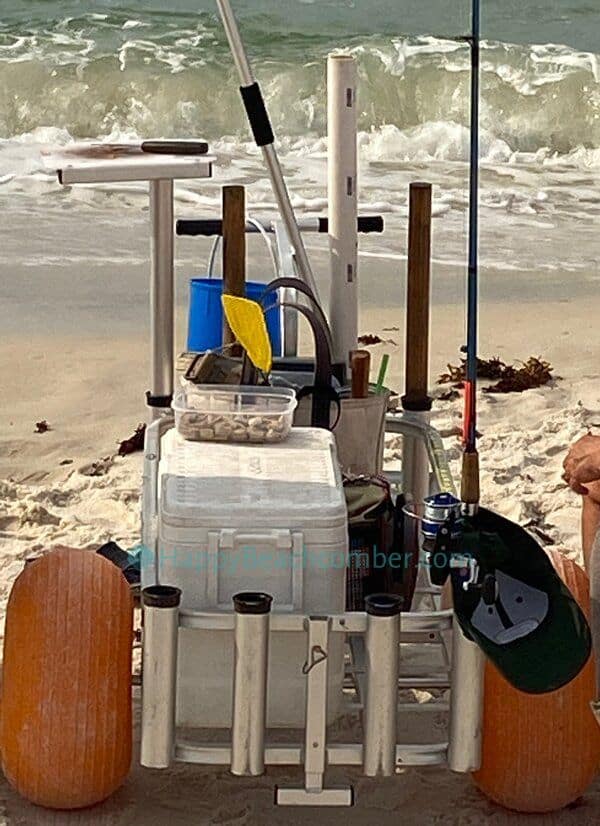 Fisn-N-Mate makes two popular carts, and I saw both during my latest trip to Perdido Key. This is the large size cart. (Scroll down to see the smaller "junior" cart.)
The Fish-N-Mate seems to be a favorite of more serious surf fishermen. These are the folks that show up at daylight, some tourists but lots of locals too. For them it's all about the catch, not so much a big family beach outing.
The big balloon wheels make it perfect for the sugary white Gulf Coast sand that is so deep and soft. You don't have to have mega muscles to pull it down the beach to your fishing spot. It has plenty of room for rods and gear, plus a convenient bait board and bucket.
Specifications:
Approximate Dimensions: 36″ wide (including wheels) x 52″ long
Interior Cart Dimensions: approximately 20″ wide x 44″ long
Weight: 25.5 pounds
Load Capacity: 200 pounds
Poly Balloon Wheels
Detachable handle
8 rod holders (with one serving as base for cutting board)
Cutting board with bait bucket
Pros
The Fish-N-Mate 310 gets rave reviews by the vast majority of owners. Favorite features include:
The balloon tires work very well for heavy loads even in very soft sand.
Cart is light enough to easily load and unload from bed of pickup truck.
Frame is aluminum, and entire cart is rust resistant. Even the wheels do not have bearings that would tend to rust from exposure to saltwater.
Rod holders have closed bottoms to prevent rods from protruding and getting damaged by dragging.
Size gives you ample room for cooler and fishing gear. When not fishing, cart size can also handle a big load of beach gear, including chairs and umbrellas.
Construction is good quality, and the cart is sturdy for long term use.
Cons
While this cart gets mostly very high praise, you will find two different complaints related to the tires. Both are fairly rare but still worth noting:
Wheel clip can loosen and "catch" on the wheel. If clip breaks you're stuck. One possible solution mentioned is to replace the outside flat washers with larger ones, and replace the O-rings that secure the wheels with cotter pins.
Most people say the tires hold up well over all kinds of terrain, including beaches with lots of broken shells. However, a few do report punctures or leaks. In one case the manufacturer suggested repairing a tire with super glue. The problem is that if repair isn't possible, replacement tires are quite expensive.
This is a high-end cart with a price tag to reflect that, but if you're looking for the best it's definitely worth looking at.
See the Fish-N-Mate 310 Cart on Amazon
Fisn-N-Mate Junior Cart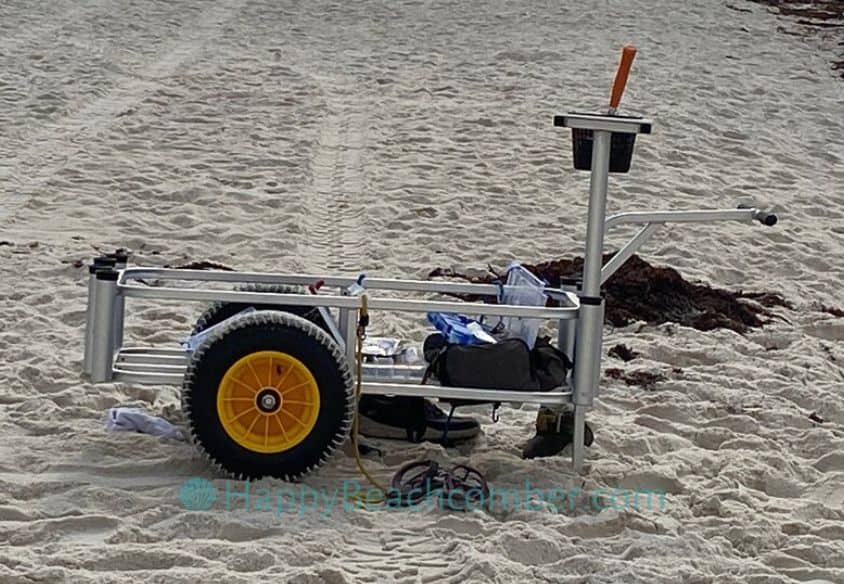 This is very similar to the Fish-N-Mate 310 only smaller. Obviously it has fewer rod holders and less cargo space, but you still get solid construction in a lightweight aluminum frame that's easy to transport.
One other difference is the wheels. Some people call these "pier tires" as they work well for boardwalks, pavement, concrete, and fishing piers. They are also big and wide enough that they work pretty well on the beach, even in soft sand.
Though not stated in the specs, numerous customer reviews mention that the front wheels are removable. There is also a lock on the front wheels for use in securing the cart's position when parked on hard surfaces.
About the only major complaint I've found is from several customers who reported receiving a cart that had been damaged in shipping.
Specifications:
Approximate Dimensions: 34″ wide (including wheels) x 39″ long
Interior Cart Dimensions: approximately 17″ wide x 37″ long
Weight: 17 pounds
Load Capacity: 150 pounds
Inflatable Pier Tires
Detachable handle
5 rod holders (with one serving as base for cutting board)
Removable cutting board with bait bucket
Pros
Compared to the Fish-N-Mate 310, the Junior is lighter and even easier to load and unload from vehicles.
Smaller size can be an advantage in transporting and storing.
Pier tires work well on hard sand and surfaces. These tires are also tougher and may hold up better on river rocks or other jagged terrain.
Frame is aluminum and resistant to rust from salt water.
Construction is good quality with strong welds.
Cons
The smaller size gives you slightly less cargo space, so choosing between this and a larger cart depends entirely on the user. Consider whether you usually carry quite a large amount of fishing gear, and also whether you plan for this to double as a family beach cart.
Pier tires are not as good as balloon tires for very heavy loads. They can be replaced, but for the cost of extra tires you may want to consider just buying the larger Fish-N-Mate instead.
This quality cart is smaller to help with transport and storage, but it's still big enough for a small cooler, chair, and all your fishing gear.
Click to see the Fish-N-Mate Junior Cart on Amazon
Gorilla Carts GCO-5FSH Fish & Marine Cart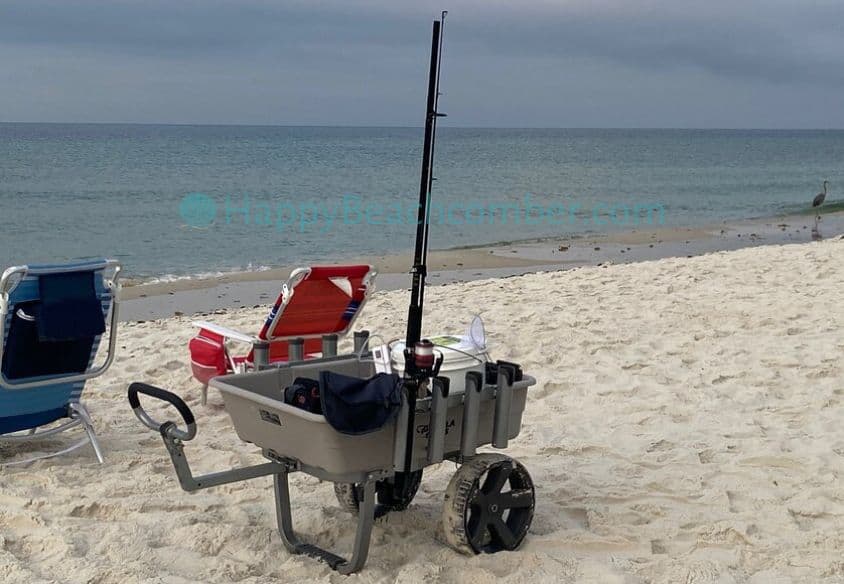 The Gorilla GCO-5FSH may be more popular among pier fisherman, but I've seen them in use on the Gulf Coast too. Even in that super soft sand, owners don't complain about the wheels and are pleased with this cart for numerous reasons.
It's a large cart and somewhat heavy, but the upside to that is it gives you ample room no matter how you plan to put it to use. In addition to fishing trips it can work equally well for beach outings and sports events with the kids.
All rod holders are on the sides, and the bait tray at the back is removable. That gives you end-to-end clearance on the tub to load large gear that may need to hang over the ends of the cart.
Most fishing wagons have a skeleton frame for cargo, but Gorilla give you a tough poly tub. The solid bottom is great if you tend to carry a lot of small items that aren't in a bag or other container.
This cart is not difficult to assemble or disassemble, but tools are required.
Specifications:
Approximate Dimensions: 30″ wide (including wheels) x 51″ long
Cargo Tub Dimensions: approximately 24″ wide x 36″ long
Weight: 28.5 pounds
Load Capacity: 200 pounds
13-Inch Solid, All-Terrain Tires
Aluminum Frame with Stainless Steel Hardware
8 rod holders
Removable handle
Bait Tray that is foldable and removable
Pros
Wheels are solid, so even on rugged terrain there is no risk of puncture.
The handle, wheels, and bait tray will fit inside the bed for transporting. Rod holders can also be removed. (Note that tools are required for disassembling.)
The tough poly tub holds up well and is easy to clean.
Bait tray has convenient slots for lures, knife, and tools.
Cons
Quality level of this cart may not be as high as others.
Some owners report problems with weak welds that lead to breaks in the frame.
Owners also report problems with wheel hubs that don't hold up well with heavy loads and long term use.
Rod holders do not have bottoms.
Though it has some drawbacks, this is a well-designed cart that has unique features you may prefer. Whether you deem this a good value depends on what you're looking for versus the cost. At last check I found only one third party seller offering this cart on Amazon.
Click to see the Gorilla Carts GCO-5FSH on Amazon
Jeremywell Beach Cart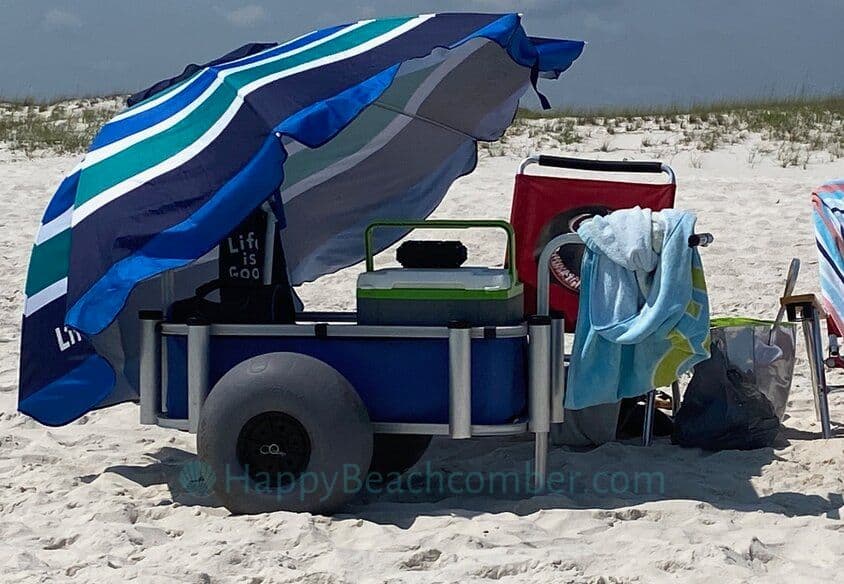 The owners weren't around when I spotted this cart on the beach, but I believe it is a Jeremywell Outdoor Heavy Duty Aluminum Beach Cart. It's a nice cart, and as you can see it's capable of carrying quite a load for a beach outing, including rod holders.
The big drawback is that this cart is extremely pricey. For my money, I would take a look at the cart below by Harbor Mate. It appears to be almost identical and costs $100 less.
If you like, click here to see the Jeremywell Outdoor Heavy Duty Aluminum Beach Cart on Amazon
Harbor Mate Fishing and Beach Cart
Specifications:
Approximate Dimensions: 34.25″ wide (including wheels) x 52.5″ long
Interior Cart Dimensions: approximately 15″ wide x 33.5″ long
Weight: 20 pounds
Load Capacity: 250 pounds
13-Inch Balloon Wheels
Aluminum Frame
Detachable fabric liner for cargo area
4 rod holders
Pros
This cart is very light weight for its size, making it easy to load and transport.
Balloon tires roll well across sand dunes and in soft sand.
Construction of the aluminum frame seems sturdy and of good quality.
Handles are rubber coated for a better grip and comfort while pulling cart.
Front foot can be lowered to help stabilize cart while parked.
Cons
Rod holders have open bottoms.
At the time of this writing (July, 2022) replacement liner and other parts are difficult to find due to supply chain issues. That should change if the supply chain issues are ever resolved.
This cart might be more appealing for family beach trips. However, it can certainly work well for fishermen too, especially with the fabric liner removed.
Click to see the Harbor Mate Fishing and Beach Cart on Amazon
If you found this info helpful please share on Pinterest and help spread the word!