Best Earbuds for Beach Goers
As an Amazon Associate I earn from qualifying purchases.
Actually, the best earbuds for beach goers aren't earbuds. They're much better, and you'll love them for everything you do away from the beach too!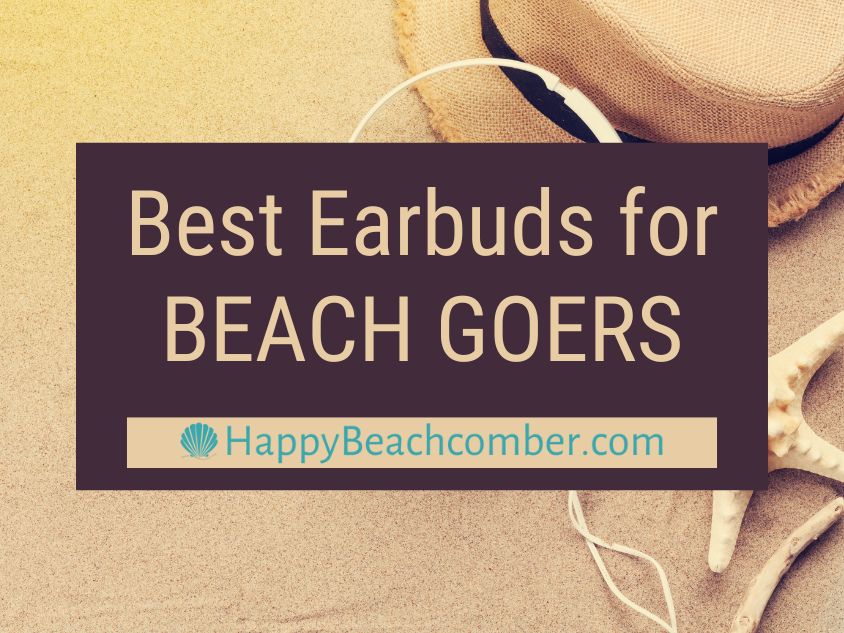 I love the beach. I also like to enjoy music or a good podcast while I'm lounging on the sand or beachcombing. At the same time, I seriously do not want to block out the sound I love most on earth – that wonderful rhythm of the sea as ocean waves roll ashore.
That's why my top choice for the best earbuds for beach goers aren't exactly earbuds. What I own and recommend above earbuds are these OpenRun Headphones made by Shokz: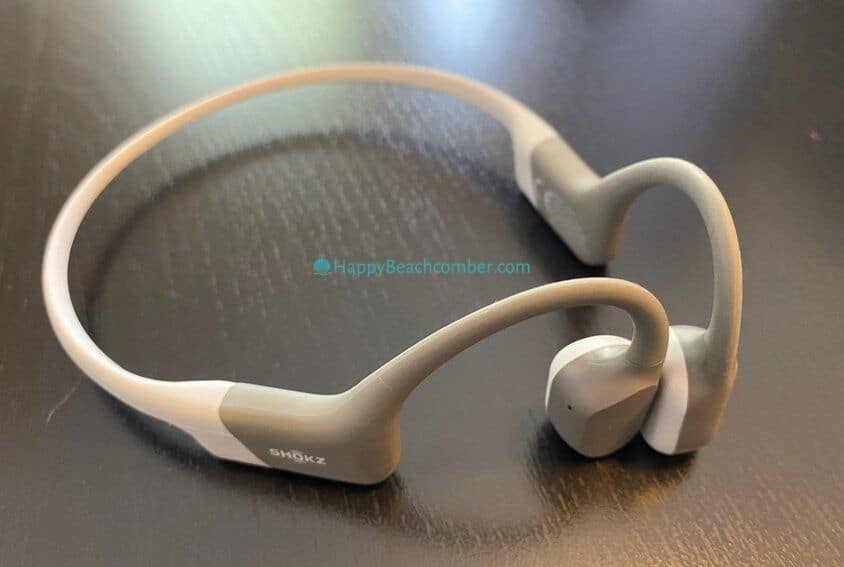 Read on to discover why these just might be your new favorites too, for the beach and everywhere else!
Features
Super light weight for comfort
Sweat resistant (IP67 waterproof rated)
Bluetooth
8 Hours continuous use
10-minute Quick Charge for up to 1 1/2 hours of battery life
Excellent sound quality
2 Year Warranty
What's Included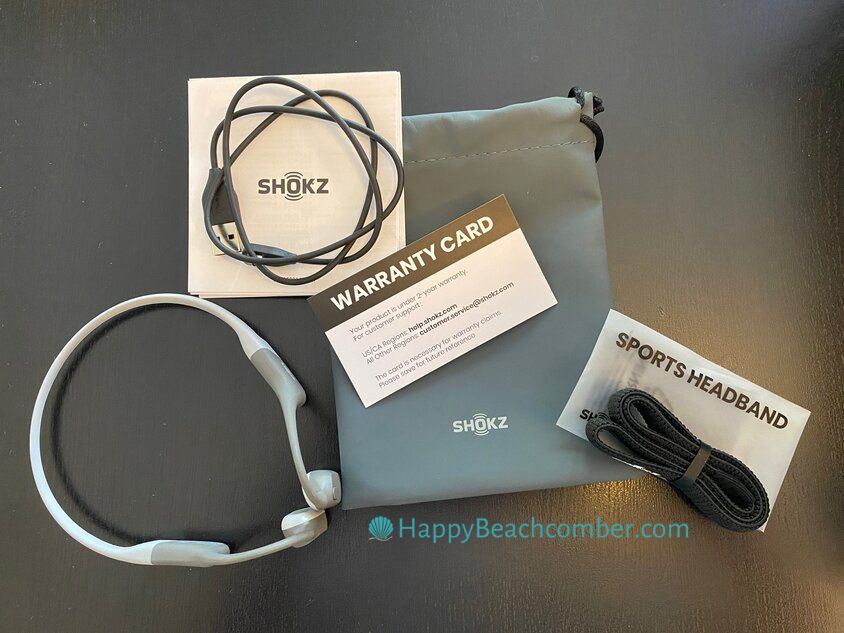 Headphones
Charging Cord
Sports Headband
Instructions
Warranty Card
Carrying Case
I must admit that I can't figure out the purpose of the sports headband. It's too small and thin to be a sweat band. Some say it's just a promotional item and not intended to be useful. One person said it's for wearing on top of the headphones to keep them snug against your head. Maybe, but to me the fit is so good I can't see the need for anything tighter.
Why I Bought These
My original intended use for these was not the beach. I'm big on walking. Besides the health benefits it's a great stress reliever and also a welcome break. After spending most of my day at a desk, I take tremendous pleasure from getting outside for a while.
Most days I walk 3 to 4 miles. I live in an area with lots of neighborhood sidewalks and huge shade trees, perfect for walkers even in the heat of summer. Sometimes I enjoy listening to podcasts or music when I walk, but my route crosses lots of streets so I have to stay alert.
I first bought Bluetooth air buds, and I wore only one. That allowed me to still hear traffic and any other sounds important to my safety.
For me, the air buds just didn't work well. A major problem was that I had a hard time keeping them in. It was annoying to have to keep stopping to find and pick up my air pod that had fallen out. Maybe my ears have a weird shape.
The pair I had was also annoying to use. More on that below, but add that for one more reason I was looking for a better idea.
When I saw someone else using the Shokz I asked a lot of questions. Again, at the time I was only thinking about using them for walking, but I quickly decided to buy my own set. I have not regretted it!
Why I Love My Shokz OpenRun Headphones
Operation
I've had Bluetooth earbuds that were a terrible pain to use. They were finicky about pairing, difficult to adjust for volume, and bad about disconnecting when accepting or ending a phone call.
Shokz is completely different, a welcome relief! The Bluetooth connection is easy and instant with my iPhone. On power-up there is a voice notification that the headphones are connected. That message includes notice of the battery level (high, medium, or low) so you have warning of when you need to charge.
The power and volume buttons are located on the right side next to the charging port. On the left is one multi-function button that lets you play or pause music, go to the previous or next song, and answer or end a phone call.
Operation is real simple. It just works. No hassle.
Comfort
I also love the comfort factor. I adore the sun, but my eyes are light sensitive and the aging skin on my face doesn't need any more exposure than necessary. Whenever I'm outdoors for any length of time I always wear sunglasses and a visor.
Before I bought my Shokz I was concerned about whether they would hurt my ears. I can be pretty OCD about little annoying things. Thankfully, these headphones achieve the perfect balance between fitting snugly without pinching or hurting.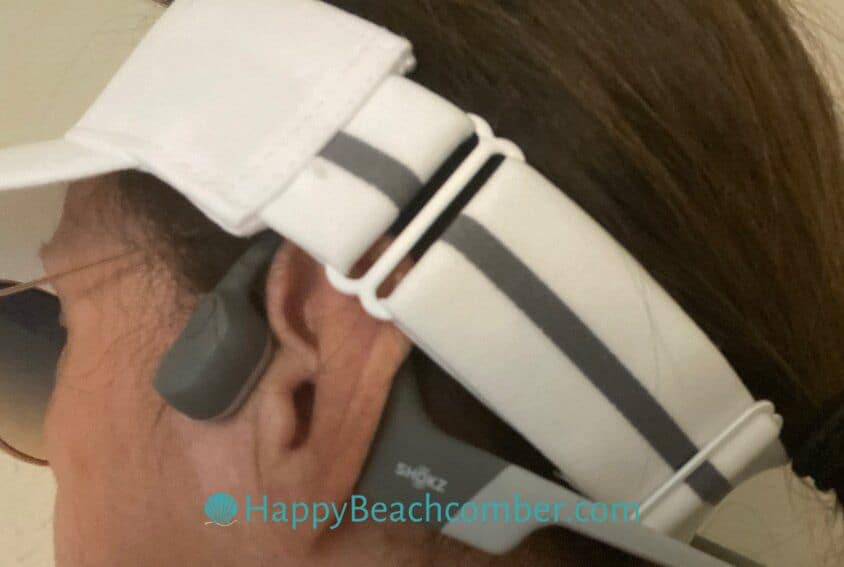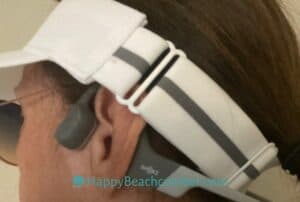 Even with the Shokz over my ears, the earpieces of my sunglasses behind my ears, and the strap of my visor on top of all of that, I am still perfectly comfortable. This is true even when wearing the Shokz for long periods at the beach.
If you do get tired or need a break, you can easily lift the Shokz off your ears and let them rest around your neck. They are loose enough to rest comfortably without annoying you, and tight enough that they won't fall off.
Perfect For Use Any Time, Anywhere
Speaking of the beach, I personally think that the best earbuds for beach goers aren't earbuds at all. Do you really want to go to the beach and completely miss the sound of the rolling surf? And have you ever had to hunt for a white earbud in white sand?
Once I bought my Shokz, I wouldn't use anything else at the beach. The headset won't fall off so you aren't going to lose it or spend any time hunting for it. You can enjoy your podcasts or music without missing out on all those wonderful seashore sounds that beach lovers crave.
When you aren't vacationing or exercising, Shokz are also great around the house. With earbuds all ambient sound is blocked out, so people can unintentionally sneak up on you. It's so startling you jump out of your skin!
For that reason and others, noise cancelling is not always ideal. That's especially true if you have young kids. You want to hear any sounds that alert you to danger, or that let you know they're up to something they shouldn't be up to!
Another little extra is that if you have a smart TV that allows for Bluetooth, then you can pair your Shokz with it. I know couples who use that at night when one is watching TV and the other is reading or asleep.
FAQs About Shokz Openrun
Are Bone Conduction Headphones Safer Than Earbuds?
Yes, and no. Let me clarify that.
Bone Conduction technology delivers quality audio while also allowing you to hear sounds from the surrounding area. For walkers and runners this is a safety feature as you are able to hear traffic or other environmental sounds that might warn of danger.
As for the risk of ear damage or hearing loss, bone conduction headphones may not necessarily be safer than other types of headphones or earbuds. Like air-conducted sound, bone-conducted sound is transduced by the cochlea, so in either case there is a risk of cochlear damage.
Good To Know: The fact is that when you use any kind of earbuds, air pods or headphones, there is a possibility that you could damage your hearing. You can learn more at Audien Hearing.
What If I Want Noise Cancelling?
If you do want to cancel out all ambient sound, you can wear earplugs while using your Shokz. That's nice when you're mowing the yard, weed eating, or using other loud tools or equipment.
Ear plugs come in a wide range of styles and cost anywhere from around $5 and up. If you're interested, click here to see the huge selection at Amazon.
How Does The Shokz OpenRun Charger Work?
The OpenRun and some of the other newer Shokz headphone models do not have a universal charger (with a plug like that of an iPhone). Instead, the connection on the charger is magnetic.
I personally like the charger because it hooks up so easily and works great. You can't get it wrong because since it's a magnet, it will only work one way. Once connected, a light on the headphones comes on and turns from red to blue when the charge is complete.
By the way, each time you finish using your Shokz you do need to turn the headset off. Otherwise you'll run the battery completely down because there is no automatic shutoff feature. As mentioned above, every time you turn on the headphones you'll get an alert letting you know the current battery level.
Who Should NOT Buy Shokz OpenRun?
Personal preference certainly comes into play, but I definitely don't recommend the OpenRun headphones if any of the following apply to you:
You really hate the unique charger: To me this is no big deal, but I saw a number on online comments from people who came unglued over the fact that they'd have to carry an extra charger with them when traveling. If that really bothers you, shop another brand.
Sound quality is top priority: Generally speaking, you're not going to get the absolute best sound quality from bone conduction headphones. To me the music sounds great, but then I'm more often listening to podcasts. If you're a music lover and expect the highest quality sound with booming bass, bone conduction is probably not for you.
You plan to swim: The OpenRun headphones are not designed for being submerged in water. If you're planning to swim while wearing your headset, see below to read about the Shokz OpenSwim.

Pros & Cons

Pros

Lightweight – snug but comfortable fit
Very user friendly operation
Alert to notify about low battery
Bluetooth – will connect with any capable device
Great sound quality
2 year warranty
Perfect for the beach, sports, or around the house

Cons

No universal charger
No automatic shut-off
Bone conduction can not match air condition premium sound quality

In addition to that, I searched for negative customer reviews online. Criticism is pretty rare, but here are the few customer complaints I found:

Annoying vibration against skin – When you turn the headphones up full blast, they will vibrate. The vibration isn't severe but is noticeable. The solution is to turn the volume down. Note that if they're vibrating, you probably have them way too loud which could be a risk for hearing damage.

Had a problem with return; warranty not honored – Two points here: First, I have a family member who got a replacement for a faulty product with no problems or delay.

Second, a lot of people don't understand the difference between an Amazon return and a warranty claim. The standard Amazon terms allow you to return an item within 30 days of purchase, for any reason. This is NOT a warranty. If you have a problem after 30 days, that is not Amazon's problem because Amazon did not make the product. If your problem occurs after 30 days, then you need to file a warranty claim, and ONLY the manufacturer will honor the warranty because the warranty comes from the manufacturer, not from Amazon.

Does Shokz Make Bluetooth Earbuds for Swimming?

No, not earbuds, but yes for headphones.

Other Shokz headphones such as the OpenRun and OpenRun Pro are water resistant. That helps protect them from sweat and rain. However they are not completely waterproof and therefore not suitable for swimming.

If you love swimming at the beach or elsewhere, then consider the Shokz OpenSwim Swimming MP3 Bond Conduction Headphones as shown below.

Like the OpenRun models, the Shokz OpenSwim Headphones feature:

The same comfortable design
8-hour battery life
Easy operation
Sturdy, lightweight construction
Secure fit

In contrast, the OpenSwim includes these additional features:

IP68 Waterproof Rating


These headphones can be submerged up to 2 meters deep in water for as long as two hours.

Internal Music Storage


Store up to 1,200 songs to enjoy while you work or play. Supported formats include MP3, WAV, WMA, AAC, and FLAC. Note that this headset is designed for device-free listening and is not Bluetooth compatible.

If this sounds like more your style, read more about the ShokZ OpenSwim on Amazon.

Best Earbuds for Beach Summary

Based on my experience, the Shokz OpenRun headphones are very well made and should hold up well even with regular, extended use. Compared to air pods I've owned, the Shokx are much more user friendly. There is virtually no learning curve. They're simple to understand and operate, and you won't experience connection issues when switching back and forth to take phone calls. Add to that the fact that they are extremely comfortable, and in my book you've got an all-around winner.

See them on Amazon: Shokz OpenRun – Open-Ear Bluetooth Bone Conduction Sport Headphones

NOTE: No matter what type of earbuds or headphones you choose, you might want to read this article from Cleveland Clinic: The Safe Way to Rock Out With Earbuds or Headphones Without Damaging Your Hearing.