As an Amazon Associate I earn from qualifying purchases.
Lugging all your creature comforts can be a chore, but what if you don't have a beach cart? Here's a surprising alternative that can work very well!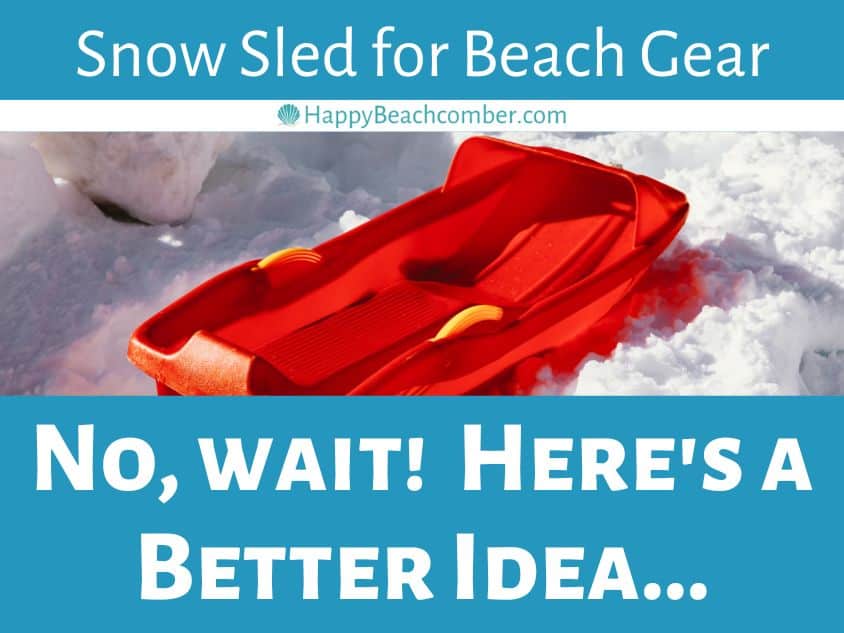 UPDATE! The original article about using a snow sled for beach gear is below. However, since writing that I've discovered an even better idea!
Why didn't I think of this before? Probably because down here in the deep south there is no such thing as ice fishing. In my entire life, I've only seen one pond freeze over in Louisiana, and only one time. As a kid I thought it was pretty amazing to see, but the ice was super thin and certainly not strong enough to walk on. All you had to do to break it was to chunk a rock on it, and not even a very big one.
Anyway, living in my hot weather climate ignorance, I didn't know there was such a thing as an ice fishing sled until I discovered it on Amazon. Let me be very clear that I don't own an ice fishing sled and have never tried one so I'm not speaking from experience here. I just can't think of any reason why this wouldn't be great for the beach – especially on the super soft sand on Alabama beaches and places like Perdido Key in Florida.
The sled pictured above measures 54″ long by 25.5″ wide by 10″ deep. It has a rope pull, and the bottom has three smooth runners so if there's a boardwalk between you and the beach it shouldn't be a problem. I wonder if you could even loop that rope around your waist to pull the sled and leave your hands free?
The only drawback I can think of is that since it's made of polyethylene, you wouldn't want to drag it across concrete much, or at all. In fact, there is actually a Wear Bar Kit you can install to make the runners tougher for pulling over rough surfaces such as gravel.
What I like about this ice sled is that the size gives you lots of room to load and stack stuff. It's also deep enough that you can even throw in small loose items if need be. To really pile it high you might make use of some mesh bags and/or bungee cords.
Of course the snow sled for beach gear is also a great idea, but if you think this ice sled might work better for you go check it out:
Click here to see the Shappell Jet Ice Fishing Sled on Amazon
(Note: Have you ever used an ice sled for the beach? If so please leave a comment below and let the rest of us know all the pros and cons!)
Yes, it's a kids toy made for snow. However, it's also a great idea for trips to the beach. Besides that, since it's not terribly expensive it can be the perfect gift for your beach-loving friends.
The one pictured above measures 35 inches by 17 inches, but it's available in other sizes (and other colors) too. The tow rope is attached so it won't get lost in the sand, or lost in the house before it even gets packed.
Seashore fans know that sometimes you have to get creative. They also know that with many of the ordinary carts, once you hit the sand those wheels won't turn and instead end up bogging down. That makes getting your gear to the beach such a job that you're worn out before you can even begin to enjoy your day.
One solution is to invest in a really good cart. For advice on that check out Is There A Beach Cart That Will Roll In Sand?, and fishermen might like to read about the Best Fishing Cart [For Beaches with Hard-Packed or Soft Sand]
The drawback to a cart is price. A really good cart doesn't come cheap. They are great for some people, but you may want to consider a different idea if:
You don't go to the beach often.
There just isn't room in your budget for an expensive cart.
You already have a sled you can use!
Whatever your reason, a snow sled can be a great alternative. After all, it is designed to slide so it can be dragged without a lot of the resistance. If need be you might even find a way to use bungee cords to help anchor your stuff and prevent slippage.
If you're toting lots of toys or other small items, you may also want to look at these mesh bags:
They measure 32″ by 36″, have a drawstring at the top, and come in a variety of colors.
Even if you spend extra for cords and/or bags, the cost is far less than that of a good cart. So now you know, there's more than one way to get your gear to the beach!
Other beach gear I love:
If you found this info helpful please share on Pinterest and help spread the word!