Crystal Bridges Museum [Not Your Ordinary Art Gallery!]
As an Amazon Associate I earn from qualifying purchases.
Crystal Bridges Museum may be the highlight of your trip, but there is so much more to see and do in Bentonville, Fayetteville, and the surrounding area!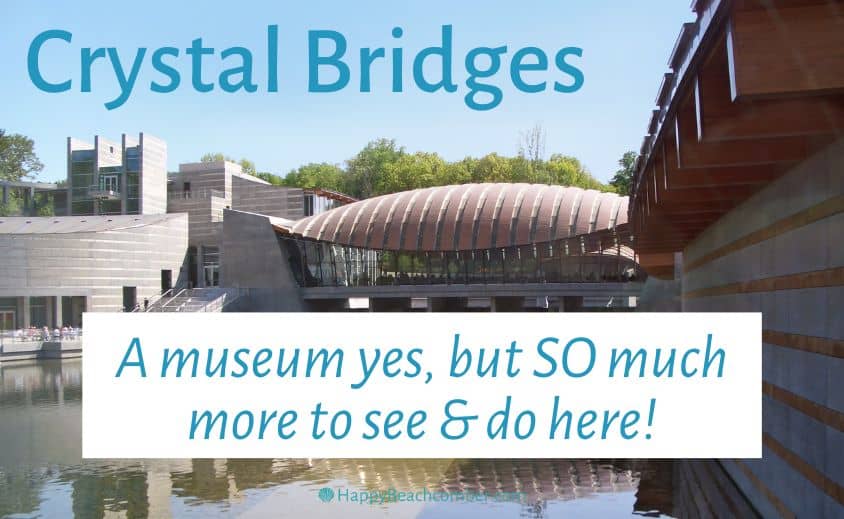 Planning Your Trip – When To Go
Much as I love the hot summertime, I admit it was nice to travel in fall. My trip began in late September, when Louisiana is still hot and muggy but Arkansas is already cooling down to very pleasant shirtsleeve weather. I was a little too early to see much fall color in the vast wooded areas along the highway. A few weeks later and the foliage would have transformed into its glorious array of dazzling autumn colors, but my schedule didn't allow for an October trip.
That's okay because it was still a beautiful drive. Extreme southern Arkansas looks much like Louisiana, mostly pine trees and flat land. Heading north, though, you don't have to go far before you get into rolling hills that hint of the Ozarks ahead. You begin to see a lot more hardwoods, and even this early in the year there were spots of yellow and other subtle colors dotting the landscape.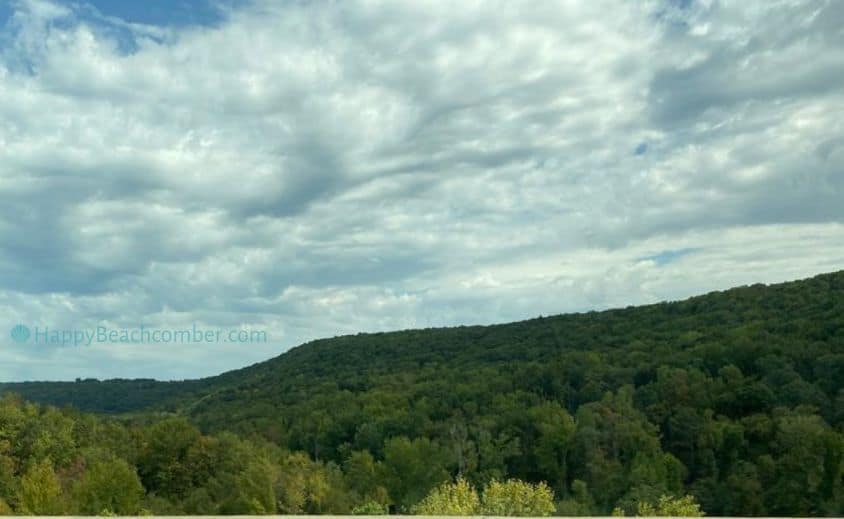 Ideal Time To Go: For the most beautiful fall foliage, plan your trip for mid to late October or some time in November. Leaves turn color first in northern areas of Arkansas and gradually work southward. Summer weather affects the timing of nature's schedule, so check before you go. One great way to do that is to sign up for the "Fall Color Updates" newsletter at Arkansas.com.
Where to Stay
Crystal Bridges is located in Bentonville, Arkansas, so you can stay there, or in Rogers which is basically a suburb, or just a short distance away in Fayetteville. One fabulous hotel in Bentonville is the "21C Museum Hotel". It's a bit pricey but you should at least take time to go see it (more on that below). Fayetteville is home to the University of Arkansas and has lots of good hotels, but they all sell out on weekends that the Razorbacks have a home game.
I chose Rogers because it's so close to Crystal Bridges and still not far from Fayetteville and some other places I planned to visit. Rogers has plenty of nice hotels and restaurants, and in fact that was the first time I had dined at an Abuelo's. For Mexican food it's hard to top Louisiana's Superior Grill, but I must say Abuelo's is some of the best I've ever eaten. It's a chain so if you run across one be sure to try the avocado enchiladas – divine!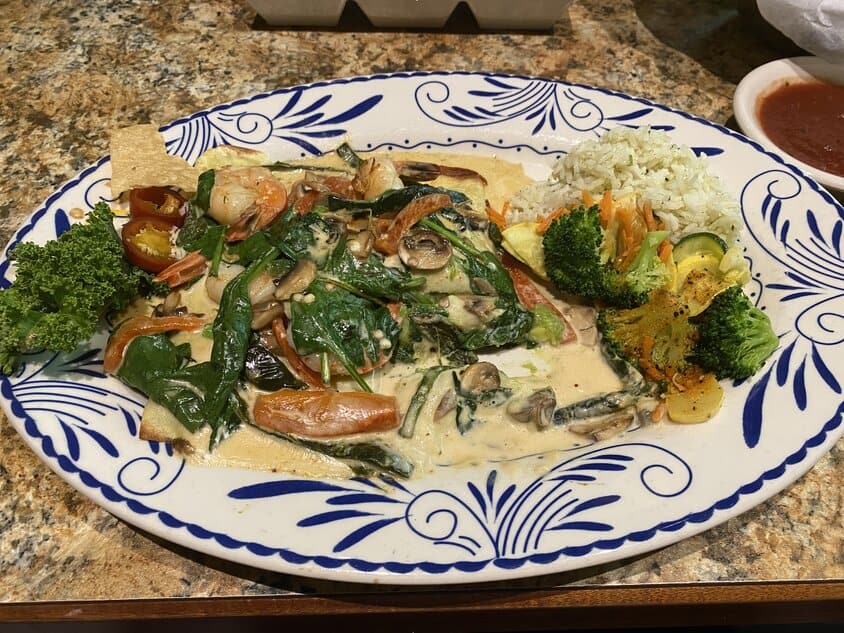 The Crystal Bridges Museum
If you've never heard of Crystal Bridges you're in for a treat because it is not your ordinary art museum. Officially known as the Crystal Bridges Museum of American Art, it sits on 120 acres of Ozark forest land and includes permanent and temporary exhibitions of art, sculpture, and architecture both indoors and out, five miles of walking trails, a Frank Lloyd Wright house to tour, an excellent restaurant, and a gift shop. There are workshops, lectures, and hands-on activities for kids and adults, not to mention venue rentals and summer camps.
The museum schedules temporary exhibitions year round, and one of those offerings during my visit was the "Listening Forest". Beforehand I thought it sounded interesting. I had no idea it would be the highlight of the entire trip!
The Listening Forest
I'm sorry to say that this is one of those things that is almost impossible to describe. You really, really have to experience it for yourself.
This exhibition is the brain child of artist Rafael Lozano-Hemmer, whose vision was to create a way for us to actively participate with nature. It's a sort of back-and-forth interaction as you walk through the woods at night. Part of everything that you see, hear, and absorb is being created by your own presence, movement, and speech.
So, what the heck is it? The Listening Forest is a combination of art, technology, and the natural setting. The artist uses light, sound, projections, and a soundtrack by Robin Rimbaud to create eight different installations in a nighttime setting. Each of the eight is completely different and, I feel fairly certain, unlike any art you've experienced before.
Below are a photo and a video of one installation, the "Arkansas Text Stream". It's a black path that is 70 yards long, with thousands (millions?) of letters flowing along like a stream. As you and others walk along the path, each footstep triggers swirls and ripples of the letters that twist and turn around you. When you stop, those swirling letters will "magically" merge into a statement that you can read as it slowly circles around.
All of the statements were written by Arkansans from the regional community. The messages include wisdom gleaned from the past, observations and reflections of the present, and hopes and dreams for the future. At first it's just fun, but the more you walk and read, the more it draws you in. Some of the messages are profound, some quite touching.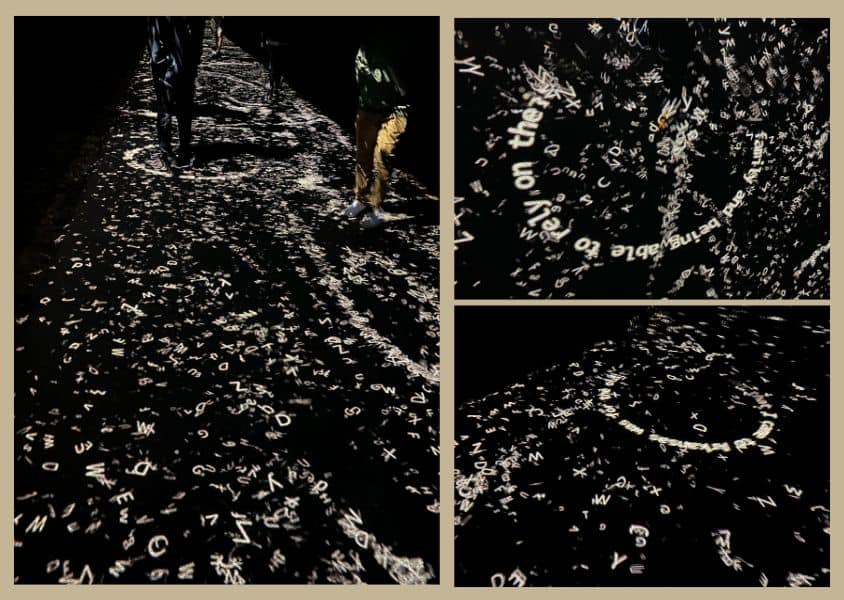 I spent about two hours going through the Listening Forest. The other seven installations were equally as fascinating as the text stream, each in its own unique way. At the end I didn't want to leave, so I sat down on a bench to simply be for a while. It was lovely, fascinating, peaceful, calming, joyful, and so much more that I can't find the words to describe. It was the sort of thing that leaves you feeling deeply content and just happy to be alive.
The Listening Forest is one of the numerous temporary Crystal Bridges exhibits. At last check it was scheduled for March 1 through May 28, 2023, and from August 30 through December 31, 2023. I do hope you get to visit while it's still there.
Crystal Bridges Art Museum Exhibits
The art museum is world class. One of the more expensive pieces in the permanent collection is Coke Bottle by Warhol, purchased at auction for $57.3 million. Most famous is hard to say, but an all-time crowd favorite is Rosie the Riveter by Norman Rockwell.
There are a number of galleries to explore. In the permanent galleries the displays are rotated to offer a new experience on every visit. Temporary installations include artwork on loan from other institutions as well as unique presentations that may be a combination of artworks owned by Crystal Bridges and from other collections.
You'll discover tremendous variety among all the galleries. Two of my personal favorites just happened to be: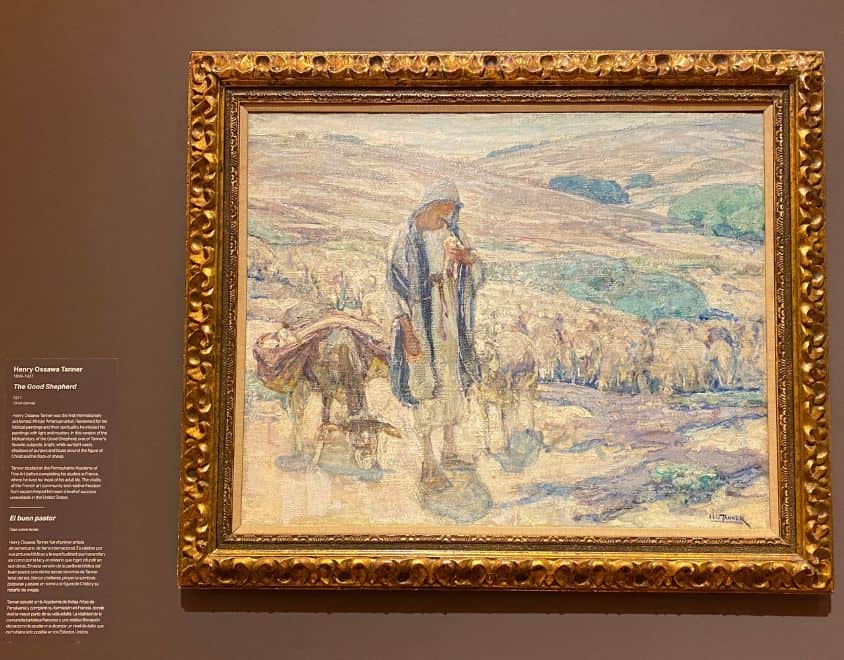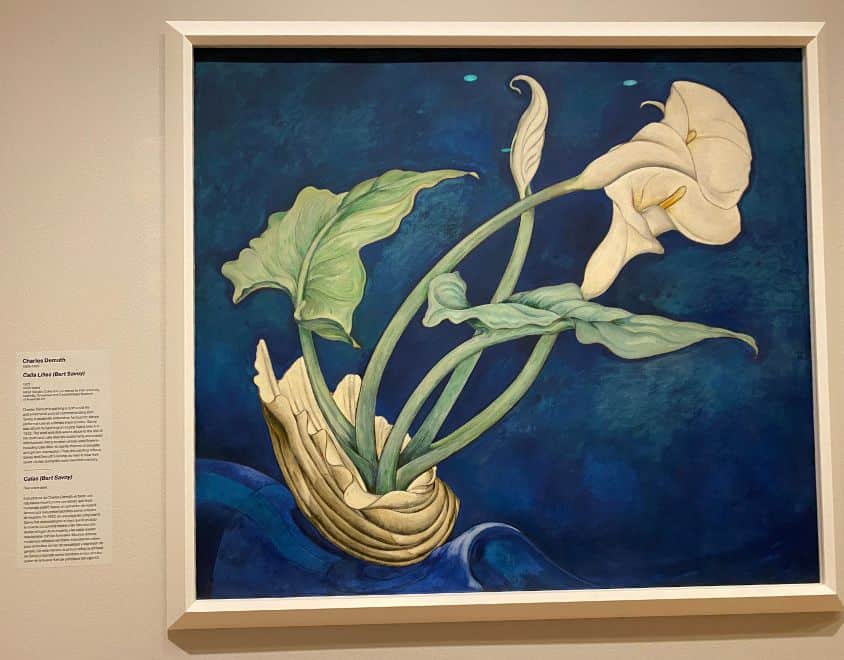 Nature Trails
Outdoors, the walking and bike trails are a delightful way to enjoy the beauty of both nature and some very unique exhibits. The forest is so peaceful and pleasant with natural springs, bridges, and little rock waterfalls. There are evergreen trees as well as dogwoods and other seasonally flowering trees and plants. Several of the trails feature some very beautiful and unusual sculptures. You'll also come across a few places that all but beg you to sit a moment to relax, breathe, and soak it all in.
A short walk down one of the nature trails will take you to the Frank Lloyd Wright House. The Bachman-Wilson House was built in in 1956 in Somerset County, New Jersey. In 2013 Crystal Bridges purchased the house, disassembled it, moved it 1,200 miles, and reconstructed it.
You can take an audio tour of the home for free, but you must get a ticket in advance. The tickets prevent overcrowding in the house so you'll have plenty of room to see everything as you walk through.
Food and Shopping
The restaurant, Eleven, offers a great view, a bar, and elegant, 5-course dining in the evening. The lunch menu features burgers, sandwiches, salads, and a few signature dishes. There is also a "Grab-and-Go" section where you can get coffee, pastries, or a quick lunch to take with you on the nature trails.
The Grab-and-Go area is open during regular museum hours. Hours for other areas of the restaurant vary by day, so be sure to check the schedule before you go. Reservations are required for dinner.
I even enjoyed the museum gift shop because it isn't too gimmicky. They have affordable prints of a lot of the artwork on display, plus a nice collection of books. Of course it also offers the usual variety of home décor, handcrafted jewelry, accessories, as well as children's books and gift items.
What Does Crystal Bridges Cost?
All permanent exhibits are free, as are the walking and biking trails. A few exhibits do require a free ticket due to space limitations. One example is the Frank Lloyd Wright House mentioned above. You can reserve these free tickets online ahead of time.
Prices for temporary exhibits vary. You can find complete information and purchase these tickets on the Crystal Bridges website.
What Else Is There To Do In This Area?
Downtown Bentonville
The downtown area of Bentonville is within walking distance of Crystal Bridges. One of the nature trails actually leads right to it. However, if you plan on shopping – and I'm pretty sure you'll be tempted – I recommend you drive.
You'll feel like you've gone back in time, partly because of the look of the downtown square but more so because the atmosphere is so casual, friendly, and safe. You can actually walk around at night without feeling like you need to be concerned about your surroundings or fearful of danger lurking around the corner. Where else can you do that these days?!
The weather was so nice in late September that most people were taking advantage of all the outdoor seating at restaurants. Many of the locals had the entire family with them, including the dogs. There is a terrific choice of dining spots and definitely something to please everyone in your crowd. If you enjoy shopping, there is also a variety of stores and boutiques.
While you're there, don't miss the 21C Museum Hotel Bentonville. If you don't get your fill of art at Crystal Bridges, the 21C features a 12,000 square foot museum and art gallery, including some spectacular sculptures and exhibitions. The hotel's award-winning restaurant has a chef who creates uniquely Arkansas specialties for breakfast, brunch, lunch and dinner. Even if you can't afford to stay at the 21C, it's an attraction you don't want to miss.
Also downtown is The Walmart Museum. If that sounds dull, think again. Same Walton was a truly amazing man and great visionary. You'll likely be very surprised and impressed by some of the things you learn about him. The museum takes you through the very interesting story of the birth and growth of Walmart as well as the entire Bentonville area. I particularly enjoyed the diorama of the city complex master plan.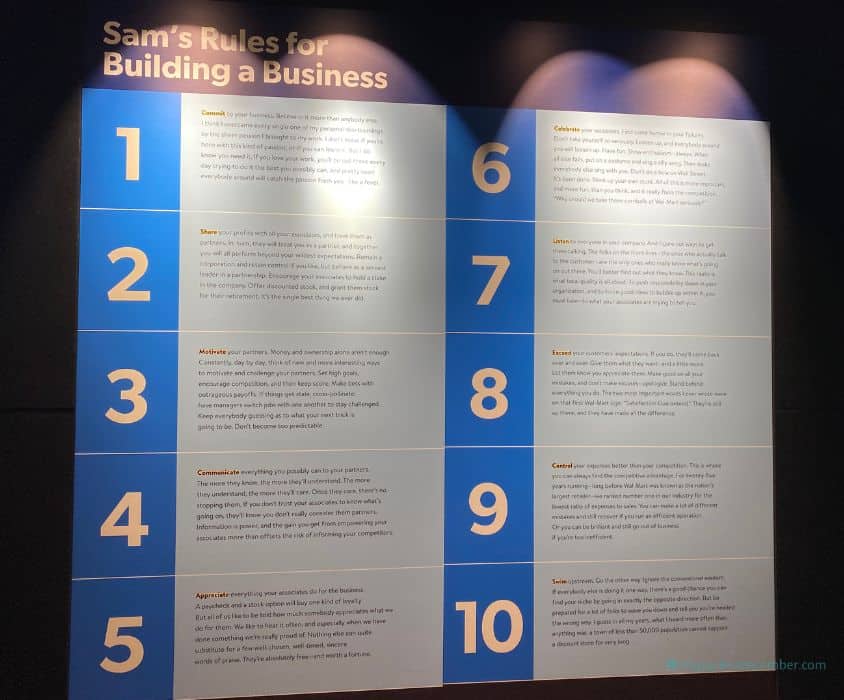 Fayetteville
The home of the Arkansas Razorbacks is just a short drive down the road, and there you'll find another huge variety of fun things to see and do.
One of my favorites is the Fayetteville Farmer's Market, which is located in the downtown square and open Saturdays year round. You'll definitely find plenty of great home grown vegetables, but it's about lots more than that!
Live music makes for a festive atmosphere, and you can shop in the stores around the square or stroll through the hundreds of tents in the street. Vendors sell everything you can imagine. When I was there the flowers were gorgeous, and I really enjoyed the handmade platters, serving pieces and pottery.
I even bought a few Christmas gifts, including some special seasoning blends for a family member who loves to grill. I had a delightful visit with the young man selling them. He had started the business as a side gig simply because he loves to cook. Eventually he realized he hated his "real job" and decided to go into the seasoning business full time.
There were lots of food vendors too, but at lunch time a restaurant called the Pressroom proved too tempting to resist. I highly recommend the Pressroom Chicken Sammy!
I've been to a lot of farmers' markets, and this one rates high on my list. It was fun because the people were all so nice, the atmosphere was pleasant and relaxing, and the selections were a bit on the unique side. As luck would have it the weather was just about perfect for strolling around outside, so all in all it was great fun.
A few of the many other interesting things to see and do in Fayetteville include:
Mount Sequoyah Cross (especially at sunset)
University of Arkansas Campus
Razorbacks Games
That barely scratches the surface, but fortunately this town has one of the best visitor guides I've ever seen. It covers hotels, restaurants, things to see, do and experience, and everything else you can imagine. To find out whatever you need to know check out Experience Fayetteville.
War Eagle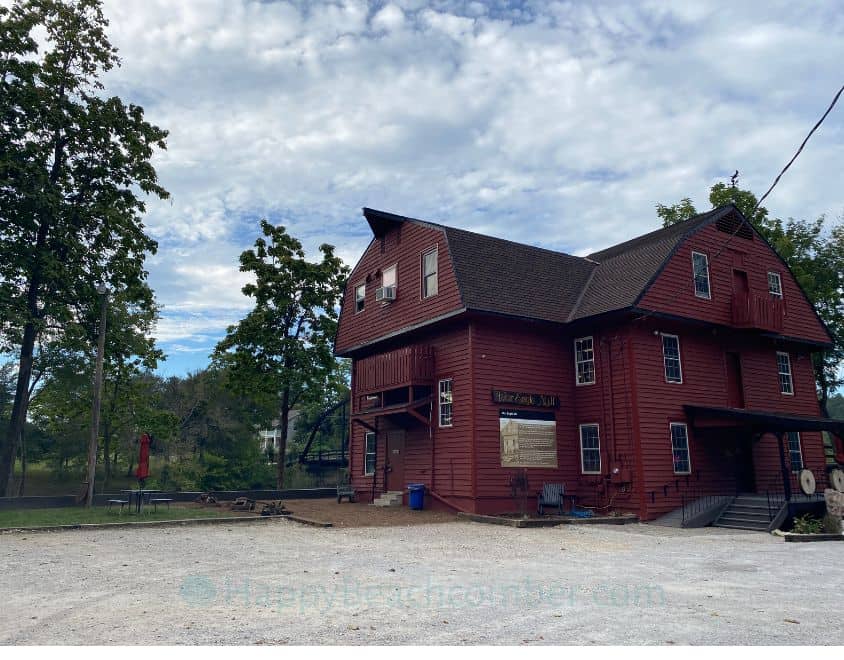 Last but definitely not least is the War Eagle Mill. It's most famous for the annual War Eagle Craft Fair held in October, but the mill store and restaurant are open year round.
The mill was built next to War Eagle Creek in 1832. Its gristmill drew surrounding farmers to grind their grain, which led to the growth of a small community.
The original mill has been destroyed three times through the years. It was first washed away by a flood in 1848, then burned down by the Confederate Army during the Civil War, then burned down again in 1924 by a fire of undetermined cause. It was rebuilt every time, and today you can still see the working 18-foot cypress waterwheel system in action.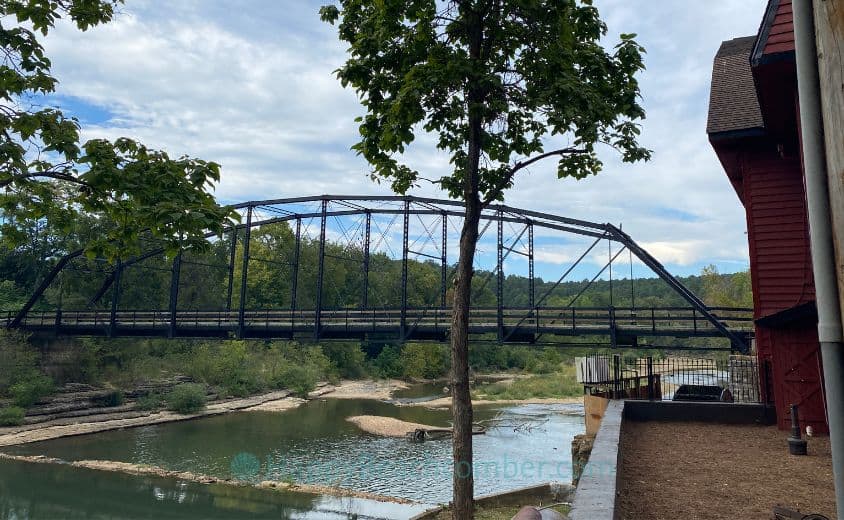 Beside the mill is the historic one-lane steel truss bridge that was built in 1907. The bridge is on the National Register of Historic Places and still has its original wooden planking. During the Fall Craft Fair it serves as a foot bridge, but it also carries vehicle traffic across the creek – one way at a time!
If there is such a thing as healthy comfort food, you'll find it in the War Eagle store. Every food item sold is all natural and free from additives, preservatives, or chemical treatments. They specialize in organically grown, non-GMO grains of all kinds. I'm a big fan of their steel cut oats and yellow grits (which you can order online when you can't shop in person).
Other exclusive items for sale include packaged bread and baking mixes, jams, jellies, honey, syrup, salsa, dips & spreads, pickles, sweet treats, and lots more. They also have a nice selection of kitchen tools and gadgets.
The restaurant serves breakfast and lunch with a menu of delectable southern comfort foods. Love cornbread? This is your place!
More Opportunities Nearby
In addition to the above, here are a few other ideas you may want to explore:
If you only want to visit Crystal Bridges Museum, you could probably see most everything in a long weekend. That would make a great trip, but once you see this area I'm betting you'll want to come back. I had a wonderful time and covered a lot of territory, but I already have a "must-see" list for my next visit!
Please share on Pinterest!