Corolla Beach Travel Guide – Things to Do in Winter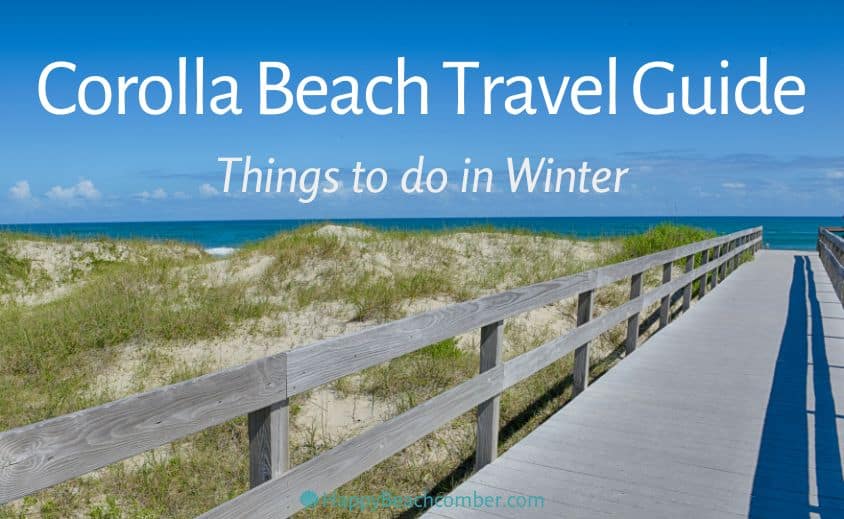 If you're planning a winter vacation to the Outer Banks, I hope you'll find my Corolla Beach Travel Guide helpful. It's still a work in progress, so I'll be adding more info after my upcoming OBX trip!
Sunny summer days by the sea are wonderful, especially on the Emerald Coast. However, winter is also a great time to go to the beach. You'll save a bundle on accommodation rates, and you can still walk on the beach and enjoy the same beautiful scenery with cooler temperatures.
A few local attractions may be closed, but there is still so much to do you'll have a struggle deciding how to spend your time. Below are lots of ideas to help you plan. I'll be adding more after my Corolla Beach vacation this December.
Whether you're planning your own trip or just browsing and dreaming, enjoy!
Remember to call before you go because off-season hours may change without notice.
Historical Sites and Museums
OBX has so much rich history, including the Revolutionary War era, Civil War, the Wright Brothers, and some very interesting African-American history. Here are some highlights.
Historic Corolla Park

1160 Village Lane, Corolla, NC 27927
252-453-0221
VisitCurrituck.com

Four Attractions:

Located next to Corolla Park and the Currituck Beach Lighthouse, this pedestrian friendly village is a historic community that includes:

Corolla Chapel built in 1885
Two-Room school house built in 1800s
Wild Horse Museum
A number of shops housed in restored homes that date back to the late 19th century
Corolla Village Bar-B-Que (which gets a 4.5 star rating on Tripadvisor)

Described as a quaint little village, this is not a large area so it won't take long to see it all. Shops include the Island Bookstore, Spry Creek Home Accents & Gifts, The Event Boutique, and more.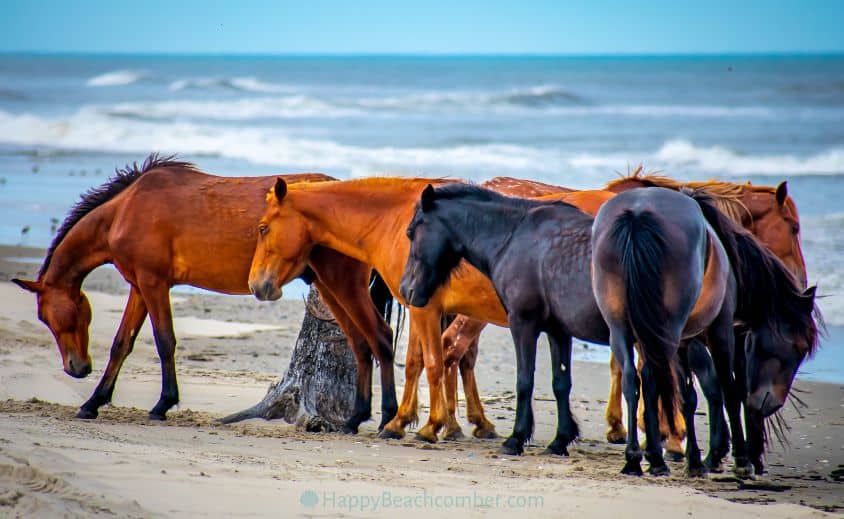 Wild Horses of Corolla
No Corolla Beach Travel Guide would be complete without mention of what many consider the main attraction!
The legendary OBX wild horses can be seen on the beaches just north of Historic Corolla Park. These horses are descendants of colonial Spanish Mustangs that were brought to the area by explorers nearly 500 years ago.
The beaches where the horses roam are accessible by 4-wheel-drive vehicles only. The public is allowed to drive on these beaches, but there are very strict and specific rules that you must obey. For complete information, and to obtain a permit during the high season, see Beach Driving & Parking on the Off Road.
Also note that these horses are indeed wild, and they are protected by ordinance. For their protection, and yours as well, it is against the law to feed, lure, or come within 50 feet of these horses.
The best way to see the horses is to book a tour with one of the local guide services. There are quite a few, as you can see if you do a simple search for Corolla wild horse tours.
Important: These tours book up in advance. Some tours are not offered regularly after November. You will need to check to see if any of the local guides will be doing tours in December and after the first of the year. It is recommended that you hire a "reputable" guide (though I cannot yet offer personal experience on that). Please note that no matter what time of year you go, none of the tours will guarantee that you will see the horses.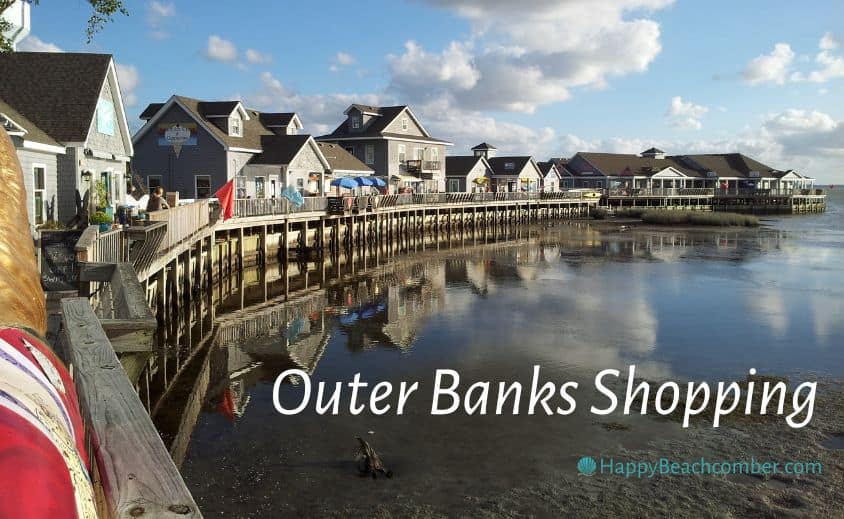 Shopping
It would be impossible to list all the wonderful shops all along the shores of the Outer Banks. In addition to the Historic Corolla Village shops mentioned above, there are dozens more places to enjoy browsing and buying. That includes several large shopping complexes such as the TimBuck II Shopping Village.
The Twiddy Vacation Guide provides an excellent online resource. To explore the possibilities check out this link:
OuterBanks.org provides another very comprehensive shopping guide. It lists hundreds of shops! Don't worry, you don't have to spend all day looking. To save you time, the site offers you several ways to filter and narrow down your search to focus on what interests you most. See this shopping directory here:
Note: Before you go you may want to call or check business websites. Operating hours can change, especially in the off-season, and unfortunately shops occasionally go out of business.
Sweet Treats
If you have a sweet tooth, it's going to be very happy here. Honestly, I try to eat healthy most of the time, but not on vacation. That's when I indulge in those sinfully delicious treats I love!
OBX Towns
North of Corolla Beach is Corova Beach, a community accessible only by 4WD vehicles. This area is remote with no restaurants or activities, but it has beautiful rental vacation homes and, of course, the famous wild horses. Go here for more info about Corova Beach.
Starting at Corolla Beach and driving south you'll come to the following towns, in the order listed.
Heading south from Nags Head are Rodanthe, Waves, Salvo, Avon, Buxton, Frisco, Hatteras, and Ocracoke. These are a rather long drive from Corolla Beach, but you can find information about them online if you're interested.
See my note below about Ocracoke and its famous lighthouse.
Golf Courses and Miniature Golf
Most notable is The Currituck Club, 620 Currituck Clubhouse Drive, Corolla, NC
18 holes, championship golf, course designed by award winner Rees Jones. This course is know for its "flawless bent grass greens, spectacular rolling dunes, seaside vegetation and views of the Currituck Sound". To learn more or book a tee time click here to visit the website.
Hunt Club Tavern Restaurant – Dine at The Currituck Club in a family atmosphere that is open to the public. They serve breakfast and lunch, and it appears that dinner is by reservation only. Go here to see menus and current serving hours.
Golf Courses Located on the Mainland:
Miniature Golf
There are 3 mini golf courses in Corolla Beach. Corolla Putt Putt appears to have a more sophisticated look, whereas the other two seem to be geared more toward kids. (But then, aren't we all still kids at heart? Especially on vacation!)
Corolla Adventure Golf and Bumper Cars, 808 Ocean Trail, Corolla, NC
Call for off-season hours: (252) 453-7777
Corolla Putt Putt, 785 Sunset Boulevard, TimBuck II Shopping Village, Corolla, NC
Call for off-season hours: (252) 453-6900
Pirate's Island Golf, 1109 Ocean Trail, Corolla Light Town Center, Corolla
Call for off-season hours: (252) 453-4443
Helicopter Tours
Flights leave out of Manteo. At the time of this writing, prices depend on the tour you choose and range from $53 to $367 per person with 3 people on the tour. The tour company makes a video of your flight, posts it on YouTube, and sends you a copy to keep. For details see Outer Banks Helicopters Tours.
Bird Watching
Donal C. O'Brien Jr. Audubon Sanctuary at Pine Island

Located 14 miles north of the Wright Memorial Bridge in Corolla
2,600 acroe property with 2.5 mile nature trail with viewing stands
170 bird species, 7 amphibian species, 17 reptile species, 19 mammal species, over 350 plant species
For information see Currituck Banks Coastal Estuarine Reserve.

Currituck Banks National Estuarine Reserve

Located just north of Corolla
965 acres with ocean beach, sand dunes, grasslands, shrub thicket, maritime forest, marshes and tidal flats
Southern portion accessible by car or boat and has two walking trails.
Northern portion accessible by 4WD only. For information see Currituck Banks Reserve.

Also there is the Mackay Island National Wildlife Refuge on Knotts Island, accessible via the Knotts Island ferry, Ferry Dock Rd, Knotts Island, NC
Ferry schedule may be limited. Call (252) 463-7020.
Other Possibilities
There are so many more recreation opportunities that you can look into. Here are a few to get you started, and an online search will lead you to more detailed information.
Charter Fishing
Corolla Raceway (gocarts, bumper cars, arcade)
Bicycle Rentals
North Carolina Aquarium, Roanoke Island, approximately 1 hour 20 minute drive from Corolla Beach

Ocracoke Island, approximately a 4 hour drive from Corolla Beach, but it could take longer because that drive includes a ferry. The most impressive attraction here is the famous Cape Hatteras Lighthouse. Unfortunately, the lighthouse is currently closed for renovations until 2024.

Cape Hatteras Lighthouse on Ocracoke Island, Outer Banks
That's it so far, but stay tuned. I'll be adding more to my Corolla Beach Travel Guide after I return from my winter OBX adventure!
---
If you found this article helpful, please share!