Best Beach Packing List – for Family or Singles [FREE Printable!]
As an Amazon Associate I earn from qualifying purchases.
I searched the web to find all the best beach packing lists for you, and boy was I surprised. If you want a really good, comprehensive packing list, this article will save you a whole lot of time!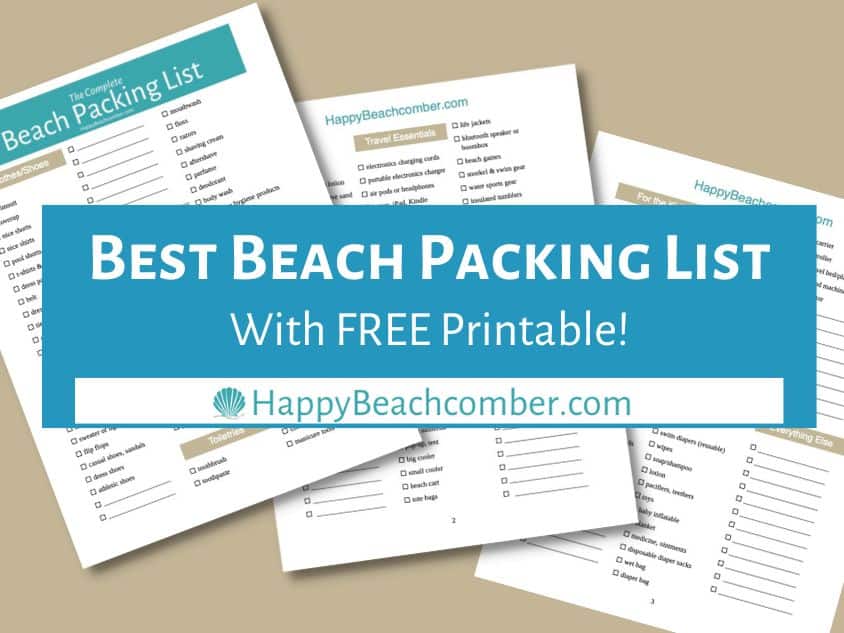 Type "beach packing list" into a search engine and you'll get millions of results. Those that appear on the first page of results should be awesome lists, right? So I thought, but here's the truth.
Mainly what you'll find are articles with packing advice and tips. The vast majority of the "lists" that show up contain only a few selected items that the article encourages you to buy. There's certainly nothing wrong with that. I like to promote my favorite items too because I know people will enjoy them. It's just not helpful if you're looking for a good beach packing list. What I need is something to help me think of everything I'll need for my trip and remember to pack all of it.
Since I couldn't find a really good, comprehensive list, I created my own list for you. My aim was to cover everything you may need whether you're packing for adults only or children from infants on up. Of course I'm always open to suggestion because we all learn from experience. If you have something helpful to add, please leave a comment below!
The Complete Beach Packing List by HappyBeachcomber.com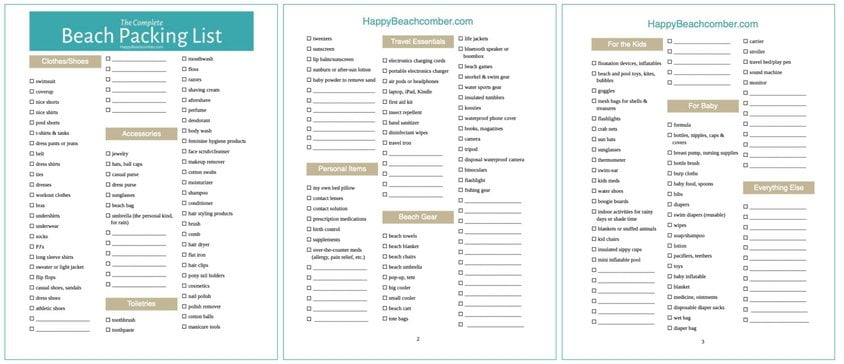 Click the image above for a Free Printable copy of The Complete Beach Packing List. It includes everything you see in the list below, plus it has blank lines at the end of each section for any items you want to add.
You don't have to give your email address or join any mailing list. It's totally free, no obligation. Just click and download it!
The Complete
Beach Packing List
HappyBeachcomber.com
Clothes/Shoes
swimsuit
coverup
nice shorts
nice shirts
pool Shorts
t-shirts & tanks
dress pants/jeans
belt
dress shirts
ties
dresses
workout clothes
bras
undershirts
underwear
socks
PJs
long sleeve shirts
sweater or light jacket
flip flops
casual shoes, sandals
dress shoes
athletic shoes
Accessories
jewelry
hats, ball caps
casual purse
dress purse
sunglasses
beach bag
umbrella (the personal kind, for rain)
Toiletries
toothbrush
toothpaste
mouthwash
floss
razors
shaving cream
aftershave
perfume
deodorant
body wash
feminine hygiene products
face scrub/cleanser
makeup remover
cotton swabs
moisturizer
shampoo
conditioner
hair styling products
brush
comb
hair dryer
flat iron
hair clips
pony tail holders
cosmetics
nail polish
polish remover
cotton balls
manicure tools
tweezers
sunscreen
lip balm/sunscreen
sunburn or after-sun lotion
baby powder to remove sand
Personal Items
my own bed pillow
contact lenses
contact solution
prescription medications
birth control
supplements
over-the-counter meds (allergy, pain relief, etc.)
Travel Essentials
electronics charging cords
portable electronics charger
air pods or headphones
laptop, iPad, Kindle
first aid kit
insect repellent
hand sanitizer
disinfectant wipes
travel iron
Beach Gear
beach towels
beach blanket
beach chairs
beach umbrella
pop-up, tent
big cooler
small cooler
beach cart
tote bags
life jackets
bluetooth speaker or boombox
beach games
snorkel & swim gear
water sports gear
insulated tumblers
koozies
waterproof phone cover
books, magazines
camera
tripod
disposal waterproof camera
binoculars
flashlight
fishing gear
For the Kids
floatation devices, inflatables
beach and pool toys, kites, bubbles
goggles
mesh bags for shells & treasures
flashlights
crab nets
sun hats
sunglasses
thermometer
swim-ear
kids meds
water shoes
boogie boards
blankets or stuffed animals
kid chairs
insulated sippy cups
mini inflatable pool
indoor activities for rainy days or shade time
For Baby
formula
bottles, nipples, caps & covers
breast pump, nursing supplies
bottle brush
burp cloths
baby food, spoons
bibs
diapers
swim diapers (reusable)
wipes
soap/shampoo
lotion
pacifiers, teethers
toys
baby inflatable
blanket
medicine, ointments
disposable diaper sacks
wet bag
diaper bag
carrier
stroller
travel bed/play pen
sound machine
monitor
Download your FREE PRINTABLE copy here: The Complete Beach Packing List
Other Beach Packing Lists
The Essential Beach Packing List, Smarter Travel
This is the only other list I found that might be worth a look. There are some beach packing tips plus a printable checklist that includes clothes/accessories, toiletries, beach gear, and travel essentials. I like this list. It just doesn't go into as much detail as the HappyBeachcomber.com list. Personally, I write down everything or I'll forget!

The Ultimate Beach Packing List for a Week-Long Vacation, AFAR
The bad news here is that there is no printable here, and the page is not organized all that well. However, the article presents lots of ideas that you may find helpful.
One More Thing Before You Go…
In addition to packing, here are a few things I do the week before heading off on a beach vacation:
When going somewhere new, enter the destination address in your phone. Add it as a "favorite" in maps, enter it as a contact, or whatever works for you. Also add a phone note with any gate or other security codes you may need.
If you're taking a camera, check the memory card to make sure you have enough room for all your new vacation memories. The same goes for your phone. If you have limited storage, you may need to transfer photos to a computer or storage service to free up space for new pics.
Make a note on your phone with passwords to your entertainment accounts such as Netflix, Hulu, and Amazon Prime. You may want access to your streaming services while you're gone, especially if bad weather sets in. I use a password manager (LastPass), so my passwords are always easily available from my phone.
That should do it! Obviously, much of what you decide to pack will depend on whether you're driving or flying. Please print out my list and add or delete items to make it your own. I hope it helps, but if you do forget something there's always Wallyworld. Happy traveling!
If you found this list helpful please share on Pinterest and help spread the word!