Perdido Key Visitor Guide – FAQs, Info, Links
As an Amazon Associate I earn from qualifying purchases.
Whether you're planning or already there, use this Perdido Key Visitor Guide to quickly find the answers and information you need to make your trip more enjoyable.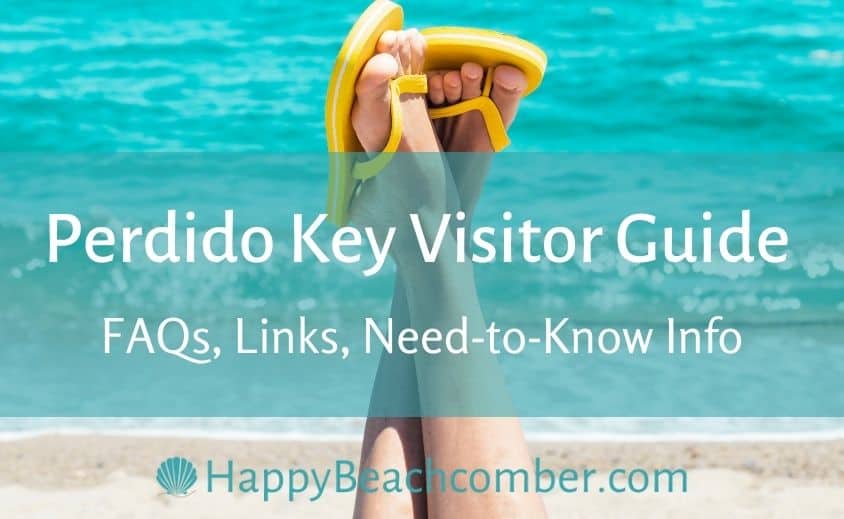 Sometimes you just need a quick fact – that restaurant you want to try is in Gulf Shores, but how far is that from Perdido Key? Or maybe you need a link to grocery options. Who wants to waste time hunting for such trivia?
Nobody, and that's the purpose of this visitor guide. I've tried to provide lots of common need-to-know information and answers to help you find what you're looking for and get on with your day.
Note that there isn't a ton of info on kid friendly activities and attractions here. Generally speaking, you'll find much more for kids in Orange Beach and Gulf Shores. It's a very short drive to both (see distances below), but if you're going to be doing lots of that you may want to find a condo on one of those beaches.
For all of you who travel with young children, I do have plans to put together another guide for Gulf Shores and Orange Beach. Hopefully that will be in the very near future.
---
Location
Is Perdido Key in Florida or Alabama?
It's in Florida, but read the next answer to understand why it might be confusing.
Where is Perdido Key?
It's in Escambia County just across the Florida state border, located between Orange Beach, Alabama, and Pensacola, Florida. Just to confuse you, if you're in Florida driving west, just when you cross the state line into Alabama, there is a stretch of beach there (in Alabama) called Perdido Beach. Those are two different locations in two different states. You'll know when you cross between Florida and Alabama because you'll pass the famous Flora-Bama Lounge, which sits right on the border.
Where can I find a map of Perdido Key?




For a detailed city map with options to see a street view and lots of local destinations of interest, see the Perdido Key Resort Management Area Map.
What is the closest airport to Perdido Key, Florida?
The nearest commercial airport is the Pensacola International Airport (PNS), approximately 21 miles from Perdido Key.
What is the time zone in Perdido Key, Florida?
Perdido Key is in the Central Standard Time zone, but it's close to the line between the next time zone. Traveling east, you will cross into the Eastern Standard Time zone when you reach Port St. Joe, Florida.

The line basically follows the Apalachicola River, except when it reaches the town of Apalachicola it turns westward and goes around Port St. Joe. That odd little turn makes Port St. Joe in the Eastern Time zone even though it is west of some Central Time Zone communities.
What are the zip codes in Perdido Key?
It only has one, and that is 32507.
How far is it from…
Going East

Perdido Key to Pensacola Naval Air Station (home of the Blue Angels) – 12 miles
Perdido Key to town of Pensacola – 27 miles
Perdido Key to Navarre Beach – 41 miles
Perdido Key to Fort Walton Beach – 56 miles
Perdido Key to Destin – 63 miles
Perdido Key to Panama City Beach – 141 miles (the beach route is shorter but very slow due to heavy traffic)
Perdido Key to Port St. Joe – 193 miles

Going West

Perdido Key to Orange Beach, Alabama – 12 miles
Perdido Key to Gulf Shores, Alabama – 18 miles
Perdido Key to Foley, Alabama (Tanger Outlet Mall) – 23 miles
Perdido Key to Mobile, Alabama – 66 miles
Perdido Key to New Orleans, Louisiana – 210 miles

(All mileages are approximate and will vary depending on your exact departure and arrival addresses.)

Environment

What are the current weather and ocean conditions in the Perdido Key area?

Accommodations

Condo rentals: RV Parks and Campgrounds:

Food [Restaurants, Fast Food, Specialty, Groceries, Fresh Seafood]

My Favorite Restaurants:

Fast Food
Lillian's Pizza (Absolutely some of the BEST pizza you'll ever eat. Anywhere!)
Nearby fast food joints include Burger King, McDonald's, Subway, and Sonic. For Chick-fil-A and a lot more choices you may want to make the short drive to Orange Beach.
Specialty
Groceries
Publix
13390 Perdido Key Drive
Delivery and Curbside Pickup (delivery area limited)
Walmart
2951 Blue Angel Parkway
Curbside Pickup
Winn Dixie
13019 Sorrento Road
Delivery and Curbside Pickup (delivery area limited) /li>
Fresh Seafood Market
Perdido Bay Seafood Inc.
13506 Perdido Key Drive, Perdido Key, FL 32507
(850) 912-8366
Fish and shrimp fresh off the boats daily. Located under the Baars Bridge.
Selection varies depending on catch but usually includes Amberjack, Grouper, Red Snapper, and lots more.
Churches
There are lots of churches of all denominations located at or very near the beaches in Perdido Key. To find the church websites and information about service times see this Google map of churches in the Perdido Key area.
For a non-denominational service, and a rather unique worship experience, consider attending Sunday services at the Flora-Bama Lounge. Yes, I know that sounds bizarre, but I have been and it is a truly wonderful service. Get complete information here.
Some of the Many Nearby Attractions
For the kids…
Waterville USA, Gulf Shores, Alabama
Adventure Island, Orange Beach, Alabama (go carts, bumper boats, mini golf, lazer tag, arcade, paddle boats, kiddie rides)
Dolphin Tales dolphin cruise
Besides all that, you're just a short drive from Orange Beach and Gulf Shores. For a full list of area fun events and festivals, be sure to check out Gulf Shores and Orange Beach Events & Festivals.
If you found this info helpful please share on Pinterest!