Florida Gulf Coast Beaches [Includes Cities, Counties & Map]
As an Amazon Associate I earn from qualifying purchases.
The Happy Beachcomber website isn't about just any old beaches. If you aren't familiar with Gulf Coast beaches, these are the very best that Florida has to offer – hands down the most beautiful sand and water in the world!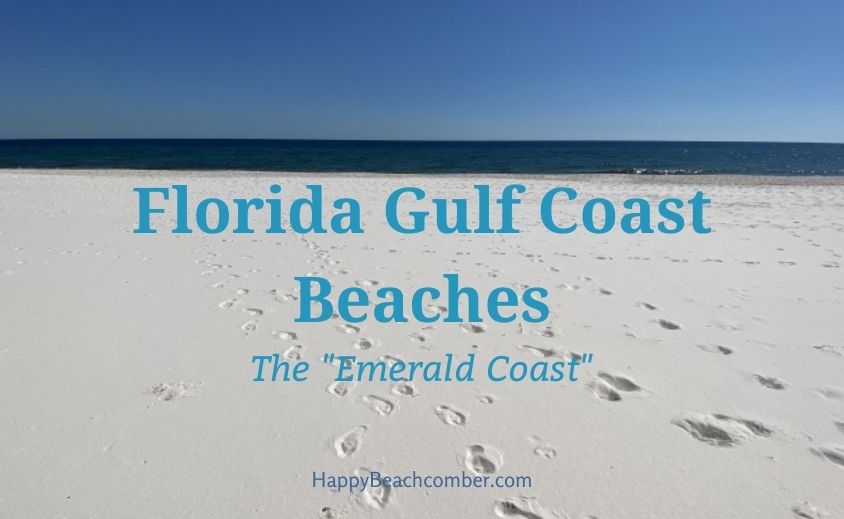 The Emerald Coast
Florida has hundreds of wonderful beaches, but in this beachcomber's opinion the very best are the beaches located in the panhandle along the northeastern part of the state.
This area is known as the Emerald Coast, aptly named after the sparkling emerald green water in that area. It's all beautiful, but I must say the most dazzling water you'll ever see is in Destin.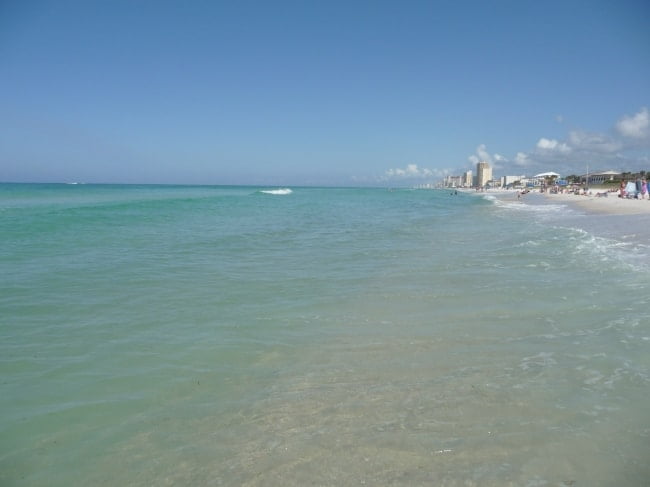 There is now a new(ish) toll bridge that is the fastest way to get to Destin, but I have very fond memories of the slow way. Back in the day, the only route was on what we now call "Old 98". It's the scenic route. Starting right outside of Mobile, Alabama, Highway 98 runs mostly right along the beach. Of course, that means going through every beach town along the way, and with the traffic these days it's an incredibly slow route to take.
However, it wasn't always that way. Before everything was so built up, 98 was the only way to go and it wasn't bad. The best part of the trip was coming into Destin, topping that Old 98 bridge and getting that first glimpse of the ocean. It is absolutely stunning. The water is crystal clear and a spectacular color of green. On a pretty day the surface sparkles brighter than diamonds twinkling in the sunshine. I haven't been that way in years, but my mental image of that sight never dims.
But of course that isn't the only fabulous beach on the Gulf Coast, so back to the point…
The Redneck Riviera
This area known as the Emerald Coast also includes the Alabama beaches, most notably Gulf Shores and Orange Beach. Yes, I'm aware that Wikipedia says the Emerald Coast only includes Florida beaches, but they're wrong. Whoever wrote that doesn't know what they are talking about. I wonder if they've ever even been there?
To the locals and most of the regular tourists, that area is also fondly known as the Redneck Riviera (nothing to do the the whiskey brand). Maybe that label was originally meant to be derogatory – a bunch of poor rednecks who can't afford to go to the "real" Riviera so they "settle" for this instead. Well guess what, we rednecks aren't insulted because we don't care. We dearly love those gorgeous white sand beaches and have no desire to go anywhere else – except, of course, when we get a chance to go to a great Texas beach, which is very different but also loads of fun.
The Florida Gulf Coast beaches are a very fun and friendly place. We southerners love our sports, and the SEC is king of that. You'll see a lot of beach tents in bright college football team colors, LSU Tigers set up right next to Roll Tide. Fans enjoy bragging and bantering about who's going to win next year or take the big title. What's better than fierce competition that's all in fun?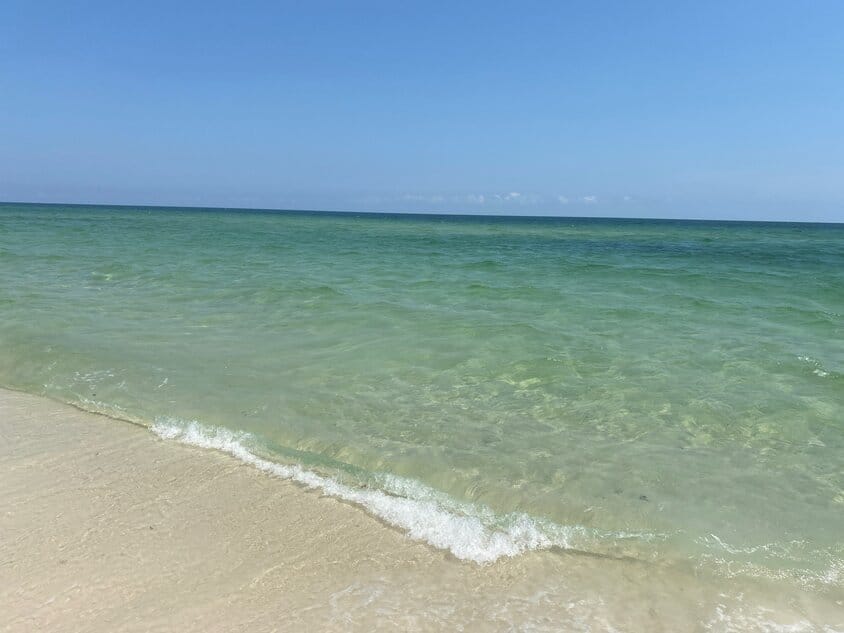 But again, I digress. On to the map…
Florida Gulf Coast Beaches Map With Counties
Below is a map showing the counties of Florida. For anyone unfamiliar with the state this should help give you some perspective on the area that is the focus of Happy Beachcomber.
Scroll down past the map for more detailed information about specific counties and cities.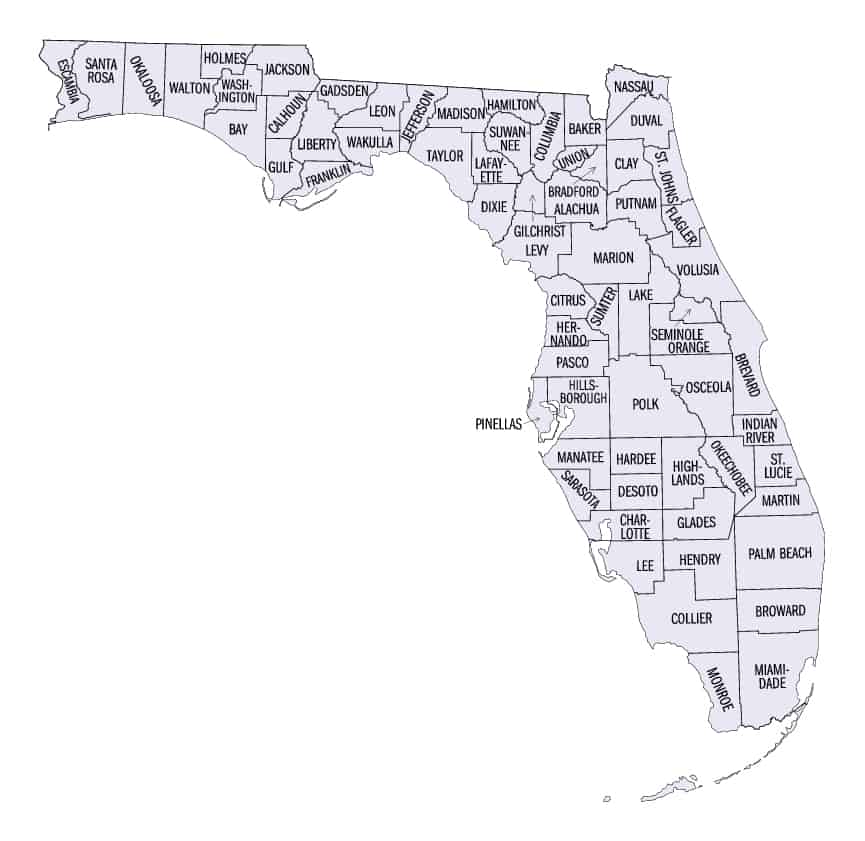 To see a close-up view of individual counties that includes cities, see Florida Backroads Travel.
Most Popular Destinations By County
For quick reference, the following list may help you find the more popular tourist destinations:
Escambia County – Perdido Key, Pensacola Beach, Pensacola Naval Air Station
Santa Rosa County – Gulf Breeze, Navarre Beach, Oriole Beach
OkaLoosa County – Destin, Fort Walton Beach, Santa Rosa Island, Eglin Air Force Base
Walton County – Freeport, Miramar Beach, Dune Allen Beach, Grayton Beach, Seaside, Seagrove Beach, Rosemary Beach
Bay County – Laguna Beach, Mexico Beach, Panama City, Panama City Beach, Tyndall Air Force Base, St. Andrews State Recreation Area
Did I miss your favorite spot? A great place to look up all the cities in each of Florida's counties is here: Home Town Locator. You'll find a wealth of local maps, data, and other resources.
Note: For a personal favorite, one extremely interesting spot is the beach in the Gulf Islands National Seashore at the east end of Perdido Key. Read my article about Johnson Beach and Florida Black History.
Fond Memories A Little Farther South
Going southward down Florida's western coastline, once you pass Mexico Beach you've reached the end of the Emerald coast. Next are:
Gulf County, home to Port St. Joe, St. Joe Beach, St. Joseph Peninsula State Park, and Cape San Blas
Franklin County, where you'll find Apalachicola, Eastpoint, and Saint George Island
I only mention these last two counties because I have very fond childhood memories from those places. I had relatives in Port St. Joe, and still do! My family visited them once a summer and those were fabulous, carefree times. One of our annual traditions was to go to a restaurant on the Apalachicola River. As a child my impression was that it was a long drive to seriously the middle of nowhere. It was called the Bay City Lodge, located right on the river.
It was a rough looking place, nothing fancy at all, and they served family style. You didn't order. They just brought platter after platter piled high with fried fish, shrimp, crab, scallops, and a huge variety of other seafood, along with coleslaw and French fries and all the trimmings. When you ate all of one dish they immediately replaced it with a fresh platter hot from the kitchen. It was the most delicious seafood you've ever eaten!
This restaurant still exists, but a lot has changed. It's in a new building and location, and you can order from a menu that includes beef, chicken, sandwiches, and breakfast foods. However, if you prefer they will also still serve family style for large groups, just like in the old days!
If you're passing that way and want to check it out, take a look at the website for Bay City Lodge. It is billed as "Florida's Last Fishing Frontier", a full service fishing lodge on the banks of the Apalachicola River.
---
Planning a trip? Be sure to see:

And for your convenience see my Best Beach Packing List – the list is a free PDF file that you can download and print.
---
What about those Alabama beaches?
For more about the extreme eastern end of the Emerald Coast, please see Alabama Beaches [Includes Cities, Counties & Map].
If you found this info helpful please share on Pinterest!