Amazing Pools Around the World
As an Amazon Associate I earn from qualifying purchases.
Every true-to-the-core, seashore-loving beachcomber is always drawn to the water. That means when it isn't possible to be at the ocean, one of the next best options is the pool. Here are a few of my favorites!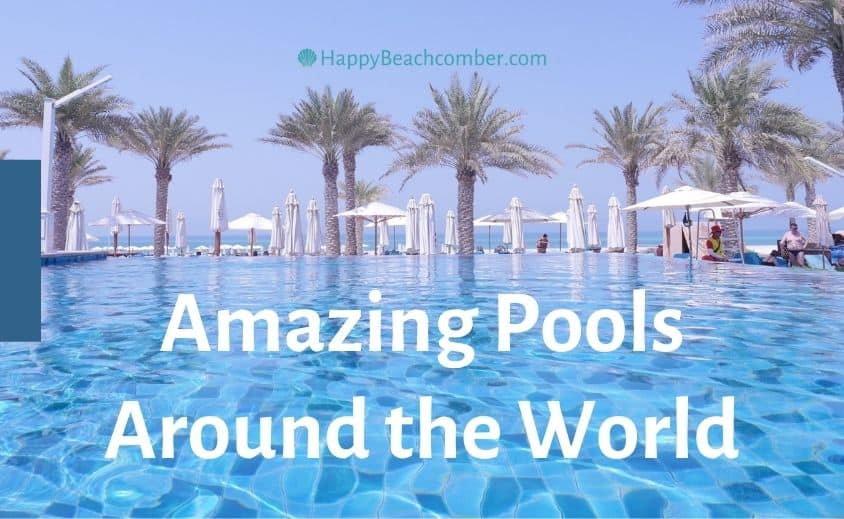 Some are located in view of the ocean, giving you the best of both worlds at once. Others are nowhere near the seashore, but you still enjoy the luxury of crystal clear water and glorious sunshine, hopefully with your closest companions.
Wherever the location, all of these pools have interesting features that make them a step above the ordinary. So grab your sunscreen, take your phone or tablet out to the backyard with you, and pretend you're basking in the sunshine next to one of these amazing pools.
I hope you enjoy drooling over them as much as I do!
Lounge chairs in the pool, right!

Paradisus Palma Real, Punta Cana, Dominican Republic
Photo by Studio Sarah Lou on flickr, CC License
A beautiful pool overlooking a beautiful ocean view.

Pueblo Bonito Emerald Bay, Nuevo Mazatlán, Sinaloa
Photo by Bryce Edwards on flickr, CC License
And this is just the outdoor pool. There's one inside the castle too.

Hearst Castle Pool, San Simeon, California
Photo by Tony Moorey on flickr, CC License
Infinity, beyong the pool, beyond the ocean, beyond the horizon…

Resort Reethi Rah, Maldives
Photo by Studio Sarah Lou on flickr, CC License
Just looking at the photo makes you feel peaceful, doesn't it?

Grand Velas Nuevo Vallarta, Nayarit, Mexico
Photo by Grand Velas Puerto Vallarta on flickr, CC License
A rooftop pool? Well, it's something different I suppose!

Porto Bay Rio Internacional Hotel, Rio de Janeiro, Brazil
Photo by PortoBay Hotels & Resorts on flickr, CC License
Absolutely breathtaking … except for those of us with a fear of heights!

Marina Bay Sands Infinity Pool, Singapore
Photo by Silas Khua on flickr, CC License
Another test for the height challenged, but oh how magnificent!

Grace Santorini, Santorini, Greece
Photo by Escapio on flickr, CC License

Amangiri Pool at Sunset, Utah
Photo by Steve Jurvetson on flickr, CC License
A charming little pool for a romantic getaway – no kids allowed here.

Post Ranch Inn, Big Sur, California
Photo by Greg Balzer on flickr, CC License
Floating pavilions and a sunken jacuzzi lounge … does it get more relaxing than this?

The Sarojin Swimming Pool, Khao Lak, Phang Nga, Thailand
Photo by Roderick Eime on flickr, CC License
And finally, what about a pool with a stunning view of African wildlife?!

Four Seasons Lodge, Serengeti, Africa
Photo by R. Boed on flickr, CC License
Now wasn't that a nice, refreshing break in your day? For more viewing pleasure be sure to see my collection of Beach Homes to Drool Over.
If you enjoyed these luscious photos please share your joy on Pinterest!