Photos of Beach Themed Bathrooms
As an Amazon Associate I earn from qualifying purchases.
When you can't be at the beach, create a peaceful little paradise of your own. Get some great ideas from these photos of beach themed bathrooms.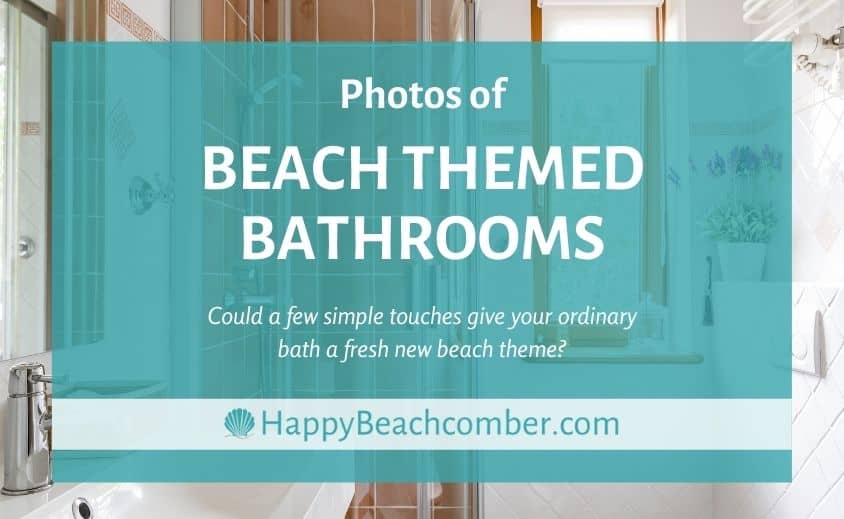 Most of the photos of beach themed bathrooms below are from custom built homes, meaning they include features that some of us will only ever see in our dreams (or in these Beach Homes to Drool Over). That's okay by me because I can still enjoy the view and maybe even pick up some ideas to imitate.
I love my own humble little abode, and I love the beach, and even finding small ways to combine the two makes me smile.
Some time soon I'll get to other rooms, but for now here's a look at some great bath ideas. Enjoy!
Here's a grand idea for the artistically talented. Grab your paints and do our own freehand design on the wall. Those of us without such skills could hire a muralist. You might also draw inspiration from this bath and put together a great look using a wallpaper mural or the wall stickers that are so popular now. I especially love this look for the kids or a guest bath.
This is another fun idea with bright vivid colors and a fun shower curtain. In contrast the flooring brings in the nice neutral shades of sand dunes. The vibrant teal and orange are like nature in neon, giving it a slightly quirky look that's pleasing without getting bizarre.
Toning it down considerably, the theme is created here by keeping it simple. The entire room is in neutral tones with basic lines. The only decorative piece is the small bowl of seashells sitting on the corner of the tub. The show stopper is the mosaic tile floor. The builder had a mosaic artist who drew the design, which was then made into panels and laid by a mosaic tiler. If that sounds way over your budget, you might accomplish a similar look if you could locate just the right rug.
Once again notice how few items it takes to turn ordinary into beachy. Of course, the soft shades of blue and white make for the perfect backdrop, but then the rest is simple – a small framed picture, a large seashell and a starfish, and a painted step stool. The window also allows for lots of natural light, another important feature in creating that atmosphere of a bright beach setting.
What's definitely missing here is that refreshing look you get from lots of natural light. But then, that isn't always possible. If you're working with an interior bathroom or one that has small windows and little light, you can still bring the seashore inside. That huge clam shell sink is stunning. Add all the other seashells and it certainly looks like a beachcomber lives here.
This photo should give you some inspiration for creating a beach theme even in the smallest space. Even in a tiny corner bath it's all about the right colors and a few accent pieces. The wall paint color is Scana by Sherwin Williams, but be aware that the lighting conditions, digital photo processing, and even your monitor could make it look different than what is actually on that wall. If you want to match it, try taking your tablet to the paint store with you, show them the photo and let them tell you what to choose.
Again the natural light is missing, but in a bathroom as cute as this who cares? I love how the round mirrors have the look of portholes in a ship. This is a great bathroom for boys. It's fun and attractive too, and the distressed cabinets should hold up to a lot of boyhood wear and tear without showing damage.
Here's another simple touch that would work in a small place. The painted bucket came from Hobby Lobby. It serves a useful purpose, doesn't take up too much room, and sets the theme. All you need are the right colors in hand towels and a fresh coat of paint on cabinets and walls. One way to get that slightly streaky faded look on the wall is to brush a very sheer coat of paint on wood.
Well, one thing you can't imitate is that gorgeous view. Aside from that though, this has a fresh, airy beach look from top to bottom. The jute rug is "sand" under your feet, and the frosted glass on the shower as well as the wall tile bring the look of sea glass.
Finally, this is pure elegance. The gorgeous powder blue tile combined with neutrals could lend itself to a variety of themes. It's the single starfish sitting on the side of the tub that makes the difference. Suddenly that tile is very beachy, almost like a sparkling wave crashing right over the tub. It's hard to say, but this just might be my favorite look of all.
Bring Home Your Own Touch of the Beach
It's clear from the above photos that you don't have to completely remodel your entire bathroom. Especially if you're already using neutral tones in light shades, adding one single decorative item can help set the scene. It could be a rug, a wall plaque, a shower curtain, anything.
My favorite is that starfish in several of the baths pictured above, except for one thing. As much as I love the look of a it, the practical side of me steps in. I'm a freak about keeping a bathroom clean, and the rough surface of a starfish doesn't lend itself well to that. To me it looks like a dust catcher and a breeding ground for icky germs.
Of course you could look for a ceramic starfish with a surface smooth enough to meet your own cleaning standards, but then it looks more like a figurine than a piece of natural art from the seashore.
For my house, I prefer something like this large chambered nautilus shell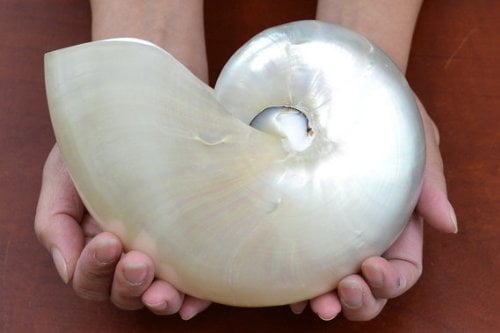 Isn't that beautiful? It's made of real sea shell with a smooth, pearlized finish. It measures about 7 inches in length, but the photo may make it look larger than it is. It's a good size but not too huge.
So there you go, a makeover with just one single shell. It's no trip to the beach for sure, but even when you're racing through your morning routine to get ready for work, you'll have a fresh new seashore look to enjoy.
If you enjoyed this article you might also like…
Please share this post on Pinterest!