Beach Homes to Drool Over
As an Amazon Associate I earn from qualifying purchases.
The only thing better than visiting the seashore would be living there…especially in sticks like these. Enjoy my collection of beach homes to drool over!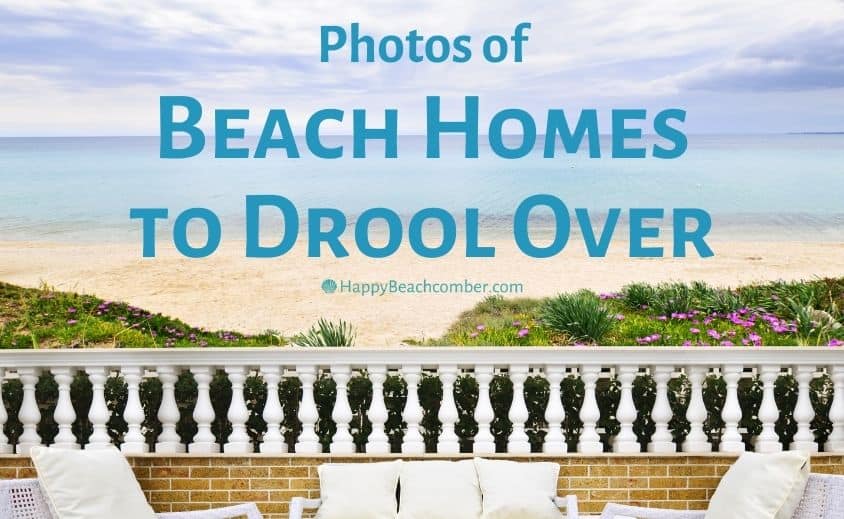 While I do enjoy luxury, for me, staying at any beach anywhere is all about the view. Below are photos of some homes I'd love to visit, and in the meantime it's very pleasant just to gaze and dream. Then there is also one that isn't quite so appealing to me, but that's only a matter of opinion. You might think it's the most beautiful home on the beach you've ever seen!
How would I love to wake up every day in a bedroom with this view? Let me count the ways! I'm certain that just out of site in the foreground is a well-stocked wet bar complete with a mini frig for juices and a coffee center. That way I won't have to exert too much effort to enjoy my morning beverages. I'll have a glass of juice in bed while my coffee is brewing, then journey the few steps to that lovely deck to enjoy my mug of caffeine.
This is my idea of a perfect room for meals you want to eat indoors. It's open, light, I love the beachy colors, and wherever you sit you'll never lose site of sand and sea. I'm pretty sure I could be delightfully happy in this room even when it's raining outside. In fact, there's something darkly fascinating about turbulent ocean waves crashing ashore on a stormy day. Sounds to me like the perfect time and place to curl up with a good suspense novel.
Here's yet another gorgeously cool and peaceful room. As someone with absolutely zero talent for interior decorating, I'm amazed at the way the colors of the landscape beyond the window blend seamlessly into the room décor. It's such a perfect flow of shades and hues that you could almost forget where indoors ends and outdoors begins. Even if that idea had occurred to me I wouldn't have known how to achieve it, but I sure know what I love when I see it!
Speaking of knowing what appeals to me when I see it, I must admit this isn't it. Though it's difficult to describe, the word 'stark' comes to mind. The overall look just seems a little harsh to me. Now, having said that, I'm absolutely certain that being on the inside looking out, I could be quite happy in this little beach home. After all, my pleasure in spending time on the seashore does not involve standing on the beach and gazing at a building. It's the other way around.
Here we go again with those stark lines, but in this case the colors and curves seem to make a world of difference. Anyway, with a pool like that, who cares?! What a divine way to enjoy everything you love about the beach and the ocean, and all the joy of a beautiful refreshing pool, all at the same time. I'm assuming that your professional pool guy/girl comes by early every morning to keep all the sand cleaned out of the pool.
This might not be the most stunning deck on a coastal home, but it doesn't matter because this is Destin, Florida. Any view you have of the ocean is going to be breathtaking because these waters are some of the most beautiful in the world. There's a rather high bridge you cross as you drive into Destin, and no matter how many times you've visited this resort area, when you top that bridge and the ocean comes into view, the sun sparkling on that crystal clear blue-green water it's a thrilling sight to see.
For a much more luxurious deck where you can enjoy your view, this one will let you feel like you're lazing on the Mediterranean without having to make the long trip. That is, of course, unless you're fortunate enough to actually live there! For the rest of us, here's a place to relax with a bit of an exotic mood, and maybe to feel a lot more wealthy than we really are.
Every minute of the day is wonderful when you're at the beach, but there's something exceptionally peaceful about those hours right at sundown. Quite often the wind lays, the waves roll in a little more gently, and the cooling air feels welcome after hours in the full heat of the sun. Yes, thank you, I believe I will enjoy a cocktail or two out there while I'm waiting for the cook to serve dinner.
After dinner the beach always lures me to take one last walk for the day. In summer there is always the delightful laughter of kids chasing sand crabs. In the off season there's an older crowd around, friendly folks who like to stop and visit for a minute. Quite often these are die hard college football fans who like to engage in an all-in-fun argument about the one and only best team ever. Then, winding down, just one more dip in the pool would be nice, especially if this view goes with it. After that all I need is a nice over-sized beach towel to wrap up in while I join fiends for a nightcap around that inviting fire pit.
While you're dreaming, don't miss these Amazing Pools Around the World.

On the more practical side, discover how to add a touch of the seashore to your own home:
If you enjoyed these photos please share on Pinterest and help spread the word!