FAQs About The Beach – The Quick Answers
As an Amazon Associate I earn from qualifying purchases.
The beach is such an interesting place. What sort of questions pop into your mind when you're relaxing on the sunny seashore? Find the answers here!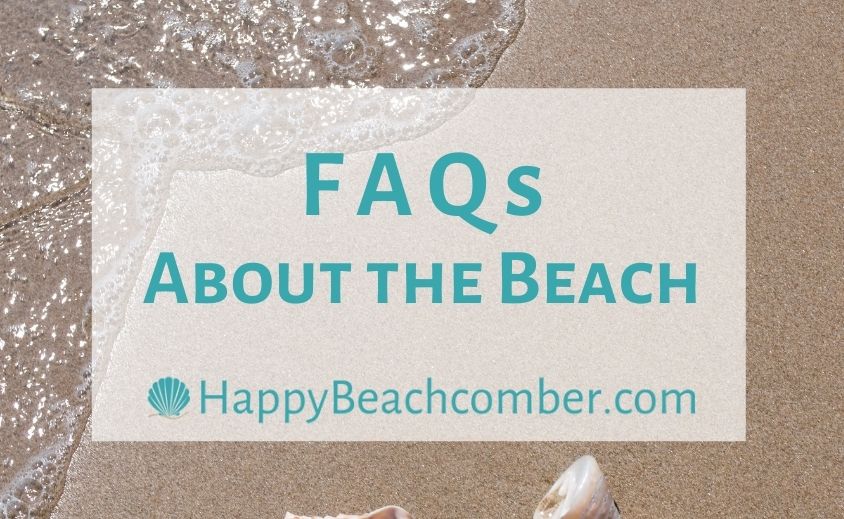 The ocean is renowned for its many mysteries. The beach can be just as baffling with all it's curious creatures, not the least of which is us humans.
Then there are all the man-made aspects to wonder about. Much about beach life is brand new to us tourists, the sights and sounds, the rules and regulations.
These FAQs about the beach include a little of everything, from answers that satisfy curiosity to those that help keep you safe. As well, we all want to be good stewards of one of God's most beautiful creations, so some of these answers might even help you in that respect. Any time we have the privilege of enjoying nature, anywhere, we want to leave nothing behind but our footprints.
I hope you find the answer to your question here. If not do come again. This is a list that's intended to continually keep growing!
Questions
For now it's a short list, but stay tuned! There are SO many curious wonders related to the beach and beach life it's hard to decide which questions to answer first. As time allows I'll keep adding to these FAQs, so visit us again. You never know what you might find next time!
---
Answers
What is a beachcomber?
You may be shocked. To quote the dictionary, a beachcomber is "a white man living as a drifter or loafer especially on the islands of the South Pacific". What?! Well there's a lot more to this story. Read all about it here.
What is the Emerald Coast

It's a strip of beaches that runs from Bay County in the panhandle of Florida eastward all the way to Baldwin County, Alabama. This area is also affectionately called the Redneck Riviera. For details and maps about specific destinations see:

Why is Emerald Coast beach sand so white?

Most beach sand made up of sea shells, coral and minerals that are washed down through sediment. That sand can be anywhere from dark, blackish brown to lighter tan or even pinkish. Emerald coast beaches, especially Destin, Florida, are mainly white quartz crystal that originally came from the Appalacian Mountains. Glaciers sheared it off during the Ice Age, and it washed into the Gulf of Mexico. Over millions of years ocean waves ground it into the powdery white sand you see today.

Why is ocean water blue or green?

It's about light and reflection. When sunlight strikes the ocean water it is filtered. Red light is absorbed, and blue is reflected. Blue has shorter wavelengths that enable it to travel farther through water than red, yellow, or green.

Green water of an Emerald Coast beach – This photo was taken with an iPhone 11 and has not been altered in any way.

Surroundings also make a difference. On a cloudless sunny day the ocean looks blue because tiny particles in the ocean act like mirrors and are reflecting the color of the sky. For the same reason, when dark storm clouds roll in, the ocean may look much darker, even blackish.

This is the same stretch of beach as in the above "sunny day" photo. Note how much darker the water looks with a storm rolling in.

Some ocean water looks green because it's full of so much algae you can actually see it (the algae) floating. On the contrary, the water in Destin, Florida is crystal clear. It contains microscopic algae, so in such clear water the reflected light of the sun creates a luminescent glow. The emerald color ranges in intensity, and in the harbor at East Pass it's so green you may think it is artificial. It isn't!

This is the simple explanation. For lots more detail see the articles at these sites:

Why is ocean water salty?


Rainwater contains carbonic acid, so when it falls on land those acids chemically dissolve minerals (including salts) in rocks and carry them to streams and rivers, which empty into oceans. The oceans continually collect salt from all the rivers in the world. Rivers are not salty because unlike oceans, river water is continually refreshed by rain. (Hence the term "fresh water".)

That's the simple answer, but there's more to it. Ocean salt also comes from the eruption of underwater volcanoes, and from hydrothermal vents in ocean ridges. You can find a short but good explanation of that in this article at USGS.gov.

What do the colored flags on Florida beaches mean?

Florida has a uniform flag warning system that applies to the entire state. All public beaches must display the state's official warning flags. Here's what the colors mean:

Double Red Flags – Water Closed to the Public
Red Flag – High Hazard (high surf and/or strong currents)
Yellow Flag – Medium Hazard (moderate surf and/or currents)
Green Flag – Low Hazard (calm conditions, exercise caution)
Purple Flag – Dangerous Marine Life

Take these warnings very seriously. A single red flag does not mean "be careful". It means stay out of the water. Period. The same is true of yellow depending on age, physical condition, and many other factors. Even in shallow water ocean currents can be surprisingly strong. It is never, ever worth taking a risk.

For a better understanding of these flags and the dangers of the ocean see:

To better understand the dangers of rip currents see:

During a recent double red flag day in Perdido, a sudden storm sent everyone running for shelter. Beach goers returned later to retrieve their abandoned gear.

Can I leave my chair, umbrella, toys, or other gear on the beach overnight?
Absolutely not. If you leave it you'll lose it. The reason is that any such manmade items interfere with the mating habits of sea turtles, a protected species. Chairs, tents, toys, everything must be removed from the beach by sundown. At night the beach patrols gather up anything you leave behind and dispose of it.
Can I feed the birds at the beach?
To my knowledge there is no law against it, but it's a very bad idea for several reasons. Here's why you really should think before you feed the wildlife.
Are dogs allowed on the beach?

Generally speaking dogs are not allowed on Gulf Coast beaches, but there are some nice exceptions. If your pet loves vacationing with you, be sure to get all the details before you go. See Dog Friendly Beaches on the Gulf Coast [Florida Panhandle & Alabama] for specifics. That article also includes a list of dog parks that are close to the beaches.

Am I seeing dolphins or porpoises from the Gulf Coast beaches?
Those big black fins you see rolling up out of the waters along the Emerald Coast are dolphins. Porpoises don't live in the Gulf of Mexico. For some interesting facts and the difference between the two mammals see Does the Gulf of Mexico Have Dolphins or Porpoises?
Is there a beach cart that will roll in sand?

Yes there is, more than one in fact. The kind of cart you need depends on where you're going. Does the beach have soft or hard sand, shallow or deep? To learn the difference and figure out which cart will work for you, see my article on beach carts.

Does sunscreen expire?

Yes, in fact it does. Do you know how to tell if it is expired and where to find the expiration date? Yes, sunscreen is expensive and you hate to throw it away, but it isn't worth taking a chance on a bad sunburn. For lots more detail see Do Sunscreens Expire? [And How To Find Expiration Dates].

Who invented flip-flops?

History doesn't seem to have recorded precisely who came up with the idea, but flip-flops date as far back as 4,000 B.C. Our modern version, the rubber ones, came from Japan. They were imported into the U.S. after World War II in the 1950s. For 40 years they were just very plain, cheap rubber thongs worn mostly by kids. Adults might wear them as shower shoes or around the house, but even I can remember when no one went anywhere in public in flip-flops. Horrors! However, in the late 1990s the tacky little shoe got trendy and suddenly blossomed into all the cute, attractive and even dressy styles we have today.

What are sea oats?

Sea oats is the common name of that tall golden "grass" you see growing on sand dunes. It's such an important part of the coastal ecosystem that many states have strict laws about it. Get the full story here: Florida Sea Oats – What They Do and Why They're Protected.

Why do sand crabs walk sideways?

It's all about body structure. Basically, crabs walk sideways because that's the way their knees bend (if you can call the second joint in their long legs "knees".) There is actually a lot more to it, so for a full explanation plus lots more fun facts, please see Why do Sand Crabs walk Sideways?.

This little crab cautiously peeked out of his burrow, then quickly vanished. I'm lucky to have gotten these shots because they can detect even the slightest movement you make! (Click the image to go read more about these little "Ghost Crabs".)

Is "sandcastle" one word or two?

Either is correct, although one dictionary lists "sand castle" as a variant of "sandcastle". For a better explanation see Sandcastle or Sand Castle? – The Ultimate List of Sandcastle FAQs!. Chances are you'll discover lots more that you didn't know about sandcastles, and some of it may come as a surprise. For instance, did you know that building sandcastles can be illegal?
If you enjoyed these FAQs please share on Pinterest and help spread the word!