Cute Beach Quotes – Fun Sayings About Life at the Beach
As an Amazon Associate I earn from qualifying purchases.
Tanya Lewis once said that research has shown that moving closer to the sea significantly improves people's well being. It must be true. Why else would there be so many cute beach quotes?!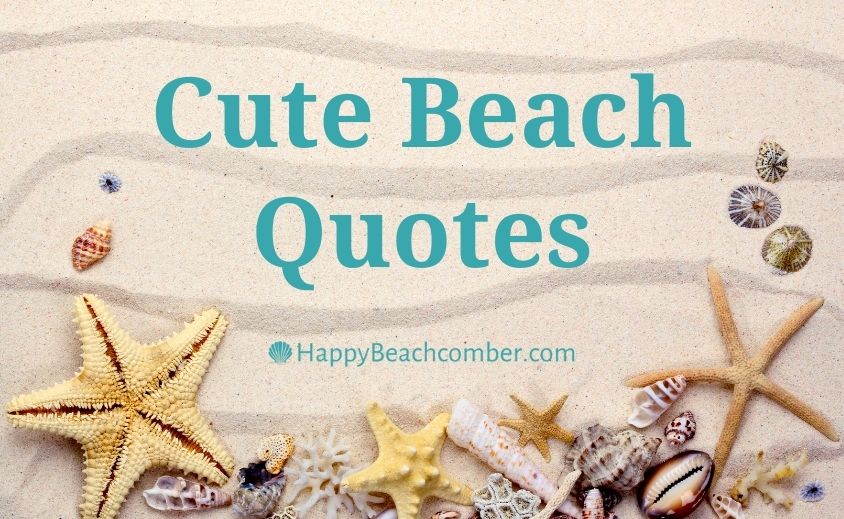 The best memories of my life are from going to the beach as a child. In those days everything about it was truly magical. I was fascinated with the ocean, the sand dunes, the birds and sand crabs and sea oats and, well, everything!
The great thing is that after all these years that fascination hasn't faded. To me everything about the beach is enjoyable. You'll always see some interesting and amusing sights – like the one I related in my story about The Fisherman and the Bird. Even on rainy days you discover fun things to do that just don't exist at home.
Heck, I even think it's really fun to pack for a beach trip!
When you can't be on the beach or headed to the beach or at least planning a trip to the beach, these cute beach quotes will at least give you a nice break. Hopefully they'll make you laugh or smile or bring back some fun memory of your own.
My favorite is the Jimmy Buffet quote. What's yours?
Cute Beach Quotes
"Life is better in flip flops." ~

Unknown

"I need vitamin sea." ~

Unknown

"Happiness comes in waves."
"Stay wild ocean child." ~

Unknown

"It's always a good day to dance with the waves." ~

Unknown

"Your only worry should be if the tide is going to reach your chair." ~

Unknown

"I need a time out. Send me to the beach and don't let me come back till my attitude changes." ~

Unknown

"Life's a beach. Find your wave." ~

Unknown

"The cure for anything is salt water – sweat, tears or the sea." ~

Isak Dinesen

"The only BS I need in my life is: Beach and Sunshine." ~

Unknown

"Everyone should believe in something. I believe I should be sipping margaritas on the beach." ~

Unknown

"Girls just wanna have sun." ~

Unknown

"Who else wants to shut off their phone, drive to the beach, forget everything, and just listen to the sound of the waves crashing?" ~

Unknown

"The beach. The only place where salt lowers your blood pressure." ~

Unknown

"Don't worry. Beach happy." ~

Unknown

"Of all the paths you take in life, make sure a few of them are sandy." ~

Unknown

"Every seashell has a story." ~

Unknown

"I'm happy anywhere I can see the ocean." ~

Unknown

"Dear beach, I think about you all the time." ~

Unknown

"Mermaids don't lose sleep over the opinion of a shrimp." ~

Unknown

"May you always have a shell in your pocket and sand in your shoes." ~

Unknown

"I think I love the rain because I'm a mermaid who lives too far from the ocean." ~

Unknown

"Friends, sun, sand and sea. That sounds like a summer to me." ~

Unknown

"Happier than a seagull with a French fry." ~

Unknown

"Beach more. Worry less." ~

Unknown

"I'm a true oceanholic." ~

Unknown

"Palm trees, ocean breeze, salty air, sun kissed hair, the endless summer take me there." ~

Unknown

"A pool just isn't the same as the ocean. It has no energy, no life." ~

Linda Gerber



(Umm, well, I might have to disagree. Have you seen these Amazing Pools from Around the World?!)
"The beach is calling and I must go." ~

Unknown

"Life is like the ocean. You can either be the ball floating on the waves, or make your own waves." ~

Oliver Gaspirtz

"A ship in a harbour is safe, but that is not what ships are built for." ~

John A. Shedd

"Nothing soothes the soul like a walk on the beach." ~

Unknown

"Let the sea set you free." ~

Unknown

"If there's heaven for me, I'm sure it has a beach attached to it." ~

Jimmy Buffet

"Sky above, sand below, peace within." ~

Unknown

"Every time I slip into the ocean, it's like going home." ~

Sylvia Earle

"To escape and sit quietly on the beach – that's my idea of paradise."

Emilia Wickstead

"There's no place like home. Except for the beach." ~

Unknown
Want more beach quotes?