As an Amazon Associate I earn from qualifying purchases.
These beach quotes are mine, just some of the thoughts that come to me when I'm enjoying the place I love most on earth. I share them in the hopes that they'll bring just a little joy into your life, if only for a moment.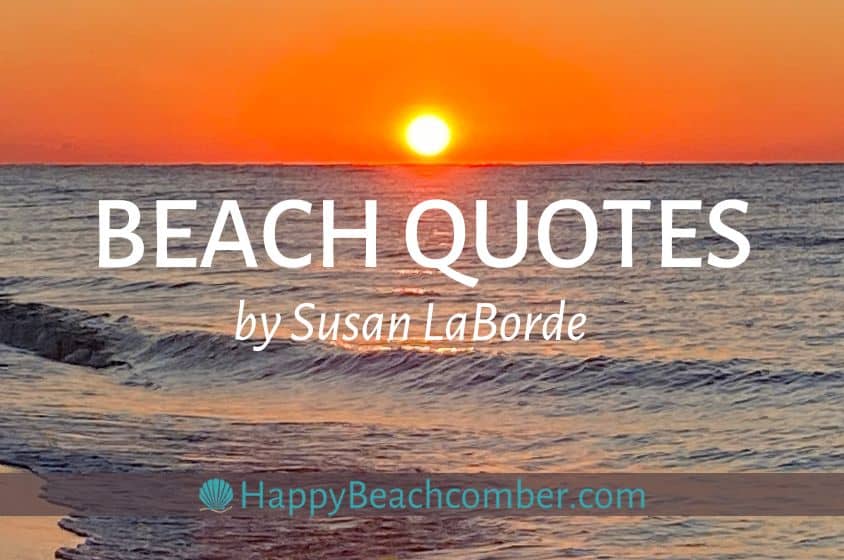 Being at the seashore stirs a myriad of emotions in me. It's the beauty of it, the magnitude of it, the living, breathing, constantly changing ebb and flow.
I love bright, beautiful sunny days, but I also appreciate darkening skies as a storm approaches. From day to day, even hour to hour, the ocean has its moods.
A calm, peaceful morning can quickly transform into a wild, threatening afternoon. Then, quite often, those storm clouds blow through and reveal the sun still shining gloriously in clear blue skies.
For many people the mountains are a spiritual experience. For me, that special place is at the seashore. To me, it is God's most magnificent creation. I see Him everywhere, and I am more aware of His presence, and I am grateful for another day to be alive to experience His love, mercy, and grace.
I hope these quotes will bring you a moment of peace and joy today, a little mental escape from the craziness of the world.
My Beach Quotes
"Sparkles of sunlight on ocean waves are the only jewels I could ever need."

~ Susan LaBorde

Maybe it's just me. Admittedly, I've never been a big fan of diamonds. After all, a diamond is just a rock – a very pretty rock, but still, only a rock.

Compare that to how the sunlight glitters across the surface of the ocean, flashing brightly as the waves rise and fall. It's as if sun and sea conspire to put on a dazzling show for us, flashing and winking, a dance of lights across the surface of the water.

"Nowhere is nature's dance more beautiful than in the ebb and flow of the sea."

~ Susan LaBorde

"For me, the beach is the closest I'll ever get to heaven on earth."

~ Susan LaBorde

"I always feel closer to God at the beach."

~ Susan LaBorde

"In the ocean's crashing waves and gentle ripples I feel God's power and His peace."

~ Susan LaBorde

"How can anyone watch the sunrise over the ocean and not believe in God?"

~ Susan LaBorde

"At the beach I cast my burdens into the waves and let the tide pull them out to the deep blue sea."

~ Susan LaBorde

"The beach is my peaceful place."

~ Susan LaBorde

"Wave after wave. Never ending. Oh, the power of persistence."

~ Susan LaBorde

"To live life without God is to live in a sandcastle at the edge of a stormy sea."

~ Susan LaBorde

"God knows the exact number of grains of sand on every beach on earth. Think about that."

~ Susan LaBorde

"There is no such thing as a bad day at the beach."

~ Susan LaBorde
You may also like…

And don't miss my Pinterest board "Quotes and Musings"
If you enjoyed these quotes please share on Pinterest!